Fueling the pain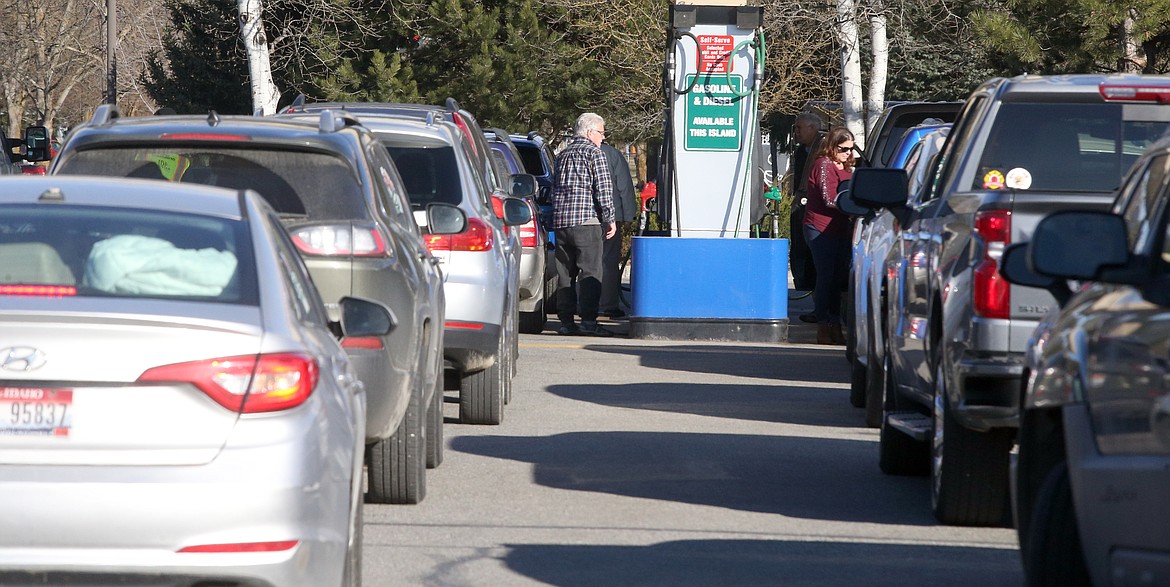 Driver wait in line for gas at Costco in Coeur d'Alene on Wednesday.
BILL BULEY/Press
by
BILL BULEY
Hagadone News Network
|
March 10, 2022 1:00 AM
▶️ Listen to this article now.
COEUR d'ALENE — On any given day, there is a small lineup for gas at Costco.
Wednesday, that lineup was big.
There were eight rows of trucks, SUVs and cars, five and six deep, with drivers waiting for their turn at the pumps.
That's what happens when you're charging $3.89 for a gallon of regular unleaded.
"The cheapest gas in town," said a woman as she topped off her GMC Yukon.
Rising gas prices, fueled by fears they will go even higher, sent swarms of drivers to Costco, which was charging between 10 and 20 cents a gallon less than neighboring stations, depending on whether you were using cash or charge.
In Sandpoint, the prices ranged from $3.98 at The Co-Op in Ponderay to $4.06 at the Mobil station at Fifth and Larch to $4.19 at the Chevron at Fifth and Cedar and at the Chevron on Superior.
In Coeur d'Alene, the Exxon at Government Way and Appleway was charging $4.09 for a gallon of unleaded, as was Safeway on Neider Avenue, about 60 cents higher than last week.
One Seltice Way station had perhaps the lowest price, $3.79, cash price, for a gallon of unleaded on Wednesday.
Fred Meyer's gas was $3.49 a galloon on Saturday night. Sunday night, it was $3.69. Monday, it reached $3.89 and Wednesday, it was $4.09.
Walmart was sitting at a surprisingly low $3.49 a gallon on Sunday night and again Monday night. Tuesday, it was $3.94.
Still, customers weren't complaining.
"It wouldn't do any good, anyway," said a clerk working behind the counter of a convenience store on Wednesday.
According to AAA, the national average is well above the $4-per-gallon mark for the first time since July 2008, including in Idaho, and is still climbing.
Russia's invasion of Ukraine, and the U.S. decision to stop buying oil from Russia, is blamed for driving crude oil prices higher and, in turn, gas prices.
Idaho's average price is up more than 60 cents a gallon from a week ago and about $1.50 from a year ago.
"There's not much we can do about it," said John, in the parking lot of O'Reilly Auto Parts. "We just have to live with it."
He pointed out local prices were well below those in California, where it was $6 a gallon and climbing as fast as reader boards could be changed.
"And it's going to be more," he said.
According to AAA, the Gem State ranked 26th in the country for most expensive fuel on Monday.
"These high prices are a bitter pill for drivers to swallow. We've now reached the point where some people may have to think about revising or even canceling their spring break plans," said AAA Idaho spokesman Matthew Conde. "Gasoline demand is still building as the weather gets nicer, but that may grind to a halt if families decide that they can no longer reallocate funds to pay for expensive fill-ups."
Marissa Morrison Hyer, press secretary for Gov. Brad Little, said he "is deeply concerned about the rising cost of all goods, including fuel."
She said that during his State of the State and Budget Address, Little "expressed his trepidation for the Biden Administration's policies leading to growing Bidenflation in all sectors. That is why he made historic tax relief his first priority for the 2022 Legislative Session."
She wrote that, "Thanks to House Bill 436, Idahoans will soon see $350 million in a one-time rebate, helping to ease the pain of poor choices from the White House.
Since it's been only a few days of suddenly skyrocketing fuel costs, some in Coeur d'Alene said they hadn't changed driving habits.
But some are talking about it.
Vicky Nelson, spokeswoman for the Kootenai Humane Society, asked her husband Wednesday morning how long he thought it would take her to walk 4 miles to work from home.
"It would be great exercise," she said.
KHS owns two vans and one Ford Explorer and none are exactly fuel friendly.
Nelson said with COVID-19, many community events were stopped, so they haven't been driving the eight-cylinder, gas-guzzling Explorer very much. 
But things are picking up. One van is used at the thrift store to pick up donations and the other is used at the shelter for different tasks.
"Fortunately, most donations are delivered to us," Nelson said.
"However, even when gas prices were low, we always combined trips to get the most out of a tank," Nelson said. 
Costs are hitting restaurants, too.
One resident told The Press she ordered two large, three-topping pizzas this week and the price was more than double the $15.98 she usually paid for pickup.
"They said the price just went up," the woman told The Press.
Scott Maben, spokesman for the Coeur d'Alene School District, said the district buys fuel in bulk on an annual contract.
"We are somewhat insulated from dramatic swings in oil prices, but if prices remain high for some time, we will see an impact," he wrote. "So far we have not seen much of an impact from the recent increases in fuel costs, but we will keep a close eye on this through the end of our budget year, June 30."
Recent Headlines
---