Students invited to learn building trades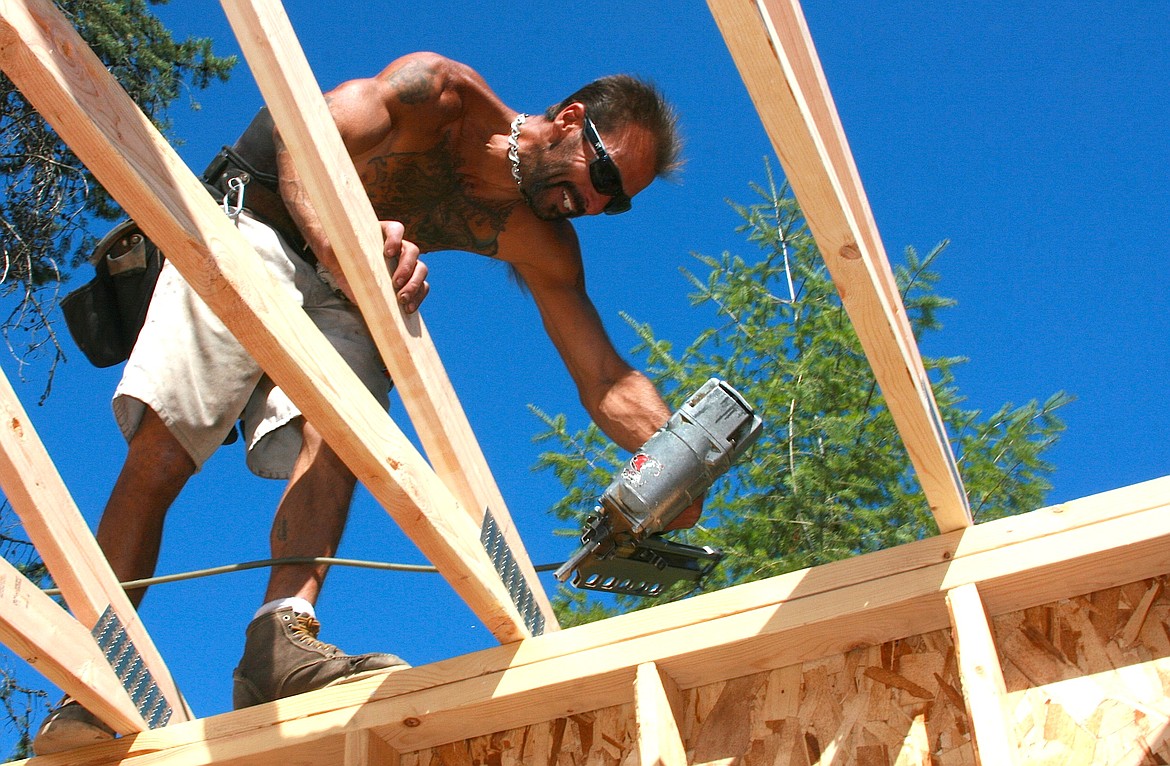 Local teens will have the opportunity to talk to local contractors at next week's Construction Combine and not only learn about the specific building trades, but to put those newly acquired skills to work.
(File photo/BRIAN WALKER)
by
KATHY HUBBARD Contributing Writer
|
March 17, 2022 1:00 AM
Local students from Sandpoint, Clark Fork and Lake Pend Oreille high schools are invited to participate in a unique program called Construction Combine.
The program will be held Tuesday, March 22 and Wednesday, March 23 at the Bonner County Fairgrounds.
At this event, teens will have the opportunity to talk to local contractors and not only learn about the specific building trades, but to put those newly acquired skills to work. Students can sign up at their respective high schools to learn the details.
The overview is that on the first day, students will go through individual stations that are staffed by various tradespeople such as plumbers, electricians, carpenters, roofers, etc. At each station the students will be given instructions on how these skilled workers ply their trades.
On the second day, they will get more hands-on. Materials have been procured for the students to put their new skills to work by building garden sheds. At the end of the day, those sheds will be donated to local veterans.
"This is a great opportunity for the students and the community," LPOSD counselor and Combine coordinator, Jeralyn Mire said. "I heard about this program around five years ago and thought we should do it. So, I applied for a grant from Panhandle Alliance for Education which is covering half of the expenses.
"Local businesses have come forward to give us a lot of support. That support is invaluable with building costs so expensive right now. The outpouring of help from the community and the excitement generated by this project is amazing," Mire said.
Businesses assisting with supplies, lowered cost or free materials, and even snacks and lunch include Badger Building, Home Depot, Washington Trust Bank, Sweet Lou's, Kiwanis and Ponderay Rotary.
"We're getting help from so many people it's hard to thank everyone. Even an employee from Bonner General Health will be there," Mire said. "Their plumber is going to staff one of the stations."
She also said that students are encouraged to participate, whether or not they think they will pursue a career in construction. Mire said that the program benefits everyone. Lots of kids are interested in the trades and the trades are "dying" for recruits.
"Plus, it's important to know this isn't a program just aimed at boys," Mire said, "journeyman electrician, Alicia Stiefel will be there to staff a station and talk to the teens about opportunities for women in this field."
Each participating student will be excused from classes and receive PPE's including hard hats, gloves, eye and ear protection, hammer, tape measure and more. Parental consent is required.
Recent Headlines
---