Commissioners to reconsider Selle rezone request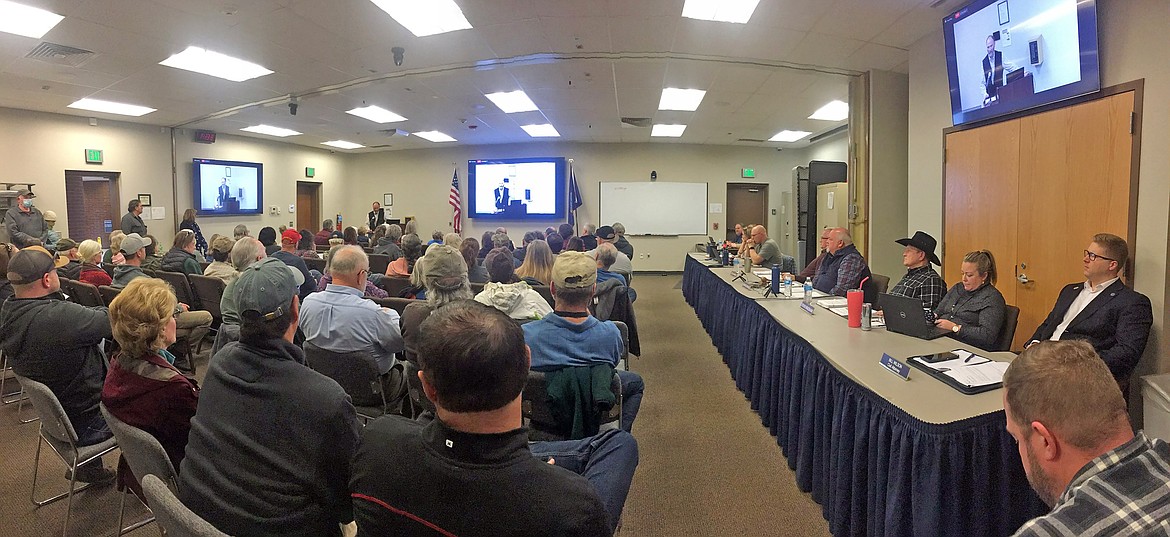 Don Skinner, one of the property owners of a 714-acre parcel in the Selle Valley, answers questions posed by Bonner County commissioners on Jan. 12. Commissioners asked if Skinner planned on developing the property in the future. Skinner replied that he is a fifth-generation rancher and that he hopes his family continues the lifestyle.
(Photo by ANNISA KEITH)
by
ANNISA KEITH
Staff Writer
|
March 20, 2022 1:00 AM
▶️ Listen to this article now.
SANDPOINT — The 714-acre Selle Valley rezone is set to come before Bonner County Commissioners once again on Tuesday.
The motion for reconsideration comes after the commission approved the highly controversial rezone on Feb. 9.
The reconsideration process is not a legal appeal to the February decision, as the board of commissioners is within the executive branch of government, and not the judicial.
If commissioners decide to again approve the rezone, the next step for opponents would be to file a civil lawsuit on the matter in First District Court.
Bonner County's Planning & Zoning Commission recommended denial of the rezone in November 2021, before the board of county commissioners approved the measure at the Feb. 9, meeting.
"For our commission — it's hard for me to sit here and say, 'Well, we're just going to ignore what the [Planning & Zoning Commission] said.' I struggle with this," Commissioner Jeff Connolly said on Feb. 9. "I did watch the end of the deliberation [of the Planning & Zoning Commission]. What I heard are things that will be covered if this [project] is ever subdivided."
Legal counsel to the board and deputy prosecutor Bill Wilson informed the commissioners in a March 8, meeting that it was up to them whether or not they would re-hear the matter.
"If one of you guys wants that, we'll schedule it for a business meeting, and so that way everyone knows what you're doing," Wilson said.
Commissioner Chairman Dan McDonald said he would be willing to rehear the file if there was a legal flaw in the commission's original decision.
"My basis for reconsideration — there has to be something legally that we made a mistake on. To me, reconsideration is not someone coming in and saying, 'well, we don't agree with your decision.'"
Although it is unclear who requested the consideration, commissioners will decide the matter in open session Tuesday.
The fact that the reconsideration is taking place on public record is unexpected, as Wilson said on March 8 that the matter would be more appropriate for the off-the-record executive session held at the end of commissioner meetings.
"This is certainly pending litigation," Wilson said. "We've been threatened to get sued, so, I don't want to comment. I do think that would be appropriate for executive session."
Pack River Partners LLC, and members of the public, will be able to listen and comment at Tuesday's commissioner meeting at 1500 U.S. 2 in Sandpoint.
Recent Headlines
---