House debates wide range of education issues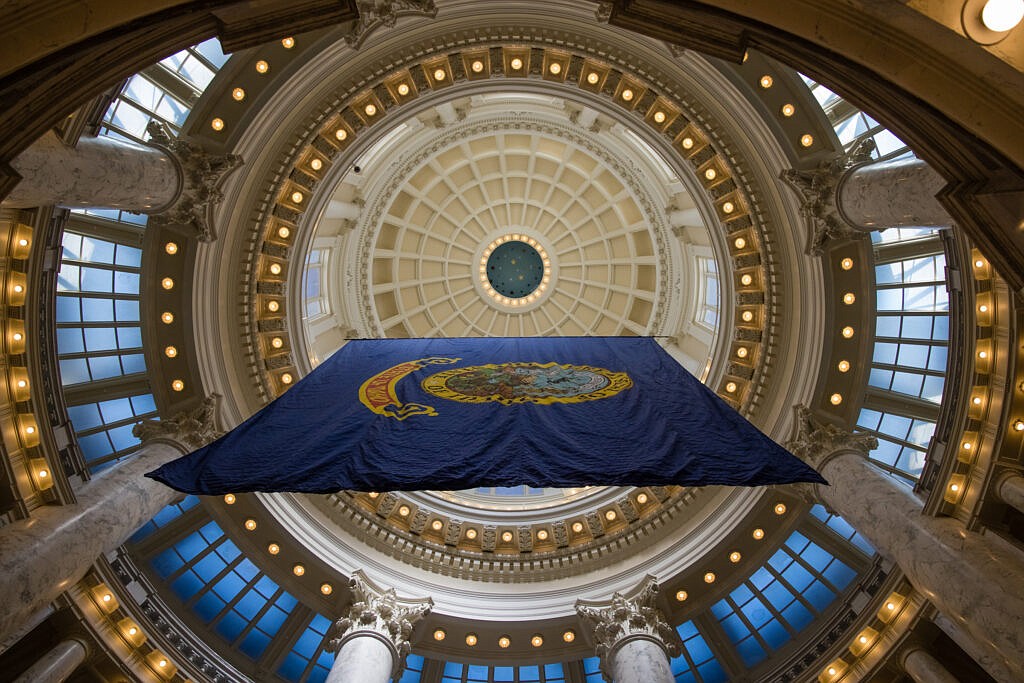 Rotunda at the Idaho State Capitol building on March 23, 2021.
(OTTO KITSINGER/Idaho Capital Sun)
by
JESSICA MEGIS Contributing Writer
|
March 20, 2022 1:00 AM
This week, Idaho legislators tackled education bills regarding everything from all-day kindergarten to higher education budgets, with some concern about indoctrination thrown in.
On Wednesday, the Idaho House of Representatives debated the all-day kindergarten bill, Senate Bill 1373, which would allocate an additional $46 million into early reading programs.
Representative Ryan Kerby, R-Plymouth, presented SB 1373, which he said would ease the need to use local, supplemental property tax levies for kindergarten. About 90% of schools provide a form of all-day kindergarten, and depend on these levies to provide these services.
Kerby also said the bill would change Idaho's planned distribution of $72 million dedicated to literacy programs. The money would be split, half going towards schools based on enrollment, and the other half going to schools providing student grade level scores on the Idaho Reading Indicator.
After Rep. Heather Scott, R-Blanchard, objected, House Clerk Carrie Maulin read the bill in full aloud, and a 20-minute debate followed. House Majority Leader Mike Moyle, R-Star, requested the SB 1373 be delayed for another day, without objection.
The House also passed HB 776 with a 46-22 vote which provides the higher education budget for fiscal year 2023. Idaho's four-year colleges and universities would receive a $25 million boost if passed.
In opposition to the bill, Representative Ronald Nate, R-Rexburg, emphasized last year's decision to cut the increase by $2.5 million to incentivize schools to look out for indoctrination, and even mentioned critical race theory.
"What I'm talking about is universities becoming activation centers, they're taking their eye off education … [Students] are getting diverted from their education, and trying to become activists."
The bill's sponsor, Representative Paul Amado, R-Coeur d'Alene, said there is no evidence of indoctrination, and said the budget would allow schools to freeze in-state undergraduate tuition for a third successive year.
Representative Megan Blanksma, R-Hammett, offered her support, addressing four universities' leaders, who provided letters pledging to act in accordance with policy and even asking legislators to visit their classrooms.
The bill moves to the Senate for further debate and vote.
With some lawmakers questioning the incentives of some higher education institutions, a resolution that encourages Idaho schools to teach the whole and honest truth about U.S. American History was adopted by the House on Tuesday. Concurrent Resolution 118 is sponsored by Senator Carl Crabtree, R-Grangeville, and Representative Judy Boyle, R-Midvale, and was approved by the Senate a month ago.
"This is just an attempt to put away what divides us … it's an effort to unite us by teaching our children the history, all the history of America — the good, the bad and the ugly," Boyle said, urging members of the House to give the bill a green light.
The resolution encourages the removal of "divisive content" from school itineraries and other learning materials, and calls out the 1619 Project which focuses on the overall impact of slavery. The resolution received support in efforts to reduce possible indoctrination in higher education.
Meanwhile, the opposition questioned the influence the resolution may have. Rep. Chris Mathias, D-Boise, said the resolution may shield a "certain type of history instruction."
Jessica Megis is an intern with the University of Idaho McClure Center for Public Policy Research and the UI JAMM News Service.
Recent Headlines
---