Combine teaches students building skills, benefits veterans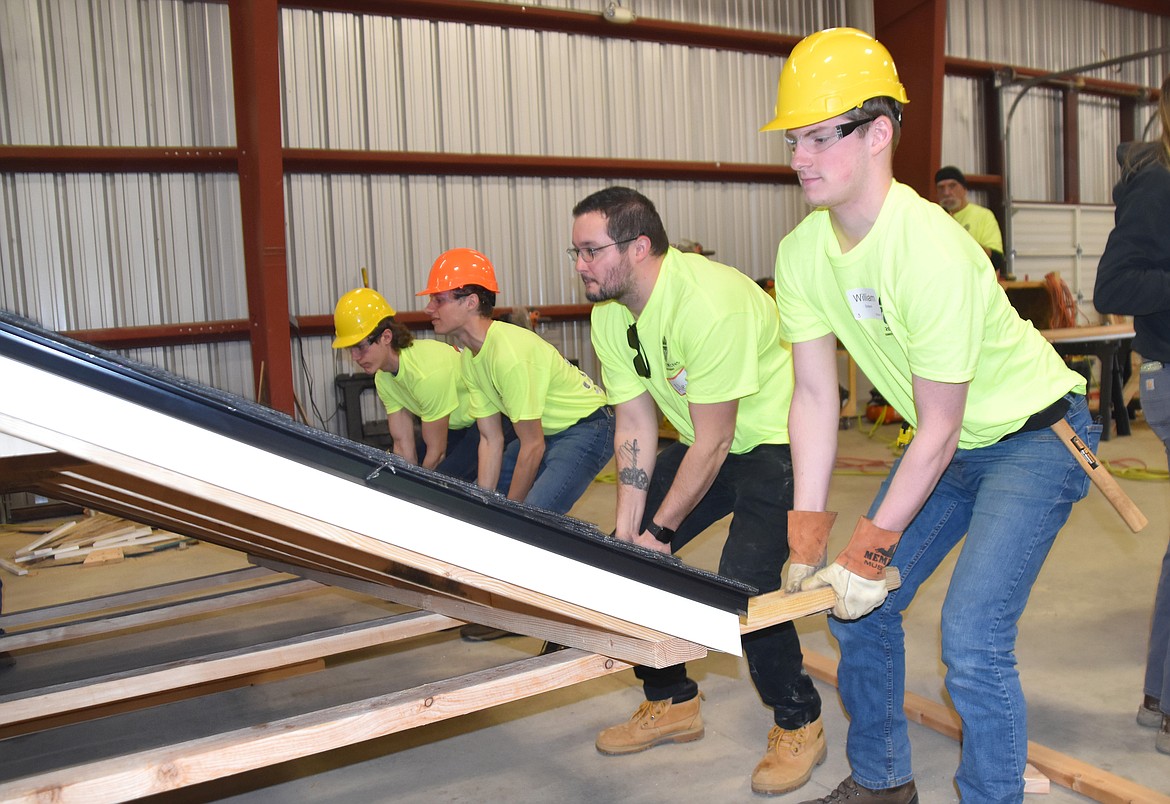 Students from Sandpoint, Lake Pend Oreille and Clark Fork high schools took part in a two-day Construction Combine to learn the different facets of the building industry. The four completed sheds were donated to local veterans.
(Photo by KATHY HUBBARD)
▶️ Listen to this article now.
Forty high school students participated in a two-day Construction Combine this week that taught them skills to last their lifetime, whether or not they choose to go into the industry after graduation. From roofing to dry wall to framing to plumbing and electrical skills, teens were exposed to a hands-on experience that was not only educational, but fun.
Four students from Lake Pend Oreille High School, nine students from Clark Fork High School and the rest from Sandpoint High School took part in building four garden sheds from the foundation to the roof. Local builders and skilled tradesmen transformed the Holly Barn at the Fairgrounds from a bare, concrete floor to a hub of activity, noise and sawdust.
"We show the students how to perform a task once and they do the rest," said Steven Quinton, Idaho State University College of Technology, whose program in Pocatello was the template for this Combine. "We teach them the rule that if you can't find the time to do it right the first time, how are you going to find the time to do it the second time."
Quinlan said that his wife, Annie, wrote the playbook for this program. Jeralyn Mire, Sandpoint High School Post-Secondary Transition Counselor said she "stole" the idea from them. But, the truth is they actually gave it willingly. A grant from Panhandle Alliance for Education and the support from many local businesses made it a reality.
Mire singled out two other people who were instrumental in getting this program off the ground, Angela Dail, College and Career Mentor at SHS and Chuck Lowman whose wife, Heather, works for PAFE and "roped him in."
Lowman who's real job is as pastor at Mountain Springs Church said he put himself through college working in construction. He also built his own house.
"It's super fun teaching kids skills they will use forever," he said.
Dail said that they pulled in every connection that she and Mire had to put the program together. "The good part was that everyone we asked a favor of, didn't make us beg. One call was all it took."
From the students' standpoint the Combine was not only very educational, but a lot of fun as well. Kaden Root and Brady Packer, both juniors at SHS said they most enjoyed learning dry wall. Joseph Huges a senior at SHS thought the electrical station was the most interesting.
"I had never done drywall before," LPO junior Owen Williams said. "It isn't so easy. There's a technique to making sure it's smooth and looks good. I actually learned something!"
LPO junior, Dylan Greer said he particularly liked working with power tools, while Stella Burke a sophomore at SHS said she signed up for the Combine to gain experience, meet new people and build stuff.
"I think all women should know how things work, even if they don't choose it as a career. They should all know basic tools," Burke said.
Jasmine Johnson, a junior at SHS agreed with Burke and added, "A lot of women do roofing, electrical, drywall, even plumbing. I like roofing best, maybe because my brother is a roofer and I'm not afraid of heights."
At the conclusion of the second day, the students were able to meet the four veterans that will now own the completed sheds. Brigadier General Bryan Hult, Bonner County Veterans' Service Officer told the students that although veterans may have wounds that don't show, they have wounds nonetheless. He said that programs like this are worthwhile.
"How many of you got something out of the Combine?" Hult asked. Every student's hand went up.
"I'm so proud of all of you students," Dail said. "Pat yourselves on the back." Then there were some thumping noises.
Recent Headlines
---