City Nature Challenge sets sights on recording area's biodiversity
SANDPOINT — Are you up for the challenge?
The City Nature Challenge, that is.
Bonner County is one of 419 sites around the world that is participating in the international City Nature Challenge, George Gehrig, one of the organizers behind the local event.
Last year also saw the communities in Bonner County, Boise and Red Lodge, Mont., square off for top honors and to take home the Northern Rocky Mountain Challenge trophy. The honors were won by Red Lodge "in a squeaker," Gehrig said.
Red Lodge won with 0.26% (28 observers out of 10,725 residents), Bonner County was second with a per capita percentage of 0.13% (56 observers out of 45,739 residents) and Boise was third with 0.05% (126 participants out of a population of 242,160).
Bonner County was one of 419 sites which took part in the City Nature Challenge in 2021 and this year, the City Nature Challenge Bonner County team wants to the bragging rights.
After the first day of the 2022 challenge, Bonner County is second with 0.045% compared to first-place Okanagan Valley, which has a per capita percentage of 0.067%.
To win the trophy, Bonner County must record the most people per capita to record at least one observation using the iNaturalist, or Seek, apps between April 29 and May 2.
"Let's bring that trophy home to Bonner County," Gehrig said. "If we win, the East Bonner County Library will accept it on our behalf."
So far, there have been 1,312 observations noted in the first two days of the challenge with 355 species identified with 198 identifiers and 60 observers taking part. Some have recorded as many as 154 observations and 64 species while others have only recorded one observation and species.
That compares to the 1,308 observations recorded in 2021 with 356 species noted by 58 observers. Prior to the challenge, there had been 3,919 observations of 1,078 species made by 463 observers, according to data posted on CNCBC's iNaturalist page.
A primary aim of the challenges is to increase the number of people using the app and making observations, Mike Bauer said at the 2021 CNCBC awards presentation.
"This represents a 24.5% increase in observations, a 29.9% increase in species identified and an 11.5% increase in observers," Bauer said. "So definitely, the CNCBC had a big effect."
Participating in the challenge is simple. After downloading the free app, go online to iNaturalist.org and set up an account. To set up an account, you must be at least 13 years old, Gehrig said.
Then it's just a matter of heading outdoors and take photos or wild plants or animals anywhere in the map area. If the plants or animals are not wild, they should be marked as captive or cultivated.The photos are then uploaded to iNaturalist and participants get learn more as their photos are identified by the iNaturalist community.
While the planet's diverse ecosystems may seem invulnerable and able to withstand anything, a Ted Talk on biodiversity shared by Gehrig says they are actually vulnerable to collapse.
Biodiversity can help ecosystems stay strong. Biodiversity is comprised of three intertwined features, ecosystem diversity, species diversity and genetic diversity. The more interconnections, the more resilient the ecosystems are, Kim Preshoff said in the Ted Talk.
While the competition started on Friday, there is still plenty of time to record the biodiversity of the area.
Local challenge organizers — and their mascot Sassy — will be at the Pine Street Woods from 9 a.m.-noon today, May 1, and at Riley Creek from 1-4 p.m. Organizers will be at the Priest Lake State Park on Monday, May 2, from 9 a.m.-4 p.m.
The challenge — basically a bioblitz — is a way that residents can team up to record as many species within a designated area in a set period of time. iNaturalist officials said they are a great way to engage the public and get them to connect with their environment while gathering useful information for science and conservation.
Still unsure about how to participate, Gehrig suggested checking out Sea-Tac's website which features an excellent training link.
Started in 2016 for the first-ever Citizen Science Day, it was a way for Natural History of Museum of Los Angeles county and the California Academy of Sciences to get a sense of the area's urban biodiversity — and engage in a little friendly rivalry. The eight-day event attracted more than 1,000 people and cataloged about 1,600 species in each location.
The event went national the following year and, in 2018, the event went international.
Information: bit.ly/3y1RzMb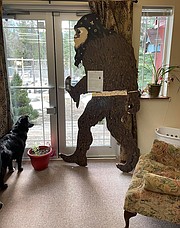 Recent Headlines
---