Water claims filed, process continues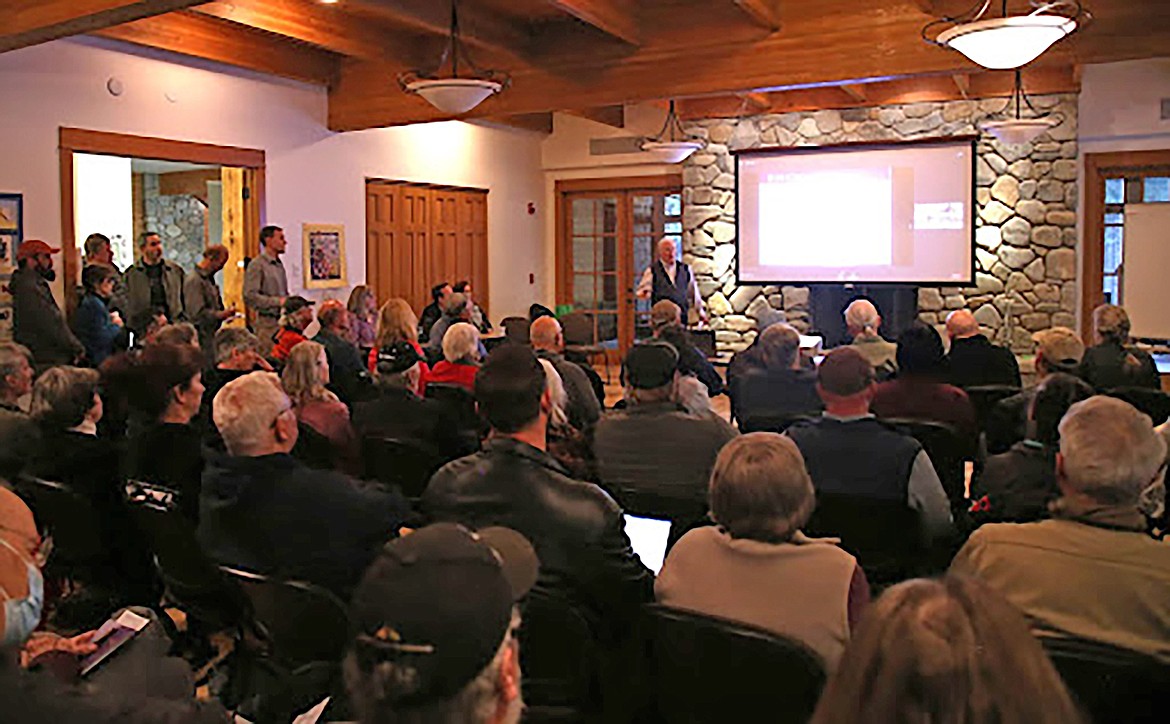 IDWR Water Allocation Bureau Chief Shelley Keen gives a presentation to a standing-room-only audience of over 100 people about the water rights adjudication process. The meeting held on April 28 at the Sandpoint Organic Agriculture Center lasted for two-and-a-half hours, with most of that time being dedicated to answering questions from the public.
(Photo by ANNISA KEITH)
by
ANNISA KEITH
Staff Writer
|
May 8, 2022 1:00 AM
▶️ Listen to this article now.
SANDPOINT — Hundreds of citizens around the region are one step closer to securing their legal water rights.
More than 200 people living in the Clark Fork Pend Oreille Water Basin met with officials from the Idaho Department of Water Resources for help in filing for their water rights.
The adjudication process for the basin got the judicial green light on June 15, 2021, beginning the process of documenting various claims of water users.
The department is still in the early stages of the adjudication process, with mailings of notice still being sent to thousands of addresses in Bonner and Boundary counties.
This week, IDWR held a three-day workshop in Ponderay to help in the filing process.
"We set out to help people in the community and I think we've done that," Lacey Rammell-O'Brien, deputy attorney general and legal advisor to IDWR, said. "There's a lot of types of claims, having access to the resources that we brought up helped a lot of people."
According to IDWR officials, domestic and stock water rights were among the most common rights filed at the workshop.
Also known as "de minimis" water rights, citizens who are using water for at-home consumption pay $25 to file. This type of water right can also be filed later in the adjudication process, however, it's cheaper to file claims sooner than later.
"It's a good thing for us to establish the priority of water rights and get it all laid out in court," state Sen. Jim Woodward, R-Sagle, said on July 28, 2021.

It should be noted that those who are using water domestically have what is referred to as a natural water right, meaning that a permit does not need to be filed beforehand in order to use the water. Even though filing these rights can be put off for the time being, domestic water rights will also need to go through the adjudication process.
Other types of water rights must have a permit before water is diverted from its natural source and put to use, and may be subject to different fees.
"What we're trying to do with water adjudication is, we just want to figure out who has a water right, how much water is it, and when was it established," Woodward said at an informational meeting held by the Lakes Commission on April 28.
IDWR has records for about 2,700 water rights on file in the Clark Fork-Pend Oreille Water Basin. It is expected that up to 9,000 water right claims will be filed in the basin, IDWR officials have said.
This week, IDWR helped file 41 new water right permits at their workshop. Although plans have not been finalized, department officials expressed interest in holding another workshop later in the year.
"We met some really great people while we were out here," said Dawn Lenon, an official with IDWR. "We have a couple of people who were kinda grumpy, but by the time they left they were happy."
Resources are available to those who want help or information about filing their water rights, which can also be filed online. Claim applications and other resources can be found on the department's website at idwr.idaho.gov/water-rights. Help can also be found in person at IDWR's northern regional office at 7600 Mineral Dr., Suite 100, in Coeur d'Alene. The office can also be reached by phone at 208-762-2800.
Recent Headlines
---