SHS track sends 13 to state meet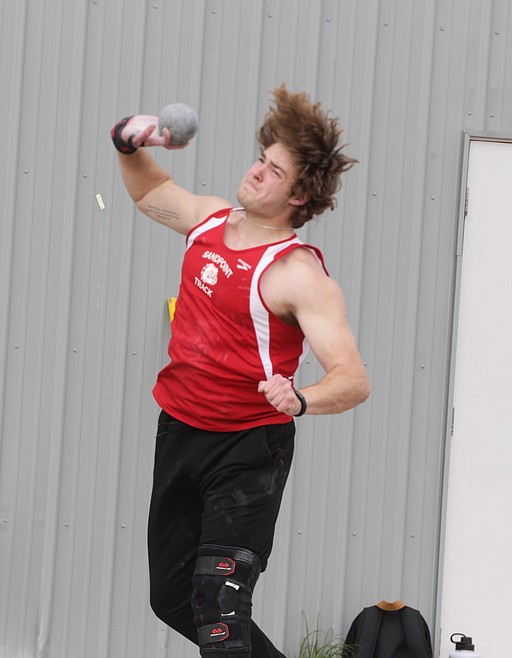 Sandpoint senior Will Hurst winds up for his final throw in the shot put during the 4A Region 1 meet at Coeur d'Alene High. Hurst won the event with a throw of 52 feet, 6 1/2 inches.
(Photo courtesy JASON ELLIOTT CDA PRESS)
by
TREVAN PIXLEY
Sports Editor
|
May 13, 2022 1:00 AM
The Sandpoint track team completed day one of the Class 4A District 1 track meet at Coeur d'Alene High School on Thursday.
The girls are currently in second place with 39 points, just a half point behind first-place Lakeland.
The boys are also sitting in second place with a point total of 30.
"I'm really happy with day one's results," Sandpoint track coach Matt Brass said. "The girls performed exceptionally well and the boys are about where we expected them to be after the first day."
The teams competed in nine out of the 18 events on Thursday.
The Bulldogs ended up sending 13 athletes to the Idaho Class 4A track meet at Middleton High School on Friday, May 20.
Firstly, Will Hurst qualified for the state meet in both the shot put and discus events.
"We did really well overall in the field events," Brass said. "(Will) Hurst did amazing. He's had an incredible comeback story this year."
Rusty Lee qualified for the state meet with a first place finish in the high jump event.
Lee was also a part of Sandpoint's medley relay team who placed first.
Luke McCorkle, Ben Ricks, and Keyan Strock round out the team.
For the girls, Ava Mazzill qualified in the long jump event with a first-place finish.
She'll also be competing at state in the triple jump event. She finished in second place.
Day number two of the Class 4A district 1 track meet resumes today at 2 p.m. at Lewiston High School.
TOP 4 SANDPOINT PLACERS
BOYS
Long jump — 3, Luke McCorkle 19'5. High jump — 1, Rusty Lee 6'2. Discus — 1, Will Hurst, 154'0. 3, Ben Stockton 103'9. 4, Mike Chapman 103'2. Shot put — 1, Will Hurst, 52'6. 4, Carson Laybourne 39'6.5. Pole vault — 2. Slate Fragoso, 12'1. 4, Klein Fragoso. 11'7. Medley — 1, (Strock McCorkle, Lee, Ricks), 3:38.47.
GIRLS
3200 — 1, Megan Oulman, 11:50.62. 2, Ara Clark, 11:56.34. Pole Vault — 1, Erika Edmundson, 10'4. 2, Devin McDaniel, 10'4. Shot put — 1, Ivy Smith, 36'3. 2, Alex David, 31'7. Discus — 2, Ivy Smith 100'5. 3, Betti Travers, 87'6.5. 4, Ara Clark, 87'0. Long jump — 1, Ava Mazzilli, 16'9. High jump — 4, Noah Rozark, 4'8. Triple jump — 2, Ava Mazzilli 31'11.5.
---