Tug handles biggest tow of logs yet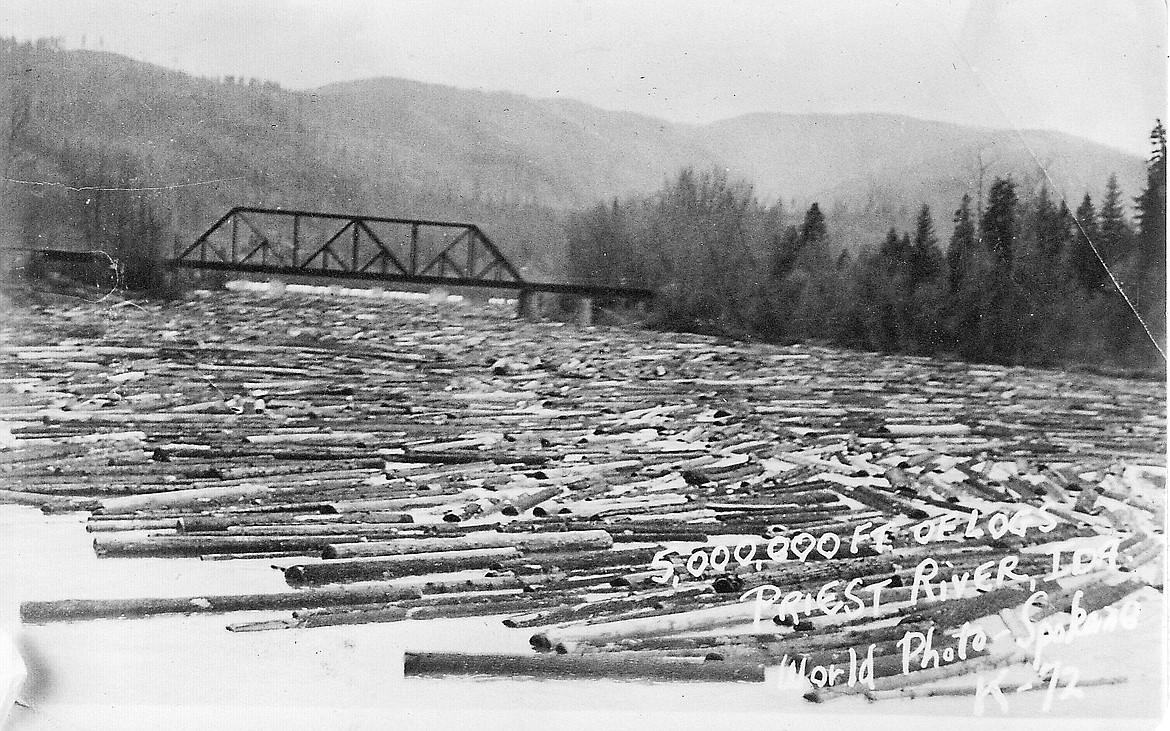 The Priest River Museum shared this photo of a few of the logs being floated down the river in western Bonner County in 1945.
(Photo courtesy PRIEST RIVER MUSEUM)
by
MARYLYN CORK Contributing Writer
|
May 18, 2022 1:00 AM
20 Years Ago — 2002
Weather permitting
A "People Chain" will form on Monday, June 3, at 3:30 p.m., weather permitting, to hand over books from the old Priest River Library in city hall to its new home on Main Street.
30 Years Ago — 1992
Canoeing accident claims life
A canoeing accident on Priest River near Binarch Creek took the life of Deana Bennett of Sandpoint but her partner, her husband Kenneth, escaped with minor injuries.
40 Years Ago — 1982
The Bonner County School Board has named Gary Barton as interim school district superintendent, replacing Lorence Simonsen, hired eight months ago.
50 Years Ago — 1972
Dam now "free-flowing"
Albeni Falls Dam is operating in a "free-flow" condition. All gates in the spillway were raised clear of the water Friday morning, May 12. This reduced the plant head to less than the 8' required to operate the generating units, so they are now off-line. Boaters should stay well clear of the dam at this time.
60 Years Ago — 1962
Miss Priest River selected
Colleen Cook, a 17-year-old junior, was selected as the official hostess for this community at the fifth annual Miss Priest River Pageant on May 12. Princesses are Claudia Luckey and Jeanie Wuennecke. Candance Althauser was named alternate princess.
70 Years Ago — 1952
Graduation set for May 19
The Priest River High School commencement exercises will be held in the school gymnasium on May 19 at 8 p.m. Twenty-nine students will receive diplomas. Valedictorian and Salutatorian are Ann Simonds and Helen Carey.
80 Years Ago — 1942
Work soon on Outlet Dam
Word was received in Priest River from Congressman White that work would again get underway in the near future on the Priest River dam. The (power) line has been completed to the Outlet and also to Coolin, and it is expected that power will be available shortly.
90 Years Ago — 1932
Draining to kill pests
City workmen have been busy the past few days opening up the old ditch leading into the river which drains the big slough to the east of town. The ditch crosses Schaefer's pole yards and has been so badly filled up with debris that it was impossible for the water from the slough to drain off. It is hoped the drainage from the slough will help in keeping down the mosquitoes this summer. Heretofore, the breeding pond has been oiled.
100 Years Ago — 1922
Biggest tow ever handled
Jack McKay, who has charge of towing the Dalkena logs across Priest Lake from Camps five and three to the Outlet, where they are placed in Priest River, handled two million feet in one tow last week with the tug Harris, a distance of about 15 miles. This is the largest bunch of logs ever handled in one tow on Priest Lake.
Recent Headlines
---