Drift Lakeside Kitchen and Bar opens in Hope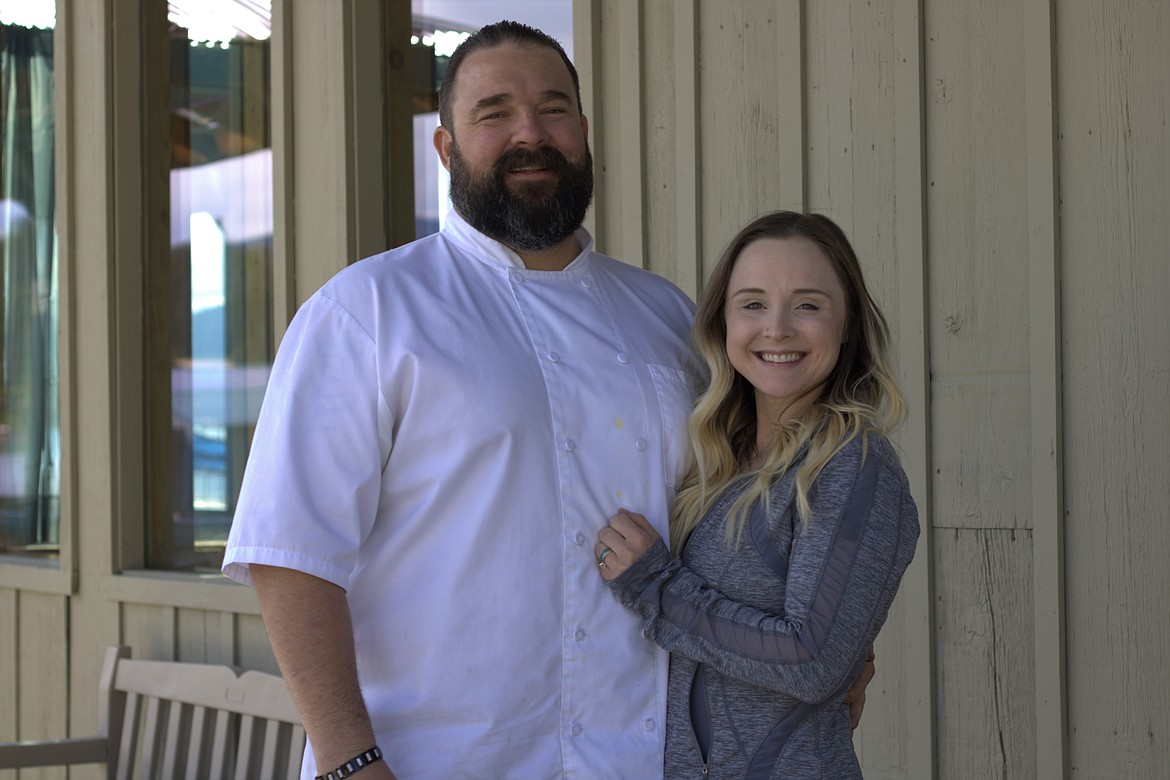 Chef Josh Dorrell and his wife Maddie pose in front of their newly opened restaurant, Drift Lakeside Kitchen & Bar in Hope.
(photo by BEAUX WHITE EAGLE)
HOPE – There's a new place to grab a bite to eat in Hope, occupying what used to be "The Chop" behind Holiday Shore gas station.
Chef Josh Dorrell and his wife Maddie recently opened their new restaurant, Drift Lakeside Kitchen and Bar, in Hope.
After being classically trained at Le Cordon Bleu in Scottsdale, Arizona, Dorrell has spent the past 20 years immersed in the restaurant industry as an executive chef or a consultant in restaurants and hotels throughout the West Coast. Dorrell's cooking has even attracted celebrities from Sean Penn to Shia LaBeouf.
This will be the sixth restaurant Dorrell has had a hand in an opening, having owned various types of restaurants in the past including a steakhouse and pizza restaurant and has even worked both phases of the PGA Golf Tour.
While working in the area for a month in 2019, attracted to the Idaho Panhandle due to his love of the outdoors and due to being a hunter, Dorrell said he fell in love with the area.
"I fell in love with the panhandle area," Dorrell said. "Being able to be an outdoorsman and work here and live there like I don't have to drive anywhere to fish. It's right here."
With his career transitioning to the corporate side, managing three different hotel restaurants, Dorrell said he had gotten comfortable. And then the pandemic hit. Dorrell said he and his wife enjoyed their time together during quarantine and even more so when they welcomed a daughter, Maesyn Rae. That only helped solidify the decision to move and open their restaurant together.
"COVID happened. It was a blessing," Dorrell said. "My best buddy, who lives in Clark Fork [mentioned] there's a restaurant on the water here for lease. I said, 'Go get me all the information.'"
"I didn't want to go back to corporate America,"
It took the family the next year-and-a-half to find a home off-grid in the area, Dorrell said. They then spent the winter creating the menu and preparing to open the restaurant.
"This is us in a restaurant, and we're gonna do it," Dorrell said.
The Dorrells said they want to bring a new dining experience to the area, but also support the community. That is something Dorrell said he feels very strongly about, hiring teens local to Clark Fork and Hope but also working closely with chefs, farmers, herbalists, and many other types of professionals all from the local community.
"So just slowly but surely, it's going to be all local. I want to support everybody" Dorrell said. "I want to network with people,"
The menu features new American-style food that incorporates many ethnic influences, from Mexican and Korean. With plans to open up both decks, and include lawn games, and live music, Dorrell said he wants this restaurant to be an experience that brings people together to enjoy their time.
"If you have to wait at the bar, and have a drink, you should enjoy that with your family and friends, put the phone down," Dorrell said

The restaurant opened with a soft opening on April 29, and the grand opening to come later in June, Dorrell said the response from the community has been overwhelmingly positive.
"People that really appreciate what we're doing here. There are people that already talked to me about wanting to invest in a fine dining restaurant," Dorrell said.
Recent Headlines
---