Lions invite community to celebrate Fourth fun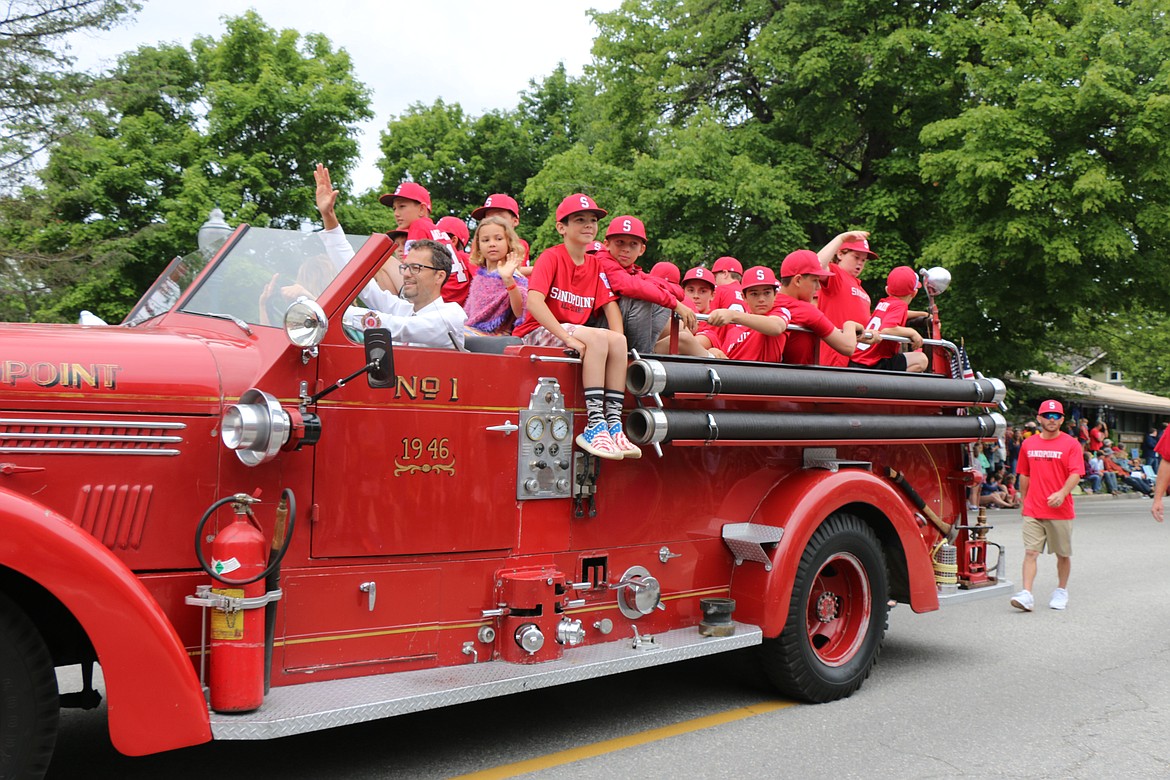 Young baseball players get a lift in the city of Sandpoint's vintage fire truck during a past Sandpoint Lions' Grand Parade on the Fourth of July.
by
CAROLINE LOBSINGER
Staff Writer
|
May 31, 2022 1:00 AM
▶️ Listen to this article now.
Want some cold, hard cash to spend this summer?
The Sandpoint Lions Club may be able to help — the top prize in this year's fundraiser for the Fourth of July is $5,000 in Bonner Bucks. A second prize of $1,000 also will be given.
"We figured everyone could use a little help this year," Lions Club member Judy Dabrowski said. "This also allows us to help the local businesses because you have to spend the money in Bonner County."
Tickets are $5 each or $20 for a book of five tickets. Those who purchase a book of tickets will get to spin the wheel for a chance at an additional prize.
T-shirts will again be sold to help raise funds for the Fourth of July events and are being designed by the Sandpoint High School graphic arts students.
In addition, donations are being accepted to help the Lions put on the Fourth of July events, which include a children's parade, Grand Parade, and a spectacular fireworks show. Donations can be dropped off at the Sandpoint Lions Club Den, 609 S. Ella Ave.
This year, the theme for parades is "One Nation Together" and the event will showcase the community and how, united, it can do anything, Lions Club officials said.
The children's parade will start at 9 a.m., and the Grand Parade will begin at 10 a.m.
The grand marshal of the 2022 Grand Parade will be former Sandpoint Parks and Recreation Director Kim Woodruff, who recently retired.
Applications are being accepted for the Grand Parade and will be accepted until the morning of the parade.
To fill out an application to take part in the parade, go online to the Lions' Facebook page or website — sandpointlions.wixsite.com/website/applications. The cost is $25 if paid before June 30 or $30 if paid after June 30. Categories include community and civic groups, youth organizations, commercial floats, forest products, antique transportation, individual effort, veterans/military, band, and animal.
Recent Headlines
---