Program helps families plan for their land's future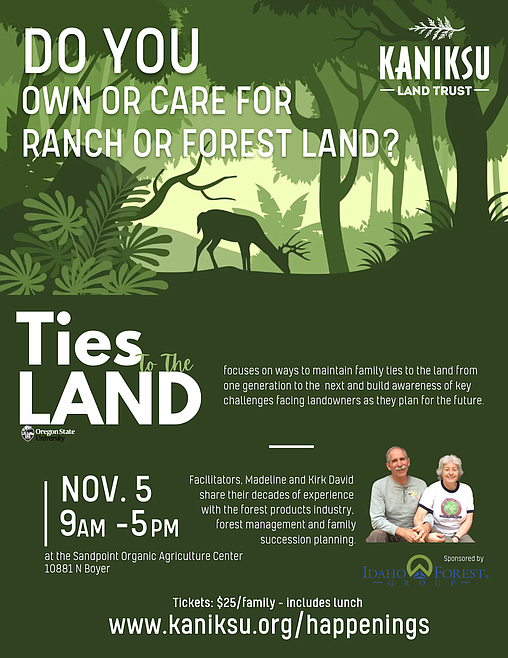 Kaniksu Land Trust, with support from the Forest Stewardship Foundation, are partnering to offer the award-winning "Ties to the Land" succession planning workshop in Sandpoint on Saturday, Nov. 5.
(Courtesy illustration)
|
November 2, 2022 1:00 AM
SANDPOINT — Do you own and care for ranch or forest land? Do you have concerns about what will happen to your family land in the future? If so, this workshop may put your mind at ease.
Kaniksu Land Trust, with support from the Forest Stewardship Foundation, are partnering to offer the award-winning "Ties to the Land" succession planning workshop in Sandpoint on Saturday, Nov. 5. Succession planning is the human side of estate planning, and is a way for families to maintain their ties to the land across multiple generations, building awareness of the key challenges facing family businesses, and motivating families to address those challenges.
This is a live and interactive workshop that provides effective tools that families can use to decide the future of their land. Veteran facilitators Kirk and Madeline David have a wealth of experience with forest management and family succession planning and have offered this special workshop across multiple states with tremendous success due to their passion for supporting families in planning for the future of their land.
Families usually attribute a high level of importance to succession planning but concede that they have not done enough to prepare. Sometimes this is due to unresolved issues, passive communication styles, or uncertainty in people's lives. Including younger generations in key discussion about the future of the family farm or forestland enhances the successful transfer of beliefs and values, compared to a "wait and see" approach.
This workshop is a mix of presentations and practical exercises that helps families address the key challenges of succession planning. Workshop participants learn about the legal and economic aspects of transferring a farm, forest or ranch from one generation to the next. Participants receive a "Ties to the Land" workbook and companion DVD, tools designed to help families continue to improve and direct communication and planning at home. Ties to the Land is an award-winning curriculum developed by leading estate planning experts at Oregon State University Extension and the Austin Family Business Program.
The workshop will be offered Saturday, Nov. 5 at the University of Idaho's Sandpoint Organic Agriculture Center, 10881 N. Boyer, from 9 a.m.-5 p.m. Registration for the workshop is $25 per family, and includes one workbook, a DVD, lunch, and refreshments. Generous sponsorship by Idaho Forest Group has allowed costs to be kept to a minimum.
Space is limited and registration is on a first come, first served basis. To register, visit www.kaniksu.org/events/ties-to-the-land or call 208-263-9471.
Recent Headlines
---