Bulldogs lose heartbreaker in semi-finals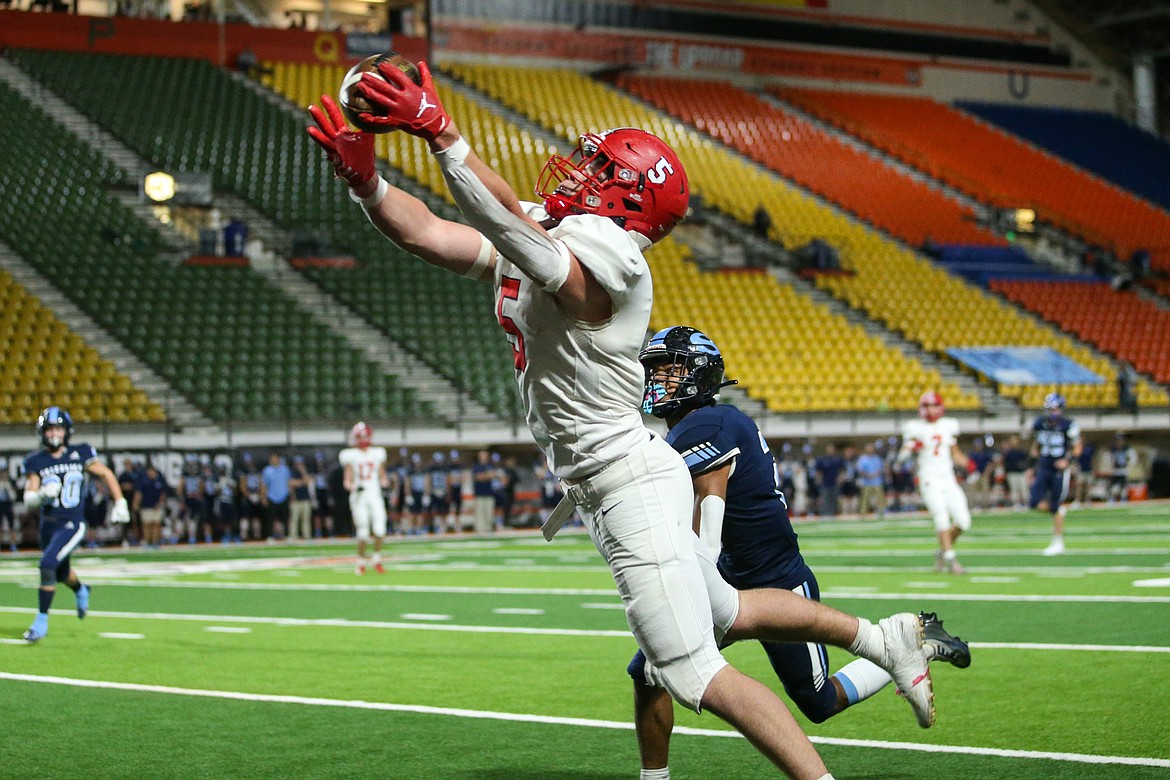 Max Frank hauls in a touchdown pass Friday in the state 4A high school football semifinals at Holt Arena in Pocatello.
(Photo courtesy JASON DUCHOW PHOTOGRAPHY)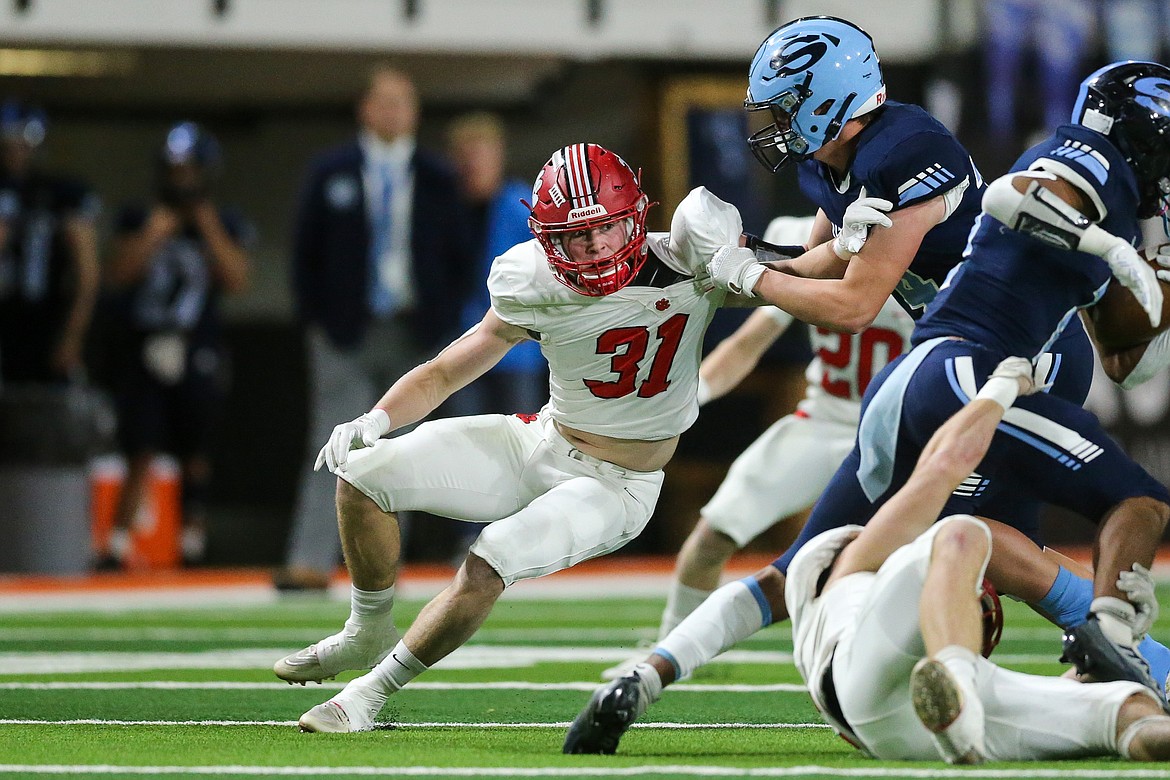 Senior linebacker Owen Wimmer made things difficult for Skyline on Friday.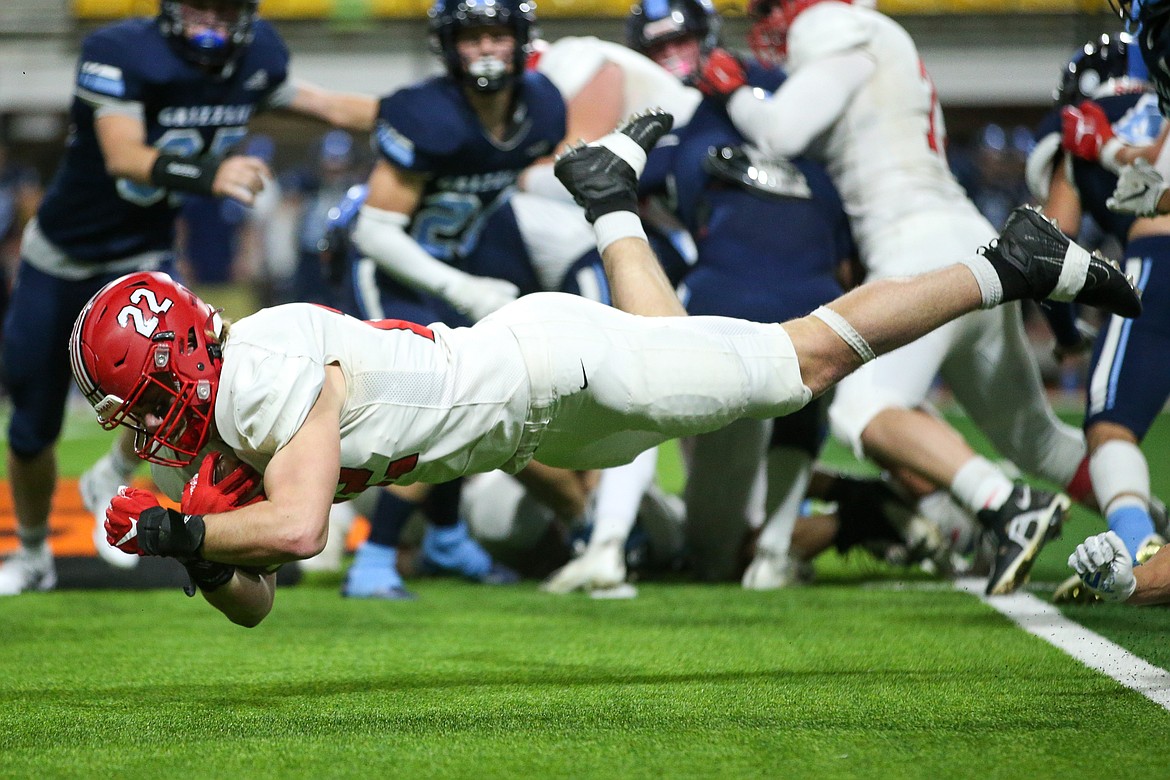 Wes benefield dives for a first down in the state 4A high school football semifinals at Holt Arena in Pocatello.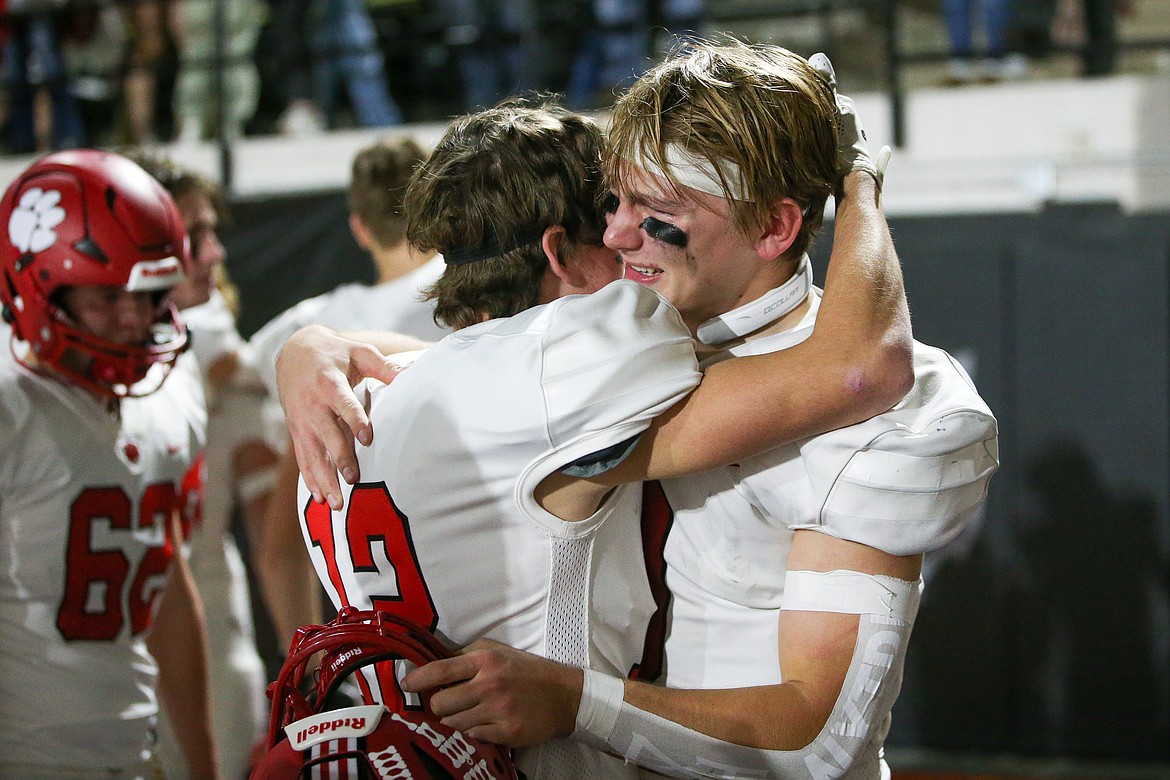 Teammates Ryder Haynes and Parker Pettit embrace following the game.
Previous
Next
by
SAMMY BERRYMAN
Sports Reporter
|
November 12, 2022 1:00 AM
The Bulldogs fought hard in last night's Idaho 4A semifinal against Skyline, but in the end the Grizzlies ended Sandpoint's stellar season 42-28.
Junior Max Frank was a standout running an average of 6 yards per carry and the lead touchdown scorer for Sandpoint.
Skyline came out of the gates hot and scored on a 36-yard pass to Kenyon Sadiq. His name would be mentioned many more times throughout the game as he scored five of six Grizzlies touchdowns.
"I give Sadiq some credit, he blew by our guys," said coach Knowles after the game.
At the end of the first quarter the score was 14-0 Skyline.
Heading into the second quarter, the Bulldogs got onto the scoreboard with a 13-yard touchdown run from Frank. Senior Jacob Gove's extra point was good.
"Our offense kept us around in the first half," said Knowles.
Skyline responded with a touchdown from Sadiq, his third of the game.
Sandpoint used the momentum and kept the energy going in their favor. Frank went on to score his second touchdown on an amazing 24-yard touchdown grab from senior quarterback Parker Pettit with 4:26 left to go in the second quarter.
"He's an amazing player," Knowles said about Frank.
With a minute left in the second half, Skyline picked up the fumble on a punt return leaving the game 28-14 Skyline.
"We practice punt returns everyday after stretch — that shouldn't have happened," said Knowles. "Not a lack of effort or bad attitude, just bad execution."
In the third quarter, Sandpoint came out calm and collected, launching an impressive 10-play, 80-yard drive to score their third touchdown of the game.
The Bulldogs showed their depth with Hughes, Pettit, Benefield, Frank, Brewster, Garcia and Vandenberg all getting their hands on the ball as they worked it up the field.
Senior Joseph Hughes was the one to capitalize and scored with 7:48 to go. An extra point by Pertek, and the Bulldogs closed the gap to seven points.
Coach Knowles said he was proud of the offense for keeping the Bulldogs in the game until late.
Sandpoint's defense was put to the test. They were able to slow Skyline's quick pace with big tackles from juniors Shane Sherrill and Cameron Barrett.
"Nobody out there's not trying — nobody's giving up. We just failed at executing," said Knowles.
Two Skyline touchdowns late in the third quarter were called back along with a slew of other post-possession, offsetting penalties. From the blocked field goal to the phantom face-mask penalty, Knowles says they still haven't received a straight answer.
At the end of the third quarter, Sandpoint was down 35-21.
The Bulldogs came out strong in the fourth quarter. With a 20-yard pickup and two big runs in a row, Frank helped Sandpoint into scoring position. He capitalized and scored a touchdown for the Bulldogs with 10 minutes left in the fourth. Another extra point from Pertek and Sandpoint trailed the Grizzlies 28-35.
"With a two-score game, we felt we were still alive," said Knowles. "It's a hard pill to swallow — we certainly hate finishing the season to Skyline again."
Although the loss is hard to swallow, it doesn't outshine the bond between the coaching staff and the senior class. Knowles was quick to note the hard work of his coaching squad made up of running backs coach Chad Loutzenhiser, defensive line coach Steve Wimer, wide receiver coach Travis Garrison and kickers guru Warren Eggar, as well as JV coaches Matt Waterous and Kyle Perry.
Final praise was given to the outstanding senior class.
"They've played in 10 playoff games and won seven of them. I couldn't be prouder of their hard work," Knowles said.
"The senior class has moved mountains here."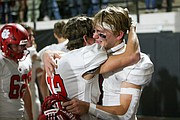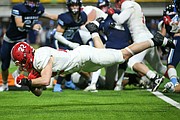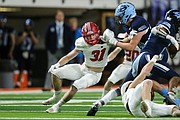 Recent Headlines
---