Clark Fork knocked down against Bonners Ferry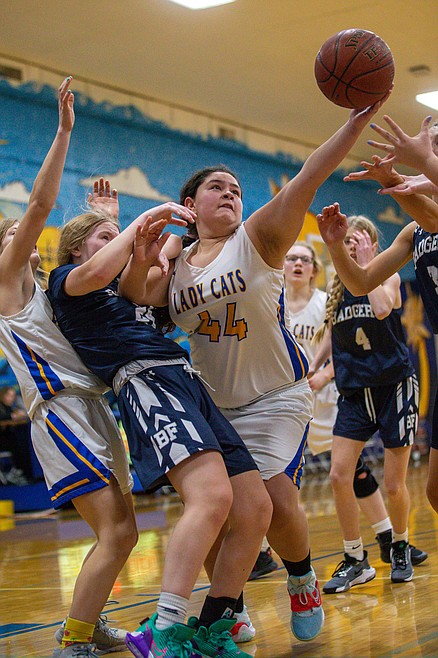 Clark Fork freshman Priscilla Mayorga goes up for a rebound in last nights game against Bonners Ferry.
(Photo courtesy JASON DUCHOW PHOTOGRAPHY)
The Wampus Cats lost a tough game to Bonners Ferry on Wednesday, 48-30.
"Their defense was really strong," Clark Fork coach Jordan Adams said of the Badgers.
Amari Printz-Hay and Emily Myers, two of Clark Fork's main players were out sick.
The big shooters of the night with nine points each were Lilly Reuter and Hannah Thompson.
"They're opportunists when it comes to shooting," Adams said.
After two games, Thompson sits as the lead scorer for the Wampus Cats.
At the end of the first half Clark Fork was down 11-24.
Clark Fork's varsity team is stacked with freshman. Adams was quick to give the young players kudos for stepping up to the battle and being quick to learn.
"I've been impressed on how they've handled the pressure," Adams said of Piper Scarlett and Priscilla Mayorga.
Adams described her team as being full of grit and love for the game.
"I'm much happier with today's end result," she said.
Next up for Clark Fork is Lakeside on Nov. 29 at home.
Clark Fork 2 9 10 9 – 30
Bonners Ferry 8 16 17 7 – 48
CLARK FORK — Shelton 5, Reuter 9, Printz-Hay 0, Herrick 0, Matteson 0, Scarlett 2, Lane 3, Thompson 9, Waymouth 0, Mayorga 2.
BONNERS FERRY – Petesch 6, Baisdon 4, Kimball 16, Jolley 2, Peterson 8, Mierke 3, Childers 2, Thompkins 2, Falck 5.
Recent Headlines
---