Turkey Bingo kicking off 'Tots' campaign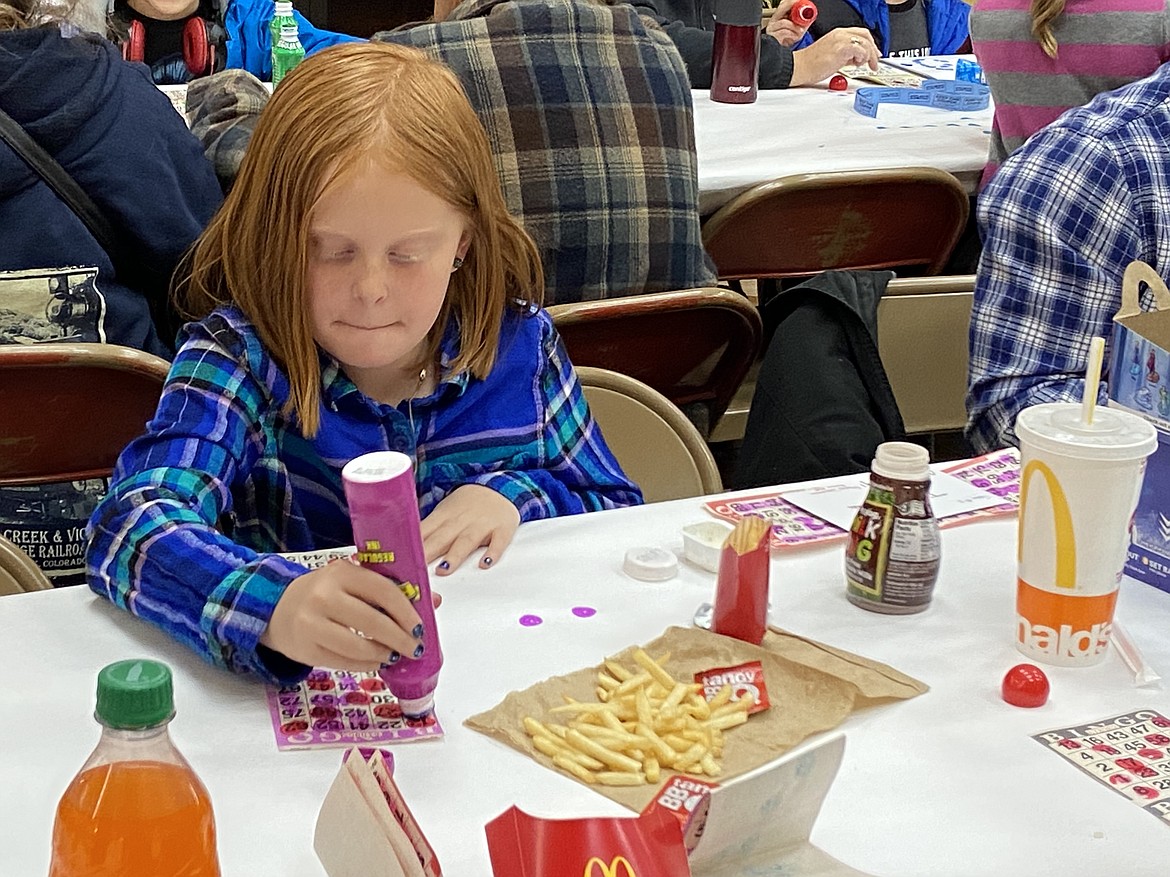 A youngster concentrates as she checks her bingo card during a game of Turkey Bingo in 2019. Proceeds from this year's event, as they have in the past, go toward the Sandpoint Lions' Toys for Tots program. Games are being held Friday and Saturday at The Farmhouse in Ponderay.
(File photo/CAROLINE LOBSINGER)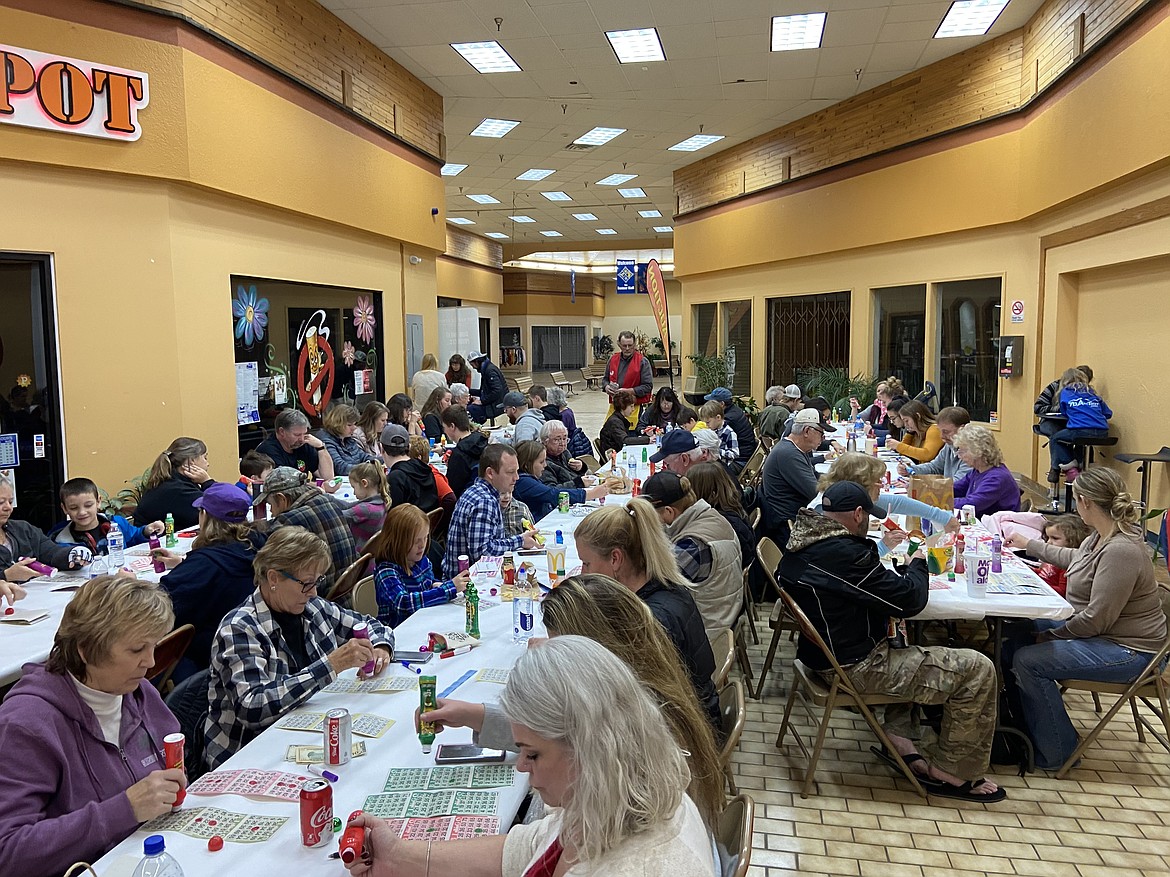 Crowds pack the venue at a past Turkey Bingo game. The games, which are being held at a Farmhouse banquet room in Ponderay, raise funds for the Lions annual Toys for Tots campaign which helps all in the community have a merry Christmas.
Previous
Next
by
CAROLINE LOBSINGER
Staff Writer
|
November 17, 2022 1:00 AM
PONDERAY — Pssst? Wanna have some fun?
In their annual kickoff of both the holiday season — and their Toys for Tots campaign — the Sandpoint Lions will host two days of Turkey Bingo games.
The games, which are being held at a Farmhouse banquet room in Ponderay, will be Friday, Nov. 18 from 6-8 p.m. and Saturday, Nov. 19, from 12-4 p.m.
"We look forward to fun-filled Bingo," Janice Rader, Lions Club president, said.
In addition to two chances to play bingo and help the Lions help others have a merry Christmas, Rader said the event will feature "delicious hand-dipped corn dogs, popcorn and sweet treats.
The Farmhouse has donated use of the restaurant's banquet room for this year's kick-off event, and is opening its bar for those of legal drinking age to have an adult beverage.
Also at the Turkey Bingo games, the Lions will offer chances to win several raffle prizes as well as a quilt donated by Betsy Miller and the women from the Cedar Hills Church.
"We hope to see everyone there to help make this a successful Toys for Tots event," Rader said.
Public support for the Toys for Tots program helps the Lions ensure everyone in the community has the merriest of Christmases, Rader said.
Through community support, the Lions are able to provide free new toys for children — or gift cards for older youth — who live in the Lake Pend Oreille School District, from Sandpoint to Clark Fork and all points in-between. In addition, a Christmas dinner for the family is available.
With five applications on the first day, Rader said the club is preparing for an increase in the number of people seeking the Lions' help.
"There's a greater need for Toys for Tots than there ever has been with people losing their jobs and struggling," she said.
The club is accepting Toys for Tots applications until December 17.  Applications are available on our website and printed copies are available on the door of the Lions Club, 609 S. Ella 
The goal for this year's Toys for Tots campaign is $50,000 — the same as it has been in past years. The Lions make the most of the money by bargain shopping, and with the assistance of generous local businesses.
If you know someone, or need help yourself, the Lions are taking applications for the Toys for Tots program. Applications are available at Bonner Community Food Bank and on the door of the Lions Den.
Donations for Toys for Tots can be dropped off at the front desk at the Bonner County Daily Bee, 310 Church St., from 8 a.m. to 5 p.m., Monday through Friday. You can also drop off donations at Columbia Bank's Sandpoint branch, 414 Church St., or at the Ponderay branch, 300 Bonner Mall Way; and at the Ponderay Starbucks.
Donations may be mailed to the Sandpoint Lions Club, Box 414, Sandpoint, ID 83864.
Donations made by check are preferred. Be sure to include a note with your check indicating that it is a Toys for Tots donation. If you wish to make an anonymous donation, please include a note.
If the donation is being made in someone's name, be sure to also include a note.
Information: Sandpoint Lions Club, 208-263-4118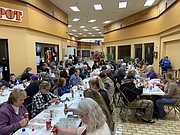 Recent Headlines
---