Bulldogs fight hard in season opener
"I was really pleased," Sandpoint coach Will Love said. "I knew it was going to be a challenge for us."
Sandpoint played well in the first period with Karli Banks sinking the first basket. It was a fast-paced first quarter with lots of shots taken. Both teams were moving the ball around well.
With a pair of shots from Daylee Driggs, another basket from Aliya Strock, and textbook free throws from Kelsey Cessna, the Bulldogs went into the second period trailing the Timberwolves 11-10.
"The girls responded really well," said Love.
Lake City was first to score in the second period. The Bulldogs responded with a string of back-to-back baskets. Cessna went on a scoring spree for Sandpoint racking up nine points.
"The girls wanted to compete and win," Love said.
The fight was apparent. The Bulldogs led the entire second period up until the last second. Heading into halftime, Sandpoint trailed Lake City 25-24.
"I was pleased with how the girls battled throughout the game," Love said.
Into the third quarter, it was apparent that Lake City already had two games under them from Treasure Valley. They were first to score and dropped 21 points to Sandpoint's six.
"Lake City is a great team," said Love. "When it comes down to it, they're going to be competing to go to state in 5A and will probably have a chance to win a trophy and play for a state title"
A handful of defensive breakdowns that allowed baskets, plus having some of the girls playing more minutes than they were used to, worked to the Timberwolves' advantage.
Banks, who's back playing after taking a year off, tried to land a couple of three pointers from the left.
"I was really pleased with what she was able to do," said Love. "Tonight the outside shot wasn't falling but there are going to be nights where she's going to light it up."
At the end of the third, the Bulldogs were down 46-30.
The fourth quarter was a battle. The Bulldogs fought hard to stay in the game with seven players sinking shots, nine of which were free throws.
"This game was a nice gauge for us early in the season to see where we need to improve," said Love.
In the end the Bulldogs lost, 67-45.
"The good thing is we've now got some film that we can use to improve," said Love.
With the first game jitters out of the way, Sandpoint heads to the two day Silver Valley Tournament.
"The team was definitely disappointed about the game but they had good attitudes about bouncing back for tomorrow's tournament," said Love.
Love noted that it would be nice if the Bulldogs could have a practice before the start of the tournament tomorrow but, it will be a good opportunity to provide the team with an experience like state.
The Bulldogs play Kellogg tonight at 7 p.m. at KHS. Saturday's game will be dependent on Friday's results.
Sandpoint 10 14 6 15 — 45
Lake City 11 14 21 21 — 67
SANDPOINT — Cessna 15, De. Driggs 1, Da. Driggs 8, David 0, P. Cessna 1, Richardson 2, Tuinstra 3, Bleckwenn 0, Strock 7, Laybourne 0, Banks 8, Thaete 0.
LAKE CITY — Kolden 0, Frazey 5, Pickford 20, Bowman 3, Zufelt 14, Waddington 9, McKellips 0, Holzer 7, Reynolds 3, Zimmerman 6.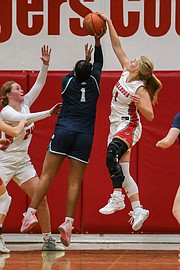 Recent Headlines
---