Let dried herbs enhance season's dishes, desserts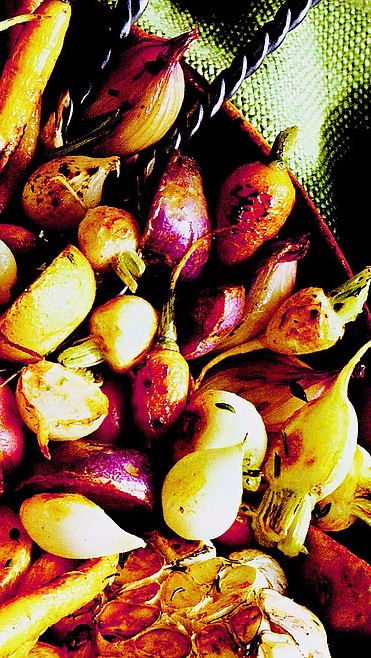 Whole small carrots, beets, onions and scrubbed red potatoes need only to be combined in a baking pan, sprinkled with sea salt, drizzled with olive oil and tossed to combine, then baked at 350 degrees for an hour or till done. Baste with a little balsamic or red wine vinegar, if desired. You may include other veggies of your choice such as winter squash wedges, fennel bulbs, garlic cloves (or whole bulb, as shown). Delicious with any entree or on its own with a green salad.
(Courtesy photo)
Rosemary proves a popular alternative for a tangy, tasty and savory pesto.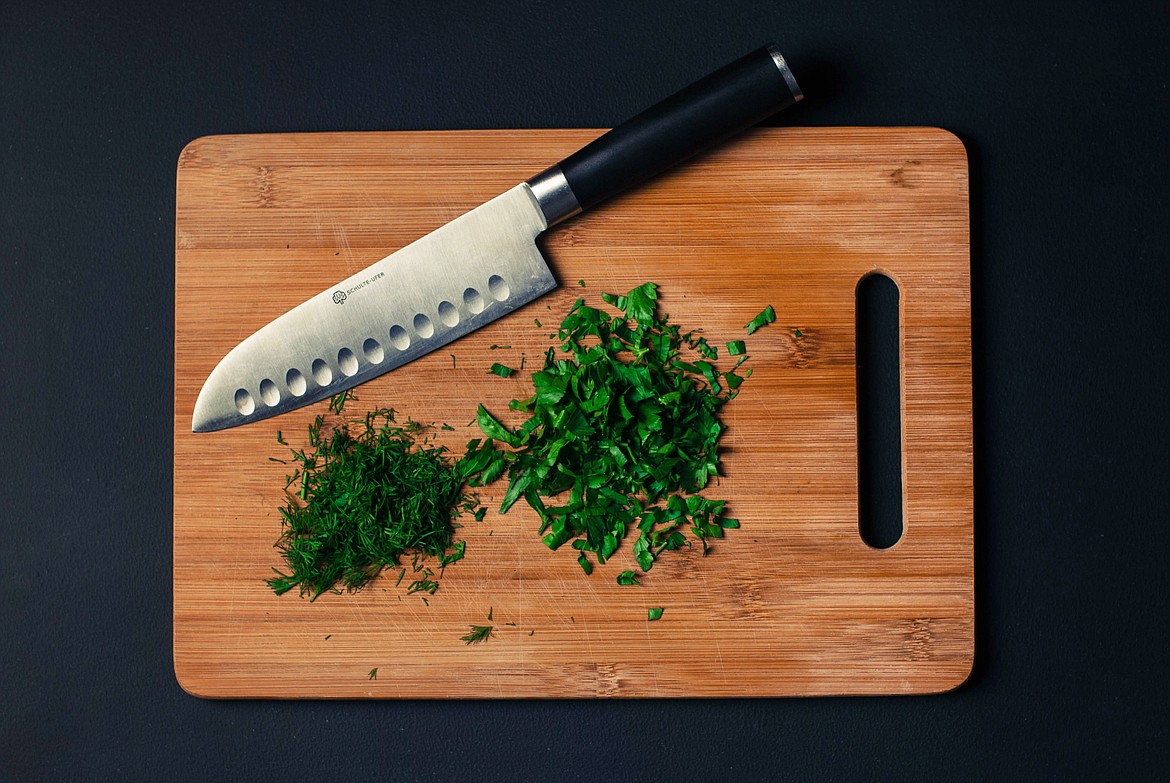 Dried herbs, such as parsley, enhance the season's dishes and desserts.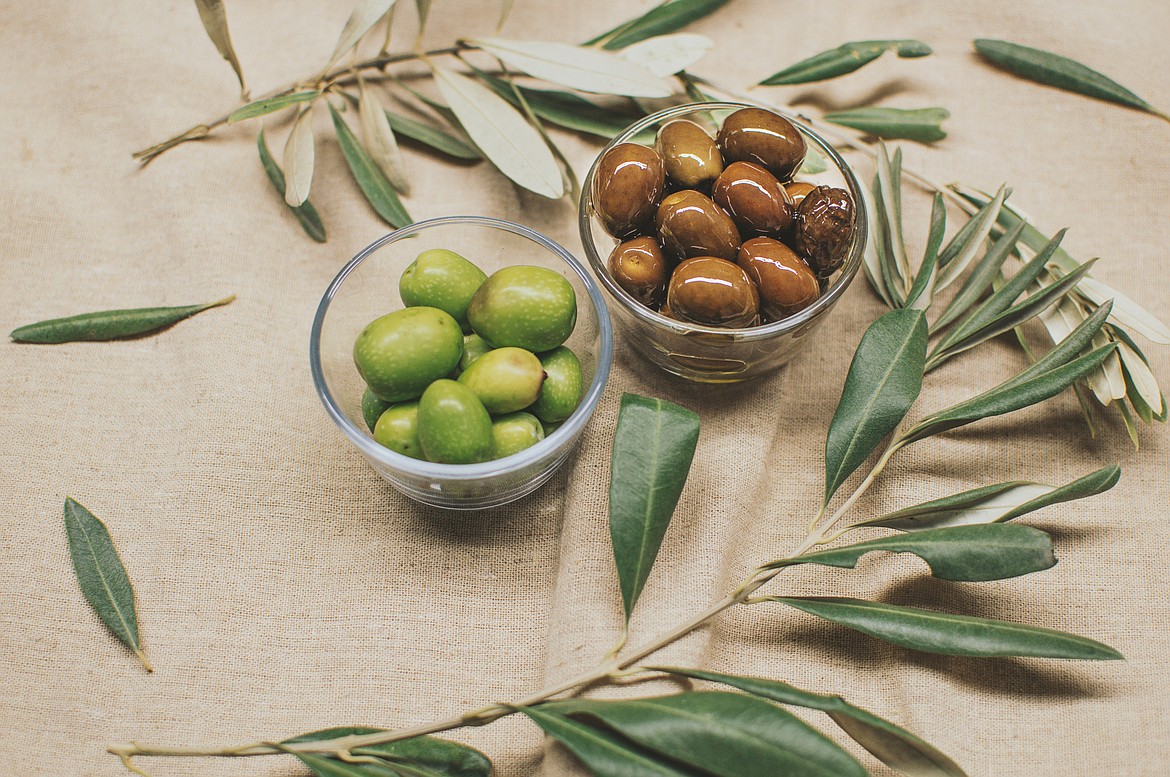 Vagelis Dimas from Pixabay
Previous
Next
Since moving my rosemary plant into the house for the season, I find myself availing myself of it's tangy, pungent needled leaves to enhance everything from roasted root veggies (see our illustration) to perking up the pasta.
Here are a few more ideas for this versatile herb, beginning with a savory pesto good for stirring into homemade minestrone to the aforementioned pasta.
Rosemary Pesto
2 large cloves garlic
1/4 cup chopped parsley
Leaves from a 5-inch sprig of rosemary
Pinch of salt
1/2 dried chili pepper, crumbled OR
1/2 teaspoon dried crumbled chili/seed mixture
6 tablespoons grated Parmesan cheese
In a mortar, combine the garlic, parsley, rosemary. salt and chili. Pound and mix well, then add Parmesan, mixing till a crumbly paste is formed.
Stir into fresh-drained, still-moist pasta, or into minestrone. (If using in soup, you may forego the salt, since it will already be seasoned.)
The Italians have it right where olives are concerned. Large bowls of marinated black and/or green olives take equal places on the table with salads and vegetable side dishes.
Here are two suggestions for your own use, one with rosemary and the other showcasing tarragon.
Black Olives with Rosemary and Parsley
(About 1 cups)
2 cups water
2 tablespoons sea salt
1 large clove garlic,
quartered lengthwise
1 can pitted small/medium black olives, drained
1 tablespoon finely chopped rosemary leaves
1 teaspoon lemon zest
Juice of 1 lemon
1/4 cup white wine vinegar
Extra virgin olive oil
1 tablespoon minced fresh parsley
Make brine of the water and sea salt, bringing to boil in a small saucepan and stirring until salt is dissolved. Remove from heat and let cool.
Crush each garlic quarter and place into a sterilized 3-cup glass jar with a non-reactive lid. Add olives, rosemary, lemon zest, juice and vinegar.
Cover jar and shake well to blend ingredients, then add brine, cover and shake again.
Lastly, uncover and pour over enough olive oil to cover the surface with a layer 1/2-inch deep. Cover tightly and refrigerate for a week.
To serve, bring to room temperature and with a slotted spoon, transfer olives to a pretty serving bowl. Add parsley and toss to mix. You may store olives in the jar for up to a month.
Green Olives with Tarragon and Bay
(About 2 cups)
Brine:
2 cups water
2 tablespoons sea salt
1 tablespoon minced tarragon leaves
1 fresh or dried bay leaf, broken into 4-5 pieces
Grated zest of 1 orange
1 tablespoon coriander seeds
Olive mix:
1 can pitted green olives, drained
2 teaspoons red pepper flakes
Juice of 1 orange
1/4 cup white wine vinegar
Extra virgin olive oil
Make the brine by mixing all brine ingredients in small saucepan and bringing to a boil. Lower heat to low and simmer uncovered 3-5 minutes.
Remove from heat and let cool.
Meanwhile, place olives in a sterilized wide-mouthed glass jar with a non-reactive lid. Add remaining ingredients except olive oil.
Cover and shake well to mix. Add cooled brine, shake again, then pour in enough olive oil to cover with a 1/2-inch layer.
Cover tightly and refrigerate for 1 week.
To serve, follow instructions for black marinated olives.
Parsley still stands perky in my big wicker potager.
Use yours — or buy some at the market for this wonderful autumn-y cornmeal bread.
Parsley Batter Bread
(1 loaf)
1 tablespoon honey
1/2 cup lukewarm water
2 tablespoons dry yeast
1 1/2 cups very hot water
1 cup cornmeal (stone-ground best)
2 tablespoons olive oil
1 1/2 teaspoons salt
3 cups whole wheat flour
1 cup unbleached white flour
1 packed cup minced parsley leaves
Combine honey, lukewarm water and yeast in small bowl. Let stand until yeast becomes foamy. In a large bowl, combine the hot water, cornmeal, oil and salt; let sit till warm. Add yeast mixture, then flours, 1 cup at a time, stirring well after each addition. Stir the parsley into the batter.
Set bowl, covered with a damp towel in a warm place until tripled in bulk.
Beat batter down with a wooden spoon and turn into a standard-size oiled loaf pan. Let rise for 15 minutes. Preheat oven to 450 degrees.
Bake loaf for 10 minutes (set timer!) then reduce heat to 350 and bake for 50 minutes of until top is a rich brown. Let cool slightly before slicing and serving with your own honey-butter, if you wish.
Tip: Make sure parsley is dry when you pack it into the cup. When wet, the leaves stick together and make it difficult to incorporate into the batter.
Note: Want a change of pace? Stir in 1/3 cup of minced rosemary to replace part of the parsley!
(Editor's note: For many years, Valle Novak has written gardening and cooking columns for the Daily Bee. "Weekend Gardener" and "Country Chef" became renowned for their humor, information and common sense advice on how to do everything from planting to cooking. While she recently retired, she has shared a number of columns to delight her many fans. This is a compilation of such columns which ran in November 2011.)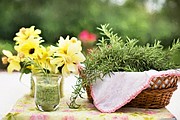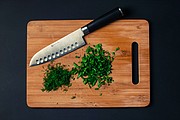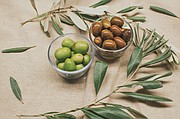 Recent Headlines
---