Christmas in Santa-point, Idaho-ho-ho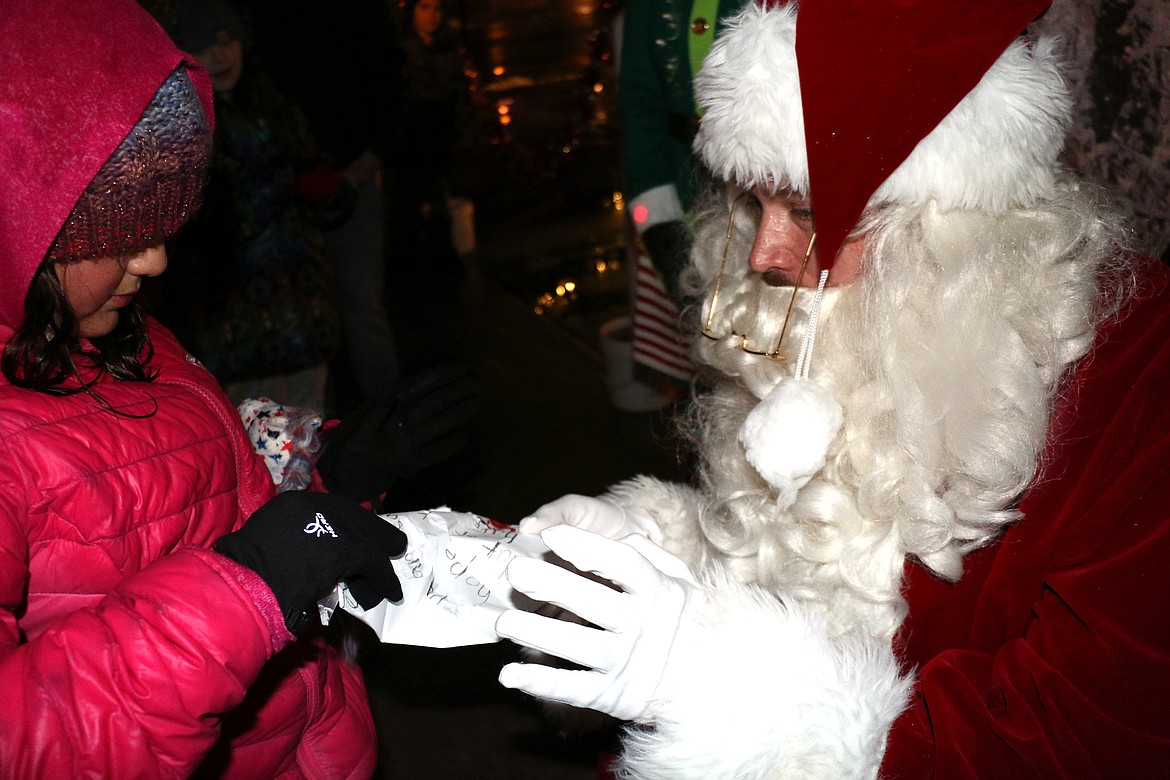 Santa Claus gets some help opening a letter from a young fan, who told him she wanted to deliver her Christmas wishes to him in person and wanted him to have a memento of his visit to Sandpoint.
(Photo by CAROLINE LOBSINGER)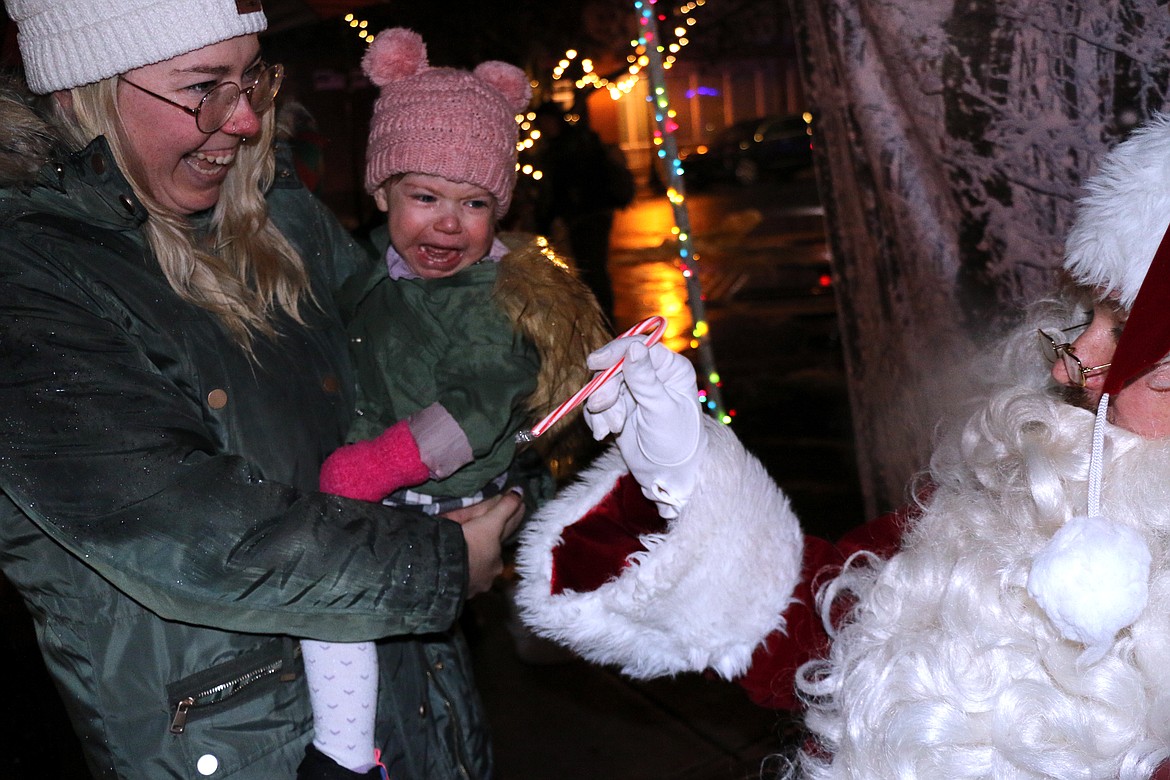 Not everyone was happy to see Santa as one youngster burst into tears when it was her turn to visit with the Jolly Old Elf.
Previous
Next
SANDPOINT — As hundreds of kids of all ages packed Jeff Jones Town Square on Friday for the city's annual tree lighting ceremony, Santa sent a text.
"On my way. Had to stop for eggnog, lol."
As the ceremony's emcee, David Keyes, read the text, a trio of anxious youngsters came up to make sure to ask if Santa really was on his way.
They were assured that Santa was en route to the city center. He'd had to land his sleigh in a less congested area and was being picked up by Selkirk Fire crews, who were giving him a lift to the town square on one of their fire trucks.
As the clock inched closer to Santa's arrival, the number of anxious youngsters lined the sidewalks to shyly wave "hello," bundled in winter coats and tucked under umbrellas.
Within a few minutes, the Jolly Old Elf himself was stepping out of the bright red fire truck welcomed by excited area youth — and an elf security squad was on hand to ensure everything was merry and bright.
For some, the fact that Santa arrived on a firetruck was a much better mode of transportation than if he'd brought Rudolph and the rest of the reindeer crew.
From bows and arrows to a football, from classic boardgames like "Monopoly" and dinosaurs, and from classic dolls like Barbie and American Girl, Christmas requests ran the gamut. Some hoped for an electronic game system and a hunting game, others hoped for a camera or a phone.
Another pair of youngsters asked for a pony, as their older sister stood silently by. Santa told them they'd been so good, they deserved a pony, but he'd have to see what he could do and check with their parents as well.
When asked if they'd been nice, most said yes but with some hesitation. Santa told them that one incident of naughtiness could be overlooked and assuring them that they were still on his "nice" list.
He assured another that the elves made lots of Lego toys and were a dab hand at creating dolls and remote control race cars as well.
Santa also received several requests for kittens and puppies, but told the youngsters that those were harder to make and he'd have to talk to their parents and maybe reach out to the animal shelter.
One little girl brought Santa her letter in person, wishing him a merry Christmas and including a portrait of Santa with her letter. Santa told her he would treasure the letter and that she drew a very good likeness of him.
Not everyone was excited to see Santa with a bout of tears or two and the occasional skeptical youngster who asked Santa if he was real.
"Of course I am real," the Jolly Old Elf said, offering a first bump to show he truly was in Sandpoint.
After thanking the children for visiting with him and welcoming him so warmly to Sandpoint, Santa gave each of the children a candy cane and a token for a small ice cream as an early Christmas present.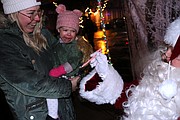 Recent Headlines
---