Vivian Dorothy Willford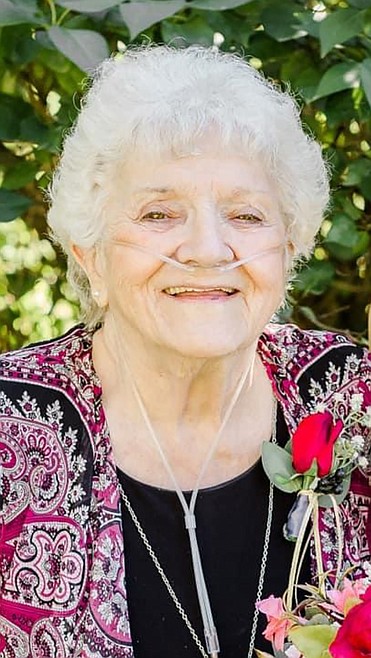 |
November 29, 2022 1:00 AM
Vivian Dorothy Willford of Cocolalla, Idaho, died peacefully in her sleep Nov. 20, 2022, just one week prior to her 87th birthday.
Funeral services will be held Saturday, Dec. 3, at 11 a.m. at the Church of Jesus Christ of Latter-day Saints on Westmond Road in Cocolalla. Interment will be held at the Westmond Cemetery directly following the service. A viewing for close family and friends is scheduled at 10 a.m. A Zoom link will also be provided.
Vivian was born to Oren and Marguerite Plaster on Nov. 27, 1935, in Gillette, Wyo. She was the sixth of 10 children.
When Vivian was 2 years old, the family moved from Wyoming to Idaho and settled in the Sandpoint area. One of her first memories was in a house on Kelso Lake road, all sleeping in the same bed, her family woke up one morning to snow, which had drifted into the house and covered the blankets they slept under. Her childhood was spent in Dover until she was in the fifth grade. Later, she moved to Spokane, Wash., with her mother, her younger siblings and step-father. She attended a Catholic boarding school throughout her high school years, where she enjoyed teasing Father Larken and the sisters — whom she loved dearly.
After moving back to Sandpoint, she married Arnold Roberts in 1953 and had two sons, Dale and Doug. They divorced in 1959. She married Frank (Buddy) Willford in 1960, who had three children from a previous marriage: Patricia, Frank Jr. (Buck) and Kenneth. Together Buddy and Vivian had two children, Lyle and Cheryl. 
During their 54 years of marriage, Vivian stayed by her husband's side as his job, a long-haul truck driver, led them to move to different areas, but the place they loved the most was Alaska, where they enjoyed 30 adventurous years. While in Alaska, they owned and worked a gold mine. Some of Vivian's fondest memories were of mining gold together with sons and grandsons in the rivers north of Fairbanks where she once found a beautiful 10 oz. nugget in the sluice box and hid it in Buddy's coffee cup as a huge surprise! 
In 1999, Vivian and Buddy retired, returning to their beloved family farm in Cocolalla, and developed a home above the lake where they resided until Buddy's death in 2014. Vivian continued to reside in Cocolalla for the remainder of her life, surrounded by her loving friends and family. 
Vivian enjoyed working as a waitress wherever she lived. She had a legendary sense of humor, loved everyone and they loved her! Vivian loved life no matter where she was and she loved people more. The most important people to her were her family. She was so proud of each one of them. In her spare time when Vivian wasn't working or generously helping somebody, she loved to read, go fishing, garden, bottle her produce, cook and bake. She crocheted beautiful afghans for friends and family; later on, she discovered a talent for oil painting. She attended her last oil painting class just 12 days prior to her passing.
Vivian is preceded in death by her parents; all siblings but one; husband, Buddy Willford; and son Lyle Willford. She is survived by one sister, Elaine Vardas; six children and their five spouses: Patty (Willford) and Jerry Spray, Buck and Debbie (Hiatt) Willford, Ken Willford, Dale and Debbie (Luckey) Roberts, Doug and Lawana (Long) Roberts, Cheryl (Willford) and Glen Bailey; 41 grandchildren (22 grandchildren plus their 20 spouses); 75 great-grandchildren; five great-great-grandchildren; and numerous nieces and nephews.
Lakeview Funeral Home in Sandpoint is handling the arrangements. Please visit Vivian's online memorial at www.lakeviewfuenral.com and sign her guest book.
Recent Headlines
---