Eight Bulldogs named to 4A all state soccer teams
by
SAMMY BERRYMAN
Sports Reporter
|
November 30, 2022 1:00 AM
Sophomore Lilliana Brinkmeier earned the honor of making first team all state. While this is a huge accomplishment nonetheless, Brinkmeier made the team as only a sophomore.
"Once we were at the state tournament, Lilliana was clearly the best keeper that we witnessed," Sandpoint girls coach Conor Baranski said.
Baranski said Brinkmeier might be one of the best goalkeepers in the state.
"She's technical, brave, gritty and keeps us in a lot of games," Baranski said.
Junior Aliya Strock and senior Kelsey Cessna were named to the second team all state.
"Aliya was our Swiss army knife this season," Baranski said.
Strock played many positions for the Bulldogs this year. Defender, midfielder and forward, she did it all; sometimes playing all three positions in one game, Baranski said.
"She's such an awesome kid to have on a team," he added. "She loves to compete every single day, but she does it while supporting teammates and with a smile on her face."
Cessna has proven to be an inspiring comeback story. After missing her entire junior year due to injury, she then came back as a senior captain and led the Bulldogs in scoring.
"I've said it many times before, I'm still so impressed with Kelsey's comeback story," Baranski said. "Truly an inspiring story of grit and determination."
On the boys team, Sandpoint High School seniors Evan Dickinson and Stirling Roget were named first team all state.
"I can't say enough about the drive and commitment from Evan the past four years," coach Tanner French said. "He was determined to see each result through this year, securing 14 shutouts as our captain."
Dickinson is still in the process of deciding what college to attend next year.
Roget also aided in 14 shutouts. He earned praise for being able to shut down one of the best 5A goal scorers in the state.
"Stirling brought a physical presence that is rare for high school soccer," French said.
Senior Randy Lane, junior Eoin Eddy and sophomore Henry Barnes were named to second team all state.
Lane showed his strengths through his technical skills, athleticism and ability to read the field.
"His athleticism on the ball created numerous opportunities in counter attacks," French said.
Eddy scored an impressive 14 goals for the Bulldogs this year and always worked to put himself in a position to score more.
"As only a second-year varsity player, this is a massive accomplishment," French said. "I look forward to his senior season."
French described Barnes as a versatile player who had more heart than anyone on the team.
"I would rather tame somebody's tenacity than find it, and Henry gave us that edge on countless occasions," French said.
4A GIRLS SOCCER ALL-STATE TEAM
Player of the Year: Sophie Schmautz, jr., F, Bishop Kelly
Coach of the Year: Dawn Hill, Bishop Kelly
FIRST TEAM
Lilliana Brinkmeier, so., GK, Sandpoint
Lexi Chatterton, sr., D, Bishop Kelly
Hailey Upson, so., D, Vallivue
Alyssa Harris, jr., D, Bonneville
Gracie Rhodes, jr., M, Bishop Kelly
Lexi Bott, sr., M, Pocatello
Alondra Osuna, sr., M, Vallivue
Reagan Flynn, sr., M, Bonneville
Sophie Schmautz, jr., F, Bishop Kelly
Lexi Wells, so., F, Pocatello
Ali Ellsworth, sr., F, Bonneville
SECOND TEAM
Katie Kaba, sr., GK, Vallivue
Aliya Strock, jr., D, Sandpoint
McKenzie Gooch, sr., D, Bonneville
Jordan McVay, sr., D, Ridgevue
Brooklyn Pett, sr., M, Bonneville
Alyssa Soto, sr., M, Vallivue
Ansley Kerley, sr., M, Century
Shaelyn Olson, sr., F, Caldwell
Amanda Soto, fr., F, Vallivue
Kelsey Cessna, sr., F, Sandpoint
Isis Villafane, sr., F, Ridgevue
HONORABLE MENTION
Maya Medrano, jr., GK, Bonneville
Sydney Tolman, jr., M, Bonneville
Julissa Caceres, sr., M, Caldwell
Grace Sams, so., M, Caldwell
4A BOYS SOCCER ALL-STATE TEAM
Player of the Year: Israel Arizmendi, sr., D, Caldwell
Coach of the Year: Rhys Yeakley, Caldwell
FIRST TEAM
Gavin Cornell, sr., GK, Blackfoot
Brendan Boyd, jr., D, Bishop Kelly
Jose Escutia, jr., D, Caldwell
Evan Dickinson, sr., D, Sandpoint
Stirling Roger, sr., D, Sandpoint
Yahir Esquivel, sr., M, Caldwell
Alex De La Torre, sr., M, Canyon Ridge
Allan Huerta, jr., M, Bishop Kelly
Sam Yeakley, sr., M, Caldwell
Axel Gonzalez, sr., F, Caldwell
Jiovani Soto, sr., F, Idaho Falls
Colton Crawford, sr., F, Bishop Kelly
SECOND TEAM
Julian Correa, sr., GK, Skyview
Conrad Foster, sr., D, Wood River
Yahir Arguello, sr., D, Caldwell
Elijah Klaas, jr., D, Bishop Kelly
Fabian Arguello, so., D, Caldwell
Eoin Eddy, jr., M, Sandpoint
Henry Barnes, so., M, Sandpoint
David Campos, sr., M, Vallivue
Noah Larson, sr., M, Bishop Kelly
Randy Lane, sr., M, Sandpoint
Andrew Nguyen, jr., F, Bishop Kelly
Jaden Pineda, sr., F, Caldwell
Juan Ortiz, sr., F, Wood River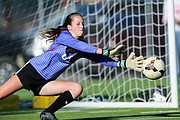 Recent Headlines
---