Inge receives Quilt of Valor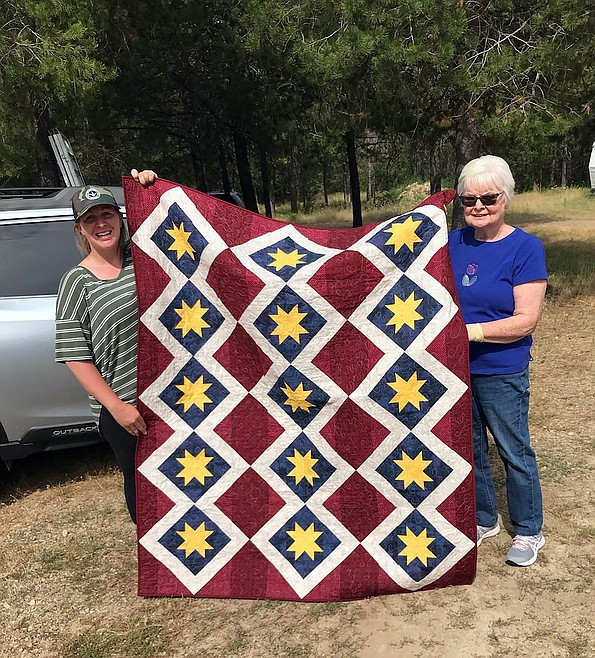 Allison Inge, left, recently received a Quilt of Valor from her grandmother, Carolyn Inge. Carolyn Inge made the quilt for her granddaughter, who will soon be deployed to Southwest Asia and serves in the U.S. Army National Guard.
(Courtesy photo)
by
MARY BERRYHILL Contributing Writer
|
October 2, 2022 1:00 AM
Allison Inge of Priest River recently received a Quilt of Valor for her service in the U.S. Army National Guard. 
Allison is a wife to Colton Inge and mother to Eloise, 4, and Amelia, 1. She will be deployed to Southwest Asia and will not be seeing her family for about a year. Before her deployment, Allison worked as a special education teacher at Priest River Lamanna High School and is still considered an employee there.
While overseas, communication with her family will be possible thanks to MWR, or Morale Welfare Recreation, a service provided to military personnel. Currently, video chatting is taking place on a regular basis until Allison finishes up her stateside training.
"There was some anxiety," she said. "Amelia was eight months old when I found out that I would be deployed. My older daughter and I have been writing letters almost every day, so she gets her own special mail and postcards, and I put a funny joke in my letter each time … she loves the funny jokes." Eloise writes back to her mother with the help of her father. "She puts her letters in envelopes and sticks a stamp on them and everything."
Once deployed to Southwest Asia, mail delivery will be slower, and Allison hopes to be able to communicate with her family at least once a week, but that activity will be "mission dependent." Allison will be supporting her battalion by driving a military truck. She is currently serving in the Idaho National Guard in support of Operation Spartan Shield (OSS) which is part of Operation Enduring Freedom (OEF),
Allison said that she is fortunate to have family coming to the rescue while she is away. 
"I've actually been very lucky," she said. "We have a lot of family in the area and they were helping us come up with a plan to make sure the kids were taken care of. We have family in Bonners Ferry, and family comes from Iowa to help out now and then as well." 
Allison was presented with her Quilt of Honor before she left for duty, "and I've actually taken it with me," she said. "I'm using it while I'm here and have it out for display. It is a beautiful work of art and an honor to have it." 
The quilt was made and presented to Allison by her grandmother, Carolyn Inge of Sandpoint. Inge also made and presented a Quilt of Valor to Allison's husband after his deployment while he served in active duty.
"I love making Quilts of Valor for veterans," Carolyn said. "It is especially rewarding making them for family members."
Allison has been serving since 2007, at the height of the war in Iraq. More than 600 personnel from the Idaho National Guard were deployed to serve in Southwest Asia. 
Recent Headlines
---