Prescribed burning begins on the Colville National Forest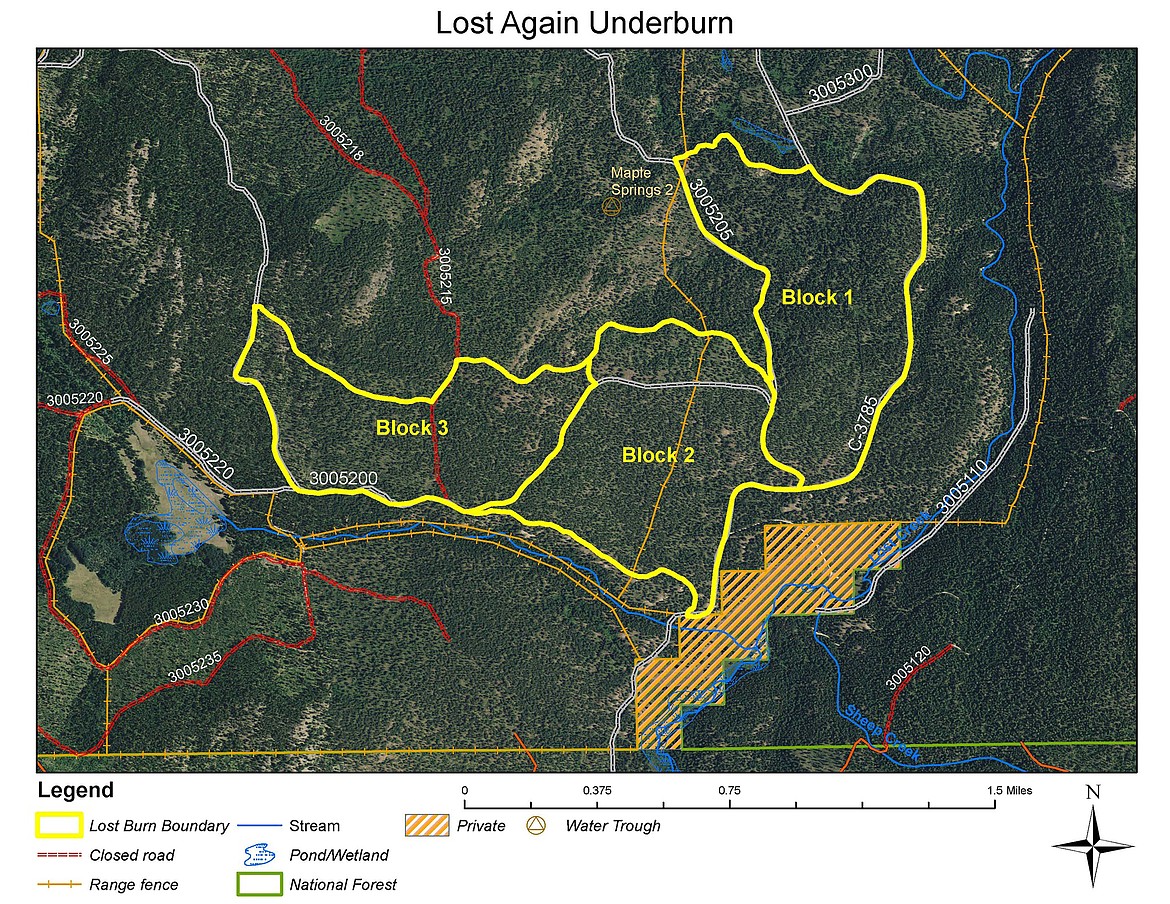 A map showing the area of the Lost Again underburn area on the Colville National Forest.
(Map courtesy U.S. FOREST SERVICE)
|
October 5, 2022 1:00 AM
While prescribed burning has begun on the Colville National Forest, a prescribed burn set to start Tuesday was canceled. Instead, focus was directed to the previous Crawfish Prescribed burn that started Monday.
"This is because there was not a good weather recovery during the previous evening [as] the test fire continued to burn within the unit," CNF officials said on social media. "Crews will be working on further securing the line today instead of starting on the next project area."
Officials said the decision is part of a good faith effort to make sure crews finish one project area properly before moving on to the next.
Colville National Forest staff, with assistance from local federal agencies and the Washington DNR, announced last week that they would be conducting prescribed underburns across the forest. Underburning started Monday and is expected to continue intermittently through mid-October as weather and air quality conditions allow. Crews will also conduct pile burning operations beginning later in the fall and may continue into mid-winter.
Prescribe burns help restore healthy and resilient forest conditions by reducing wildfire fuel sources as well as forest undergrowth. The process also promotes fire-tolerant tree species and fire-adapted and native vegetation while recycling nutrients back into the soil. Underburning also increases forage opportunities for wild game, officials said.
"As fall begins, our cycle of fire continues. Summer is the time for wildfire suppression and management, and now we turn to conducting prescribed fires to help improve our forest conditions," Shane Robson, Colville National Forest deputy fire staff, said. "We still have some remote wildfires on our forest that we are keeping a close eye on, though fire behavior observed has resulted in what we plan to achieve with our prescribed fires, which is to consume heavier areas of down timber and overgrown understory."
The prescribed fires are carefully planned and conducted. Although smoke from prescribed fires is less than from wildfires, there is still potential for smoke impacts to nearby area residents and forest roads. Prescribed fire specialists do everything they can to reduce the amount of smoke impacts from these beneficial fires and conduct them with strict adherence to the Washington DNR's Smoke Management Plan. More information on smoke and public health is available online at wasmoke.blogspot.com.
For any additional questions feel free to contact the Colville National Forest online, or call 509- 684-7000. For the most current updates about the Colville National Forest, find them on Facebook at facebook.com/colvillenf and Twitter at twitter.com/Colville_NF.
Recent Headlines
---