Former LPOHS student pays it forward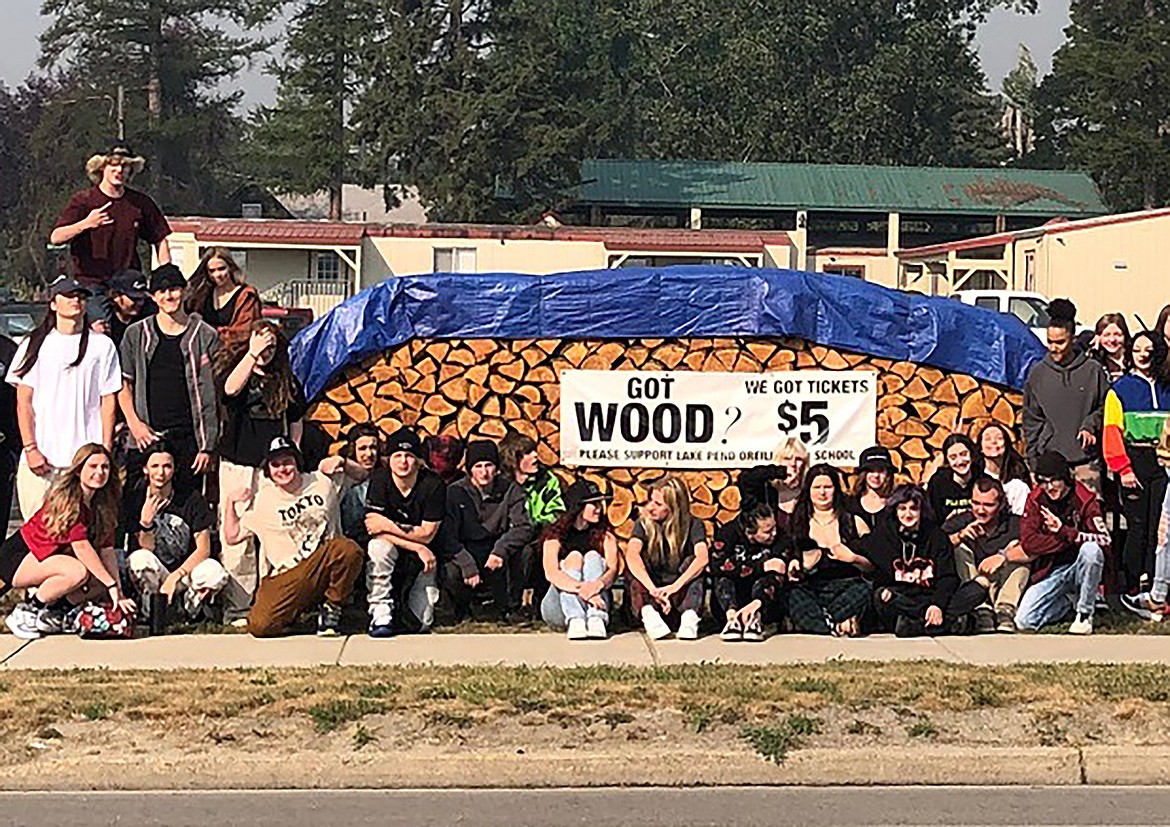 Lake Pend Oreille High School students post for a photo near two cords of wood that are being raffled off as a senior class fundraiser.
(Courtesy photo)
SANDPOINT — Each time he drives past Lake Pend Oreille High School, Jimmy Weinand has noticed the wood stacked outside during the fall.
A former student, he wanted to do something to help the school which gave him so much during his years there. So when he noticed longtime teacher Randy Wilhelm outside in the greenhouse this past spring, he stopped to talk and pitched an idea.
Let him buy the wood.
It is, he later told the Daily Bee, a way he could thank the school and its staff for all they did for him.
At the time, Weinand said he didn't necessarily realize how much of a resource the school was for him and the other students. However looking back, he said he realizes all that the staff did to set them up for the future.
"The kind of people that they are there, they just deserve some extra help themselves because they're really great," he added. "When you're there as a troubled youth, you don't ever realize that it is such a good resource so it's good to just sort of, you know, pay it forward when you're in a better position in your life."
Weinand said LPO's hands-on approach and individualized attention made all the difference for him, so when he saw a chance to give back, he said he knew he had to take it.
"Well it's hard to say," he added. "At the time when you're going there, you don't realize how great the facility is as far as being unique and and having a smaller, more individualized classrooms where you actually can get the one-on-one time if you're having a hard time learning or something like that."
When he stopped to talk to Wilhelm, he knew making the donation of the firewood was the right thing to do — and would give one of his favorite teachers a well-earned break over the summer.
As for Wilhelm, the LPO teacher said he'd almost forgotten the conversation with Weinand — until he stopped by the school in August and saw the neatly stacked wood.
Then he remembered what Weinand had told him — and that his former student was serious about wanting to help.
"He was like, 'I'm buying the wood,'" Wilhelm said, recalling that spring conversation. "So he actually bought it from someone that sells firewood. He built that whole contraption out there. He delivered it. All that is him."
Wilhelm said he was humbled by Weinand's donation — and for him wanting to help LPO students as others had helped him.
"This firewood is a gold standard of firewood," he said, adding Weinand's generosity is truly appreciated by the school, the staff and the students.
Reconnecting with students like Weinand — who they said truly represent what the school is all about — and knowing they made a difference means the world, LPO officials said.
"It's really nice to see that, see the impact the school has had on kids, even years later," Wilhelm said.
"We have amazing kids here like Jimmy, I don't think that everybody in the community gets to see what we get to see on a day-to-day basis," Wilson added. "The more things we can do with them outside of these walls, the better I think impact on the community during the community meal, that's always fun, even selling tickets on Saturdays with kids."
When people have a chance to meet LPO students, they realize what great kids they really are, the pair said. Students have to qualify to attend LPO and, while some have a "sad backstory," Wilhelm said they are resilient people who just have a different style of learning.
"It's like [Wilhelm] used to say all the time," Wilson added. "They're square pegs trying to fit into round holes [where] they just don't fit. They come here, they find out, 'Oh, I can do this.'"
They realize — and are given the chance — to change that, the pair added. That is what makes the school special, what makes them family, LPO staff said.
And it's why the wood raffle is key to much of what they try to do for each year's senior class.
Money raised through the raffle goes for any number of senior class needs as well as a class trip. It also helps cover the cost of a community meal the students put on to thank the community for their support, Wilhelm and Wilson said.
"A lot of these kids don't even realize what's 50 miles away so we just have tried to go and do some fun things," Wilhelm said.
The community meal is a school favorite, with the students citing it as one of their favorite things to do each year. While a lot of work — the event serves more than 100 people — Wilson said the students can't wait to take part.
"It's a lot of work but it's a lot of fun," she added. "The kids love it."
Money has also offset the cost of caps and gowns for graduation, graduation announcements, gifts for graduating seniors and more. 
"These kids don't get to do a lot of the traditional high school senior stuff," Belinda Wilson said. "So having this fund actually helps us do that for them."
The drawing takes place "around the first of November," Wilhelm said.
"We always say it's close to but not quite the first snowfall," he added. "But we've dug the wood out of the snow pile more times than I wanted to."
Two raffle tickets will be drawn for the red fir and tamarack wood, giving two households a chance to win. Tickets are $5 each of five for $20. Those interested in purchasing tickets can call LPO at 208-263-6121, or stop by the school, 1005 N. Boyer Ave.
Recent Headlines
---