Rosedale to mail-in voters: 'Don't wait around'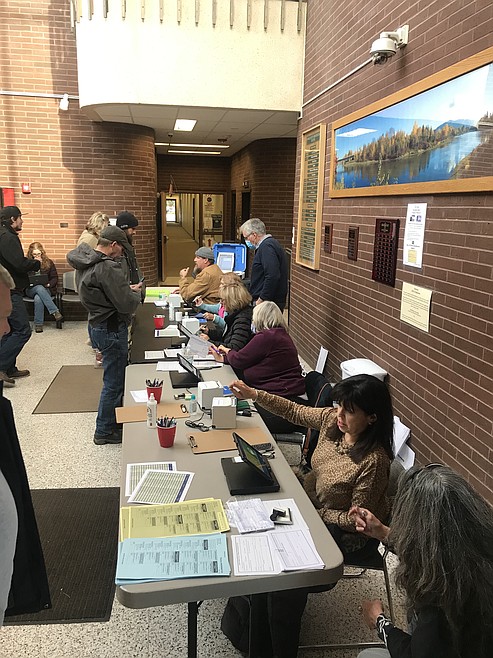 Voters at a past Bonner County election.
(File photo)
SANDPOINT — Bonner County Clerk Michael Rosedale's message to county residents voting absentee: Don't wait to fill out – and submit – their ballots.
Rosedale, who is in charge of administering the county's elections, is encouraging voters filling out an absentee ballot to fill it out and mail it in as soon as possible, or better yet, to drop it by the Bonner County Administration Building.
Thus far, over 4,500 ballots have been requested and a little under half as many have been returned. However, Rosedale said his office can only begin counting the ballots after polls close at 8 p.m. on Election Day, Nov. 8.
That deadline is why Rosedale is telling absentee voters not to wait around — if the ballot arrives after that time it legally can't be counted.
"If you know who you're voting for, don't wait around. Fill it out. Get it in," Rosedale said.
Submitting the ballot well before the deadline also gives the county a chance to address any issues that come up, such as a name not being legible, the county clerk said.
Thus far, he said 40 ballots have been received where the signature is unrecognizable or doesn't match the resident's voter registration card. Rosedale said those voters should have gotten a phone call by now.
As of Tuesday afternoon, about 200 people have voted early at the County Elections Office. Early voting began Oct. 24 and will last until Nov. 4 and can be accessed at the Bonner County Administrative Building from 9 a.m. to 5 p.m., Monday through Friday.
For those still needing to fill out or update their voter registration, the deadline to do so before Election Day has already passed. However, Idaho allows for same-day voter registration. Only voters who have moved since they last registered or who have not voted in four years need to update their registration, Rosedale said.
To register at the polls on Election Day, residents should bring Idaho-issued identification, such as a driver's license, or another government-issued ID with a document that demonstrates residency in that precinct. Adults who have resided in Idaho for 30 days before Election Day are eligible to vote in Idaho elections.
Voters wanting to register at the polls should bring proper documentation to the polling location. This can be done during the early voting period at the Bonner County Elections Office as well as on Election Day at any given polling location.
According to VoteIdaho.gov, Idaho students of voting age can register to vote with an Idaho student ID and their current fee statement if it shows an address in that voting precinct.
County residents unsure of their polling location, can go online to , Bonner County GIS's website at bit.ly/BoCoPolls or to the Idaho Secretary of State website at voteIdaho.gov. Both websites have search tools that allow voters to input their address to find where to vote.
Voters can request an absentee ballot by filling out an absentee ballot request form online at VoteIdaho.gov or at the county Elections Office, which is open Monday through Friday, 9 a.m. to 5 p.m., on the first floor of the Bonner County Administration Building. The last day for registered voters to request an absentee ballot is Friday, Oct. 28.
Rosedale warned that that deadline cuts it a little close. Postmaster Angela Rettstatt said the standard time for a first rate piece of mail like a ballot is three to five days. However, Rettstatt said the only way to be absolutely sure your ballot gets to the county office is to drop it off in person.
Info: Bonner County Elections, 208-265-1437, michael.rosedale@bonnercountyid.gov.
Recent Headlines
---