'Misery' sure to delight in BTAA benefit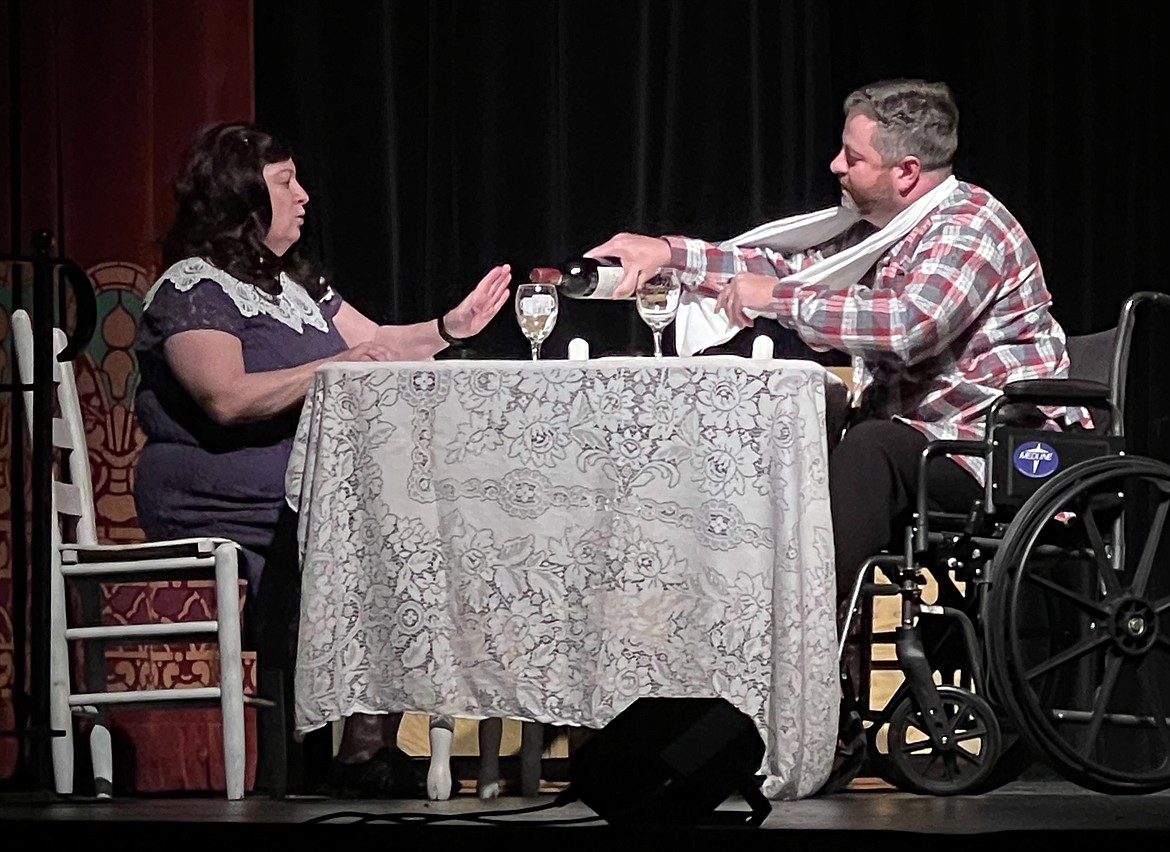 Kate McAlister as fan Annie Wilkes and Ken Wood as novelist Paul Sheldon rehearse a scene from "Misery". The acclaimed production is performed at the Panida on Friday, Saturday and Sunday.
(Photo courtesy DOROTHY PROPHET)
by
CAROLINE LOBSINGER
Staff Writer
|
October 27, 2022 1:00 AM
SANDPOINT — It's a tale fit for Halloween.
An acclaimed romance novelist seriously injured in a car crash, is found by his self-proclaimed number one fan. He later realizes that … well, spoilers …
A psychological thriller written by Stephen King, "Misery" was later adapted to an acclaimed movie directed by Rob Reiner and scripted by William Goldman.
Now, just in time for the spooky season, Cade Prophet Memorial Productions is presenting "Misery" in a limited theatrical run at the Panida Theater to benefit Better Together Animal Alliance.
Featuring Ken Wood as the novelist Paul Sheldon and Kate McAlister as fan Annie Wilkes, performances of "Misery" at the Panida October 28-30. Proceeds for the play benefit Better Together Animal Alliance.
"We are really excited to bring Misery to Panida and are thrilled that the proceeds will support Better Together Animal Alliance," Wood said. "This performance will definitely get you in the mood for the Halloween season!"
Founded by Dorothy Prophet, Cade Prophet Memorial Productions puts on two shows a year, one in the spring over Memorial Day weekend and the other in the fall, often around Halloween, such as this year's production of "Misery".
Performances by the production company are done in honor of her son, Cade Prophet who was killed in a tragic accident at Palouse Falls on Memorial Day in 2017. He was 25. Her son was a youth who loved everyone and always made time for others. He had a soft spot for animals and loved to visit the animals at Better Together Animal Alliance, then known as the Panhandle Animal Shelter.
To donate to the cause that her son loved so much, Dorothy Prophet established the production company to stage two plays a year. In the spring, it's a comedy; in the fall, it's whatever seems appropriate, she said on the non-profit's website.
"It was important to us, his family, that we continue to do good things in his memory, keeping his name alive. While Cade was with us on this earth, he helped many people, in many ways," she said on the site. "Cade was one of those people who could always find the good in people and situations. His cheerful nature was complimented by his quick wit. He was a gifted innovator. He had a passion for electronics and cats."
Since its inception, CPMP has donated more than $3,500 to help animals in need, including helping to fund improvements to BTAA's cat rooms which are enjoyed by thousands of cats and visitors each year.
Doors open at 6:30 p.m. with the curtain at 7 p.m. on Friday, Oct. 28, and Saturday, Oct. 29. A matinee performance will be held Sunday with doors opening at 2:30 p.m. and curtain at 3 p.m.
Tickets can be purchased at Eichardt's, online, or in person at the door and online.
Information: cadeprophet.org
Recent Headlines
---