Walk for HOPE and to help others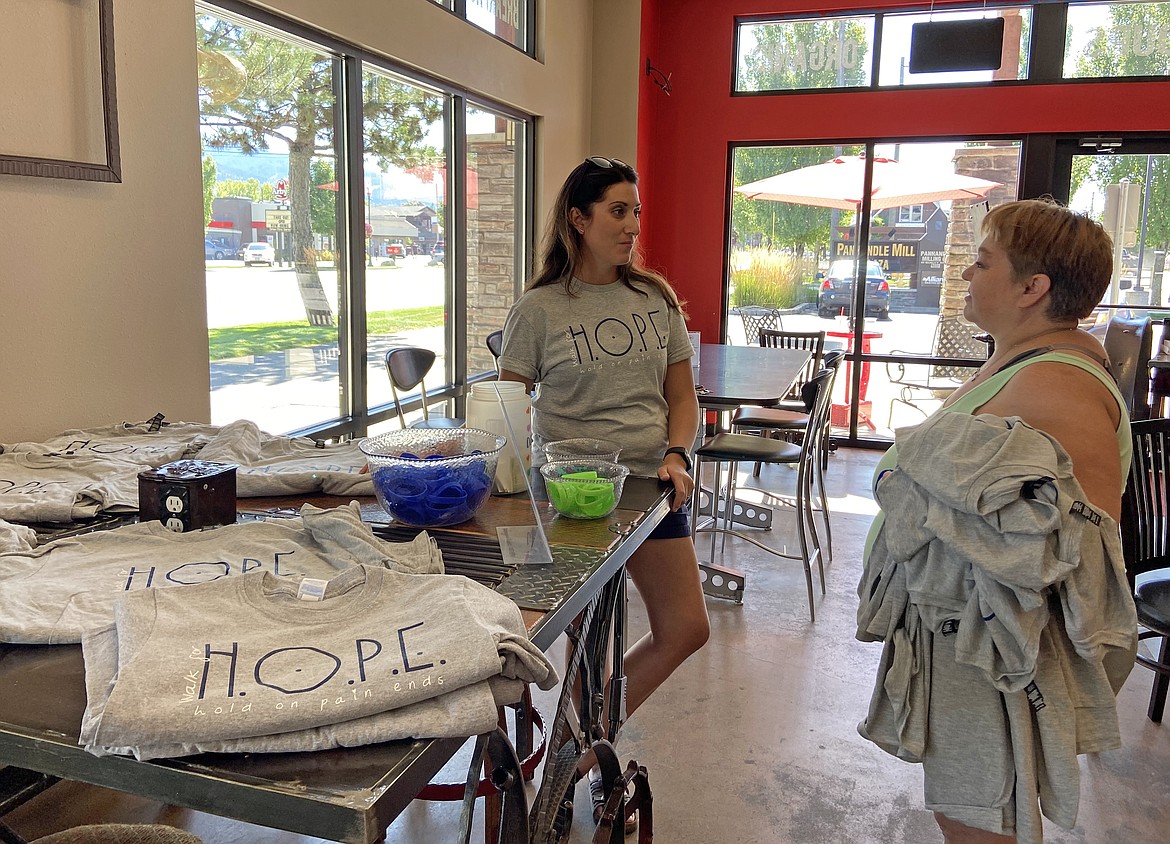 Jennifer Wyman stands inside Kokanee Coffee as she talks about Sunday's Walk For HOPE. This year the walk is going virtual with all invited to take part at any time of their choosing on that day. The walk, now in its fifth year, works to promote suicide awareness, hope and healing as well as to prevent suicide in North Idaho.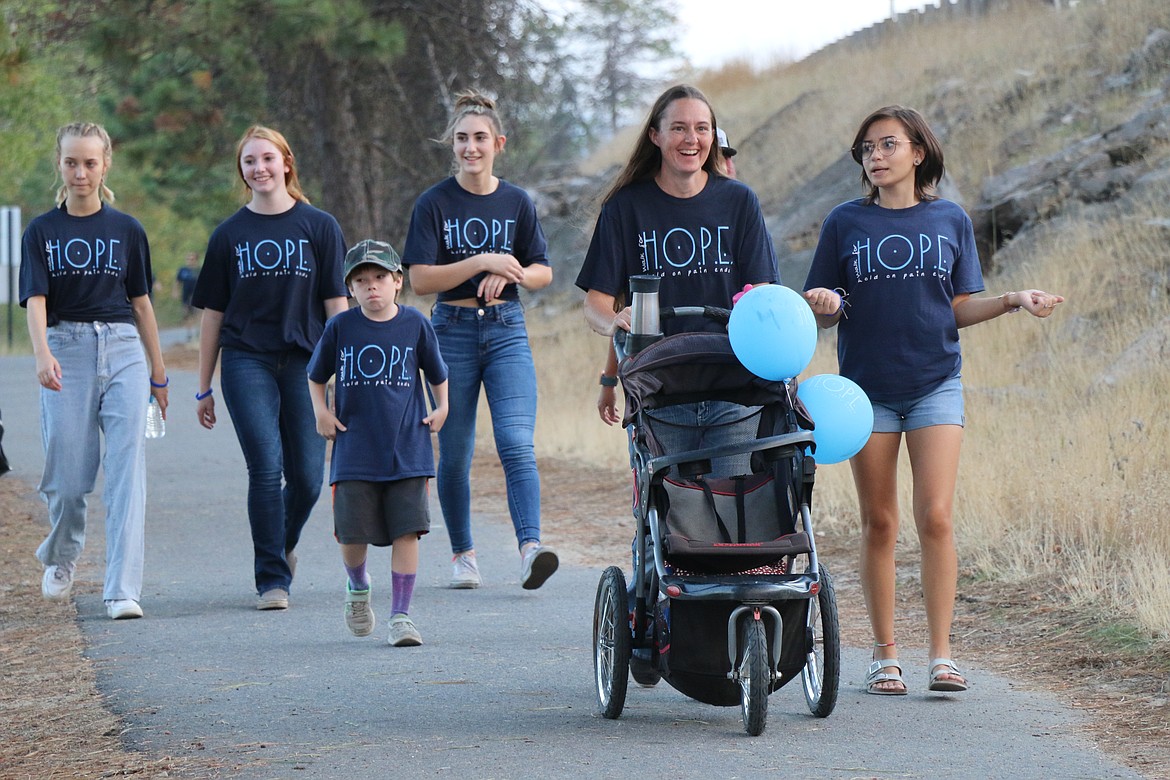 Participants take part in the 2021 Walk for HOPE on Sunday.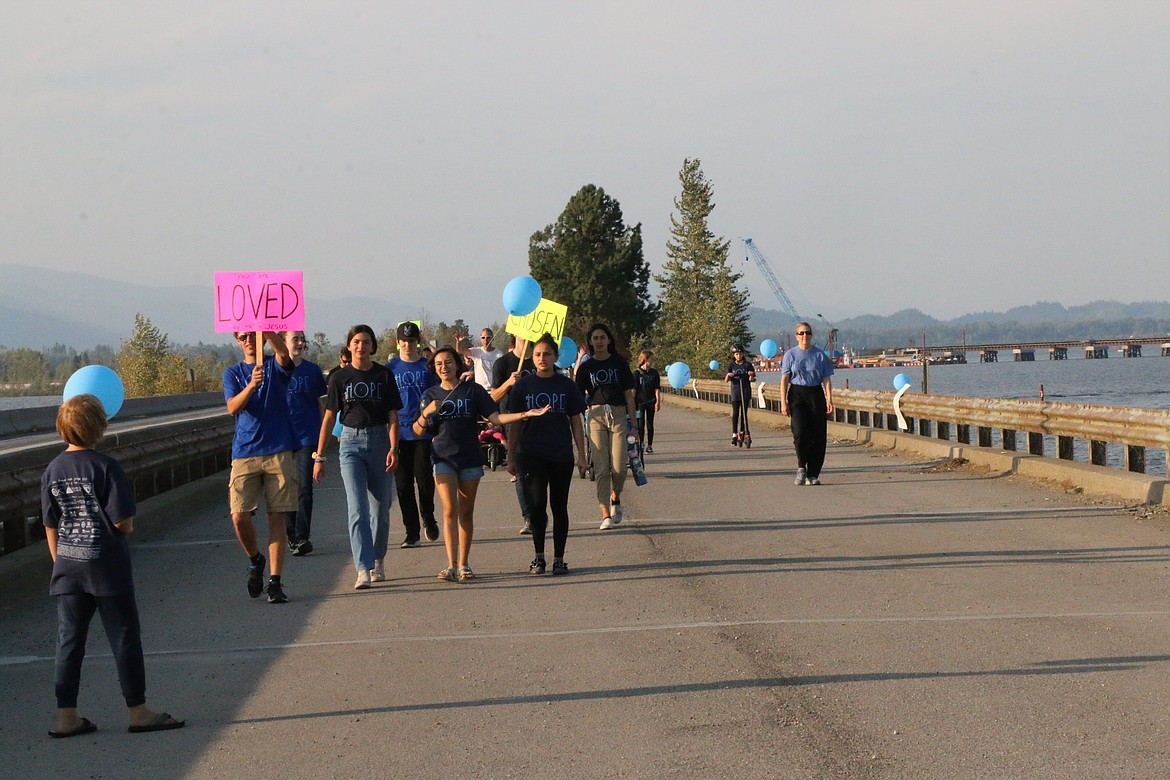 Participants take part in the 2021 Walk for HOPE on Sunday.
Brandon and Dana Bowen wave to passing motorists as they walk across the Long Bridge during the Walk for HOPE on Sunday.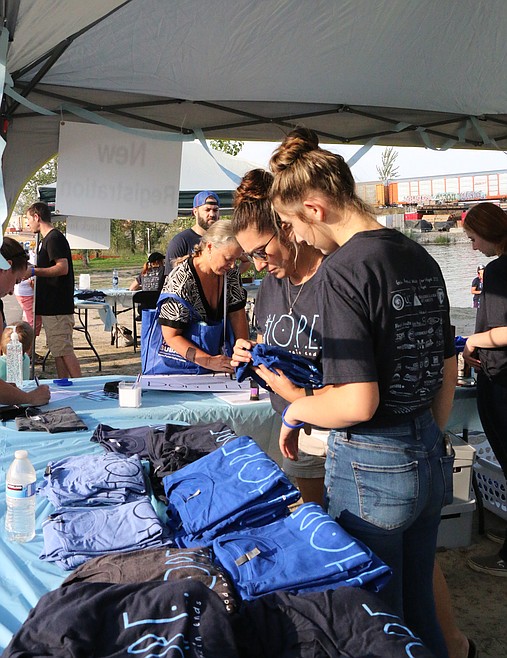 Jennifer Wyman, center, and a young volunteer help at the registration table at Sunday's Walk for HOPE.
Previous
Next
SANDPOINT — A walk across the Long Bridge comes paired with a good cause on Sunday as the annual Walk for Hope will be held.
The event will begin at 5 p.m.
Now celebrating its seventh anniversary, the annual event began in 2015 after several teen suicides rocked the community. After the death of her daughter, Madi, 14, her mother Jennifer Wyman was joined by friends, family, and community members in creating the Walk for H.O.P.E event.
"That's the purpose behind it, not only is it helping our family in the grieving and healing, it's also helping us feel like we're doing right by Madison and her memory and her legacy," Wyman said. "I'm just amazed that we've been able to go for seven years,"
The walk will take participants from the meeting place at Dog Beach, near the north end of Long Bridge, and back where a community barbecue will be held to give participants the time to connect with one another.
While the walk is the largest effort in Sandpoint to raise suicide awareness it's not the only one, Wyman said. She said another reason she started the event was to spread mental health and suicide awareness to the community's youth. This is why proceeds from the event are put into schools throughout the Lake Pend Oreille School District. The funding is used to sponsor leadership programs, mental health awareness efforts, and speakers to share their knowledge and experiences.
"It's just reminding them that no matter where they come from, they can leave a legacy behind of their choosing. It is also sometimes that message about what you say can affect people, your words hurt, and your words can cut people. Do you use your words to lift people up? Or are you tearing people down? So we really just challenged kids in all aspects of life, their future and thought process of where they're headed and who they want to be," Wyman said.
There is a need for events in the community, Wyman said. However, she added that it's been the community's response that has been the leading cause in keeping the event going and now she is looking to the future. Feeling confident in the initiatives for the school district, Wyman said she would now like to shift her focus to the community with a support group for those who are left behind when a loved one is lost to suicide. She added that she hopes to see such a group created within the next year.
Each year, the event garners several local sponsors including this year's top-level sponsors, Selkirk Glass and Cabinets, Underground Kindness, and an anonymous donor who goes by the name class of 2019, which is the same year Madi would have graduated.
"I always say, a huge thank you to our sponsors, but also a huge thank you for the participants, because they're making a difference, too, just by being there," Wyman said.
Registration is open online and will continue to be until the start of the event Sunday evening. However, those who pre-registered or would still like to can do so at Kokanee Coffee during T-shirt pick-up on Friday from 12-3 p.m. and Saturday from 8 a.m.-12 p.m.
Recent Headlines
---