Activity slows on area fires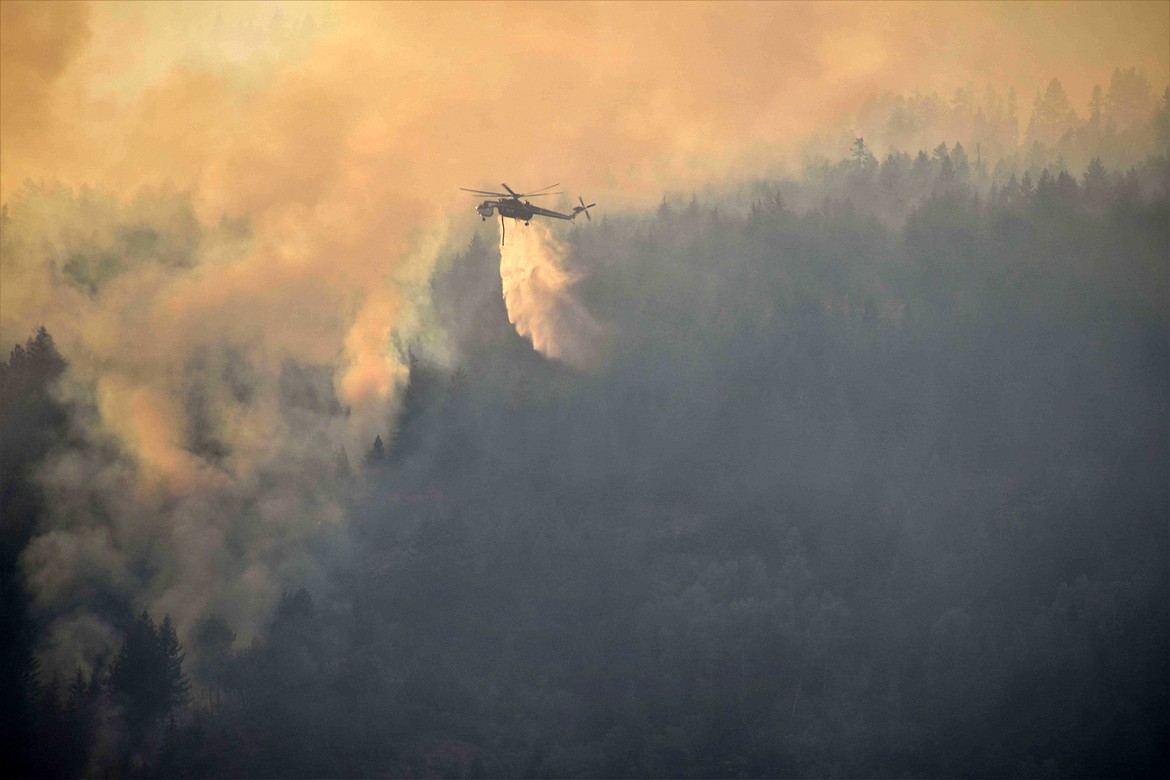 A Type 1 helicopter drops water on the Kootenai River Complex fires in early September.
(Photo courtesy USDA FOREST SERVICE)
Stable conditions and light winds kept growth on the Kootenai River Complex to a minimum, Forest Service officials said Wednesday.
The fire, which has burned an estimated 13,705 acres — an increase of 1,217 acre — was started by a lightning strike in mid-August.
"Fire activity is moderated compared to previous day," Forest Service officials said in an update posted to InciWeb, an interagency fire tracking website. "Stable conditions and light winds with very little growth."
Most of the activity on the complex was seen north of Scotch Creek and south of the Russell Mountain fires, said officials
Located about 7 miles northwest of Bonners Ferry, the fire is expected to be contained in mid-October. There are 207 fire personnel assigned to the fire, which is being overseen by Type 2 Northern Rockies Incident Management Team 4.
Heavy equipment crews are working to build a fireline west of the Westside Road, through areas of slash from previous harvests. In addition, the crews are working in tandem with an excavator crew to reduce vegetation along roads and dozer lines to reduce potential fuel for the fire.
Engine crews also set up and tested structure protection equipment along the Westside Road east of the Trout, Russell Mountain, and Scotch Creek Fires, Forest Service officials said. A night shift of three engine crews will patrol roads near the fire area and monitor fire activity and structure protection equipment, Forest Service officials said.
Pending wind and smoke conditions, they said helicopters will be utilized to drop water along the fires' eastern flank.
"Firefighters will scout for indirect fireline locations on the Katka Fire as a part of the process of developing a strategy that provides for firefighters to safely engage at the appropriate time," they said,
Terrain in the area influenced fire behavior with backing and flanking toward nearby structures and property, officials said. They expect overnight activity on the fire to remain moderate as relative humidity in the area is expected to remain low.
However, with increased winds forecast in a few days, active fire behavior is expected to increase. Short-range spotting, flanking and wind-driven side hill runs to the east and north along the Selkirk Mountains is expected.
Fire intensity is expected to be the highest between the Eneas and Trout fires.
Columbus and Bear Gulch Fires
Sparked by lightning in late August, the Columbus Fire on the Coeur d'Alene River Ranger District has now burned an estimated 1,000 acres. Six miles northwest of Murray, the fire is being managed under a "confine and contain strategy" due to its steep and rugged terrain, Forest Service officials said.
Sprinklers have been set up for point protection around homes and private property in the area as well as efforts to check fire spread and contain spot fires.
"A reconnaissance flight at midday [Wednesday] provided the most recent acreage update, and the head of the fire has reached the rocky divide of the Idaho/Montana border," officials said in a press release. "Recent patterns of smoke production and fire behavior are expected to continue until moderated by a change in the weather pattern."
The nearby Bear Gulch Fire has burned an estimated 144 acres. Also caused by lightning, the fire is located 6 miles east of Murray. The fire, which is about a mile away from the Idaho/Montana, is burning in terrain very similar to the Columbus Fire with "abundant snag hazards and access challenges," officials said.
Crews are working to gain safe access to the fire and like the Columbus Fire, the strategy is "monitor, confine, and contain," they said.
"Crews will utilize natural features such as rockslides to help slow the fire's spread," Forest Service official said. "The minimal fire growth over the last three weeks is expected to continue until a season-ending event."
Thor Fire
Since it was discovered in mid-August, the Thor Fire has burned an estimated 1,024 acres since it was discovered in mid-August.
Due to the steep, rugged, and dangerous terrain, officials said crews are taking a confine/contain strategy with firefighter and public safety being the highest priority.
Crews are shoring up containment lines on the north, east, and south portions of the fire. The fire is showing some backing, active flanking, and some torching behavior.
Two nearby smaller fires will be managed by Northeast Interagency Incident Management Team Type 3 Team 2, which will take action as needed. The fires have very limited access and are planned for aerial reconnaissance.
The nearby Slate Fire, which has burned roughly 100 acres, officials said there is minimal threat to recreation areas, infrastructure and private property.
Diamond Watch Fire
The fire, which is located 5.5 miles due west of Nordman, Idaho, is being managed with a contain/confine strategy due to the area's rugged, steep and dangerous terrain, Forest Service officials said.
The fire has burned 893 acres and is 44% contained. It was sparked by a lightning strike in mid-July.
Boulder Mountain Fire
Detected on Aug. 31, the Boulder Mountain Fire is located nine miles northwest of Cusick, Wash. The cause of the fire, which has burned an estimated 1,210 acres is under investigation. The fire is being fought by Great Basin Type 2 Management Team No. 7 with 191 fire personnel assigned to it. A mix of state, federal and private lands are impacted.
Closure, evacuations and information
• On the Kootenai River Complex, residents are asked to avoid Trout Creek Road (Forest Service Road 634) as well as nearby trails to allow for fire suppression efforts in the vicinity. Trails included are Fisher Peak (No. 27), Pyramid Lake (No. 13), Pyramid Peak (No. 7), Trout Lake (No. 41) and Ball and Pyramid Lakes Trail (No 43).
While there are no evacuations in place, those living on West Side Road closest to Ball, Burton and Clark creeks have been upgraded to "set" status under the Ready-Set-Go evacuation procedure.
Under ready, residents are advised to have a plan to evacuate if necessary, while set status asks residents to begin putting their plan into place. Under go status, residents are told to leave immediately due to an imminent threat.
• On the Diamond Watch Fire, closure orders are in effect for Forest Service roads 311, 308, and 1362H in the vicinity of the fire. However, FSR 1362 remains open. Petit Lake and is associated campsites are within the closure area.
Some camping areas along the southwest portion of Sullivan Creek Road have been notified that they are on a "set" be ready evacuation status and should be ready to leave if asked by local authorities.
• On the Thor Fire, roads connecting to the Idaho Panhandle National Forest are closed starting at the junction of FSR 302 and FSR 1013.
• On the Coeur d'Alene Ranger District, closures include Trail 148 along Casper Creek, Trail 7 from the intersection with Trail 774 to Thompson Pass, Trail 1107 near the state line, Trail 763 near the state line, Forest Service Road 938, FSR 430 and FSR 604CZ.
• All methods of travel are prohibited (foot, mechanized, motorized and stock) on the closed roads and area.
• A temporary flight restriction is in place on the Katka Fire as well as on Scotch Creek, Russell Mountain, Eneas Peak and Trout fires. As a reminder, civilian drones are not allowed around active fires. Flying drones near an emergency scene is against the law and forces fire crews to ground their flights.
• A fire watch is in effect Tuesday through Wednesday evenings, with dry and unstable weather conditions predicted. In addition, gusty winds and dry conditions are predicted for Wednesday.
• Current evacuation status information in Boundary County is available in a recorded message on the Boundary County Emergency Information Line at 208-696-BOCO (2626)
Information: InciWeb.nwcg.gov
Recent Headlines
---