'Monument to Peace and Unity" coming to CDA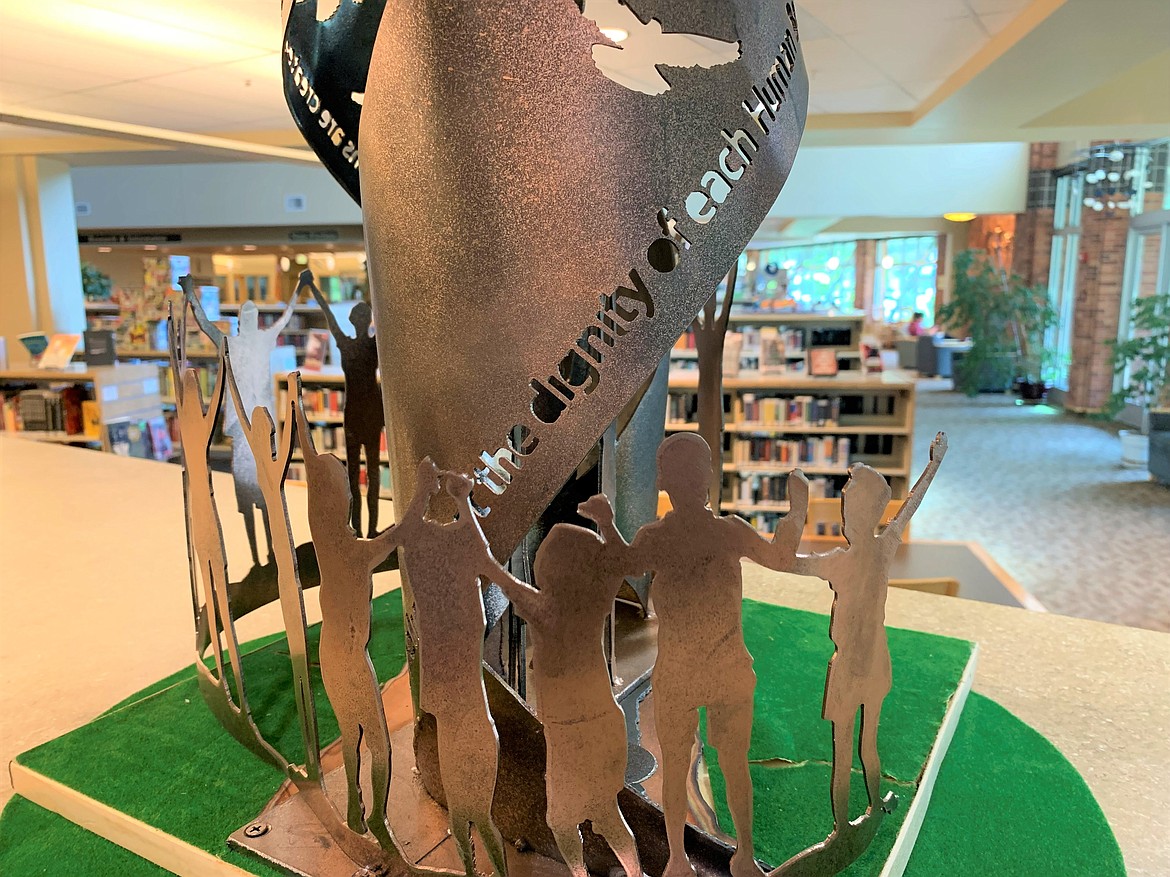 A model of "The Monument to Peace and Unity" art project is on display in the Coeur d'Alene Public Library on Monday.
BILL BULEY/Press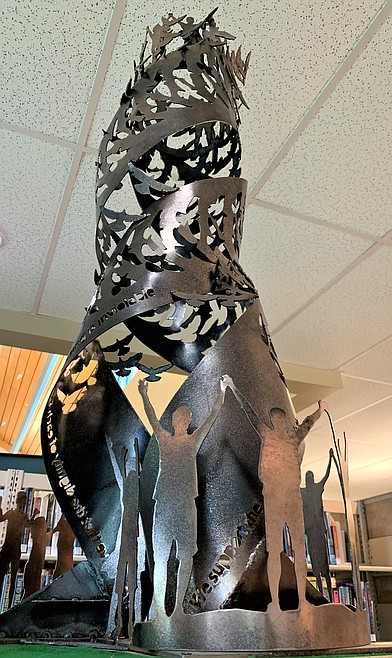 A model of "The Monument to Peace and Unity" is displayed in the Coeur d'Alene Public Library. A dedication ceremony is set for Friday at the Four Corners intersection of Northwest Boulevard, Government Way, and Fort Grounds Drive.
Previous
Next
by
BILL BULEY
Hagadone News Network
|
September 23, 2022 1:00 AM
COEUR d'ALENE - A $75,000 public art project described as a "commitment to eliminate racism and prejudice" will be dedicated Friday.
"The Monument to Peace and Unity" made of steel will stand 24 feet tall and be at what is considered the gateway to downtown - the Four Corners intersection of Northwest Boulevard, Government Way, and Fort Grounds Drive.
It was commissioned by the Coeur d'Alene Arts Commission and created by artist Ai Qiu Hopen of Humanity Memorial, Inc.
"The art was created to be a welcoming to our city, to all people," a press release said. "It demonstrates Coeur d'Alene's long-standing commitment to the dignity and the worth of every individual."
The City Council approved the contract with Humanity Memorial, based in Sutton, West Va., in March 2021 by a 5-1 vote, with Councilman Dan Gookin dissenting.
Gookin said while he had no objections to the art itself or the artist, he said it could be placed in any city and was not specific to Coeur d'Alene and its history.
"He stated it was a missed opportunity to highlight the history of the area and would like to have more options to choose from when art projects are brought to council, and would also like to support local artists," according to minutes of the March 16, 2021 city council meeting.
Councilmembers Christie Woman and Dan English liked it.
Wood said the art piece was "gorgeous" and the message was what was important.
English said, "The artwork is a terrific interactive piece and will represent CDA well."
It was a lengthy process to reach this point.
The city's Public Art Ordinance, adopted in June 1999, established funding of public art that "provides public visibility and impact."
The Arts Commission issued a national request for artist qualifications on Aug. 11, 2020, for public art at the Four Corners.
The city received 20 submissions and narrowed it to five finalists, who received $1,000 each to provide details and a model of the proposed art piece.
Through an online survey, three finalists were interviewed. Hopen and "The Monument to Peace and Unity" were a unanimous pick.
"The selection committee was especially impressed with Ms. Hopen's Zoom interview, the research she conducted on the project, and the extremely professional manner of her presentation," according to the meeting minutes. "She did her research and incorporated the theme of the call using special phrases cut into the artwork."
The recommendation went to the Arts Commission at its Feb. 24, 2021 meeting.
It was initially hoped the artwork would be scheduled for completion and installation in September 2021, but it was delayed a year.
The dedication is set for 10:30 a.m. Friday.
Public art was a point of controversy last month at Coeur d'Alene City Hall. Several people came to the Aug. 3 City Council meeting to voice their opposition to a piece of artwork titled "Solidarity."
The clenched fist made of fabricated steel and created by artist Rick Davis was one of six art pieces recommended for ArtCurrents, the city's public art placement program.
But many at the council meeting criticized it. They said it was a sign of communism, socialism, an insult to veterans, promoted violence against police and was an effort to create division.
Following about an hour's worth of public comments, the council agreed by a 5-1 vote, with English dissenting, to leave it out of the program.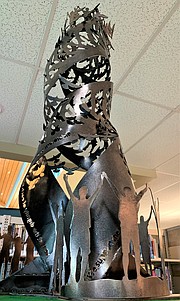 Recent Headlines
---