Radine Joyce Schell Burch, 75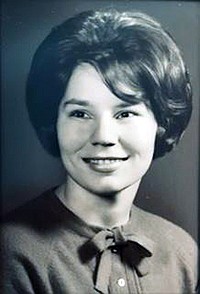 |
September 23, 2022 1:00 AM
Radine Joyce Schell Burch, 75, of Sandpoint, Idaho, passed away on Sept 1, 2022.
Just four months before, she was diagnosed with cancer. She opted out of treatment and was put on hospice for the last months of her life. During the last months, she had family and friends visit every day and spend quality time with her planting flowers, coloring and spending sunny days and evenings in the garden. She passed with family by her side.
Radine was a graduate of Sandpoint High School in 1966. She grew up and started her family in Sandpoint. A proud member of the Cherokee Nation Indian Tribe, she received loving support as an adoptee of the Coeur d'Alene Tribe during the last eight years of her life. The family wishes to thank the Coeur d'Alene Tribe for extending medical services to a non-tribe member.
Radine was a beloved mother, grandmother, doggie mother, sister, aunt and friend. Her sassy, fiery spirit and funny jokes; as well as her self-given nickname P.I.T.A. will not be forgotten. She was also an avid gardener, loved to dance, loved to sew and was one of the best bakers around. Flowers, her dogs Twitch and Paddy, and giving to others were her favorite things. She loved camping and travel and was kind to everyone she met.
Preceded in death by her parents, Ussona and John Payton Schell; her sister, Deanna Martin and her doggie Twitch. She is survived by her daughter, Dion Williams; son, Chris Sheffield; five grandchildren, Ashley, Landon, Eric, Hunter and Caiden; sisters, Catherine Carothers and Darlene Limbaugh; and brother, John Schell.
Graveside services will be held at 11 a.m. on Saturday Oct. 1, 2022, at Westmond Cemetery, in Sagle, Idaho, with the Rev. Barry Johnson officiating. A potluck dinner will be held immediately following the service at the Sagle Community Hall, 356 Talache Road, Sagle.
The family would also like to express sincere thanks to LifeCare of Sandpoint and Bonner County Hospice, for the excellent care given to Radine during her last months of life.
If desired, friends can bring a single flower or small bouquet to the service to add to a group bouquet in honor of Radine and her love of flowers. Condolences may be sent to Dion Williams, P.O. Box 1998, Sandpoint ID 83864
Family and friends are invited to sign Radine's online guest book at www.coffeltfuneral.com.
Arrangements are under the care of Coffelt Funeral Service.
Recent Headlines
---