Local crews to assume control of fire
by
BEAUX WHITE EAGLE
Staff Writer
|
September 28, 2022 1:00 AM
BONNERS FERRY – The Kootenai River Complex is expected to transition back to the Bonners Ferry Ranger District this weekend.
Over the next several days, some fire crews will have reached the end of the assignment period or are shifting efforts to other objectives such as suppression repair.
In addition, with fire objectives remaining 85% complete, fire behavior has become a little more active in the last day or two, causing widespread smoke and fog at lower elevations due to an inversion layer coupled with light winds, officials said. Fire progression monitoring is still a challenge for operations at night and in the early mornings, including the ability to monitor control lines by air, they said in a Tuesday press release.
"Dead and down heavy fuels continue to be the main carrier of fire, particularly on the southern and eastern slopes. The main operations firefighters are focusing on are reinforcing and patrolling fire control lines, mitigating hazard trees and snags, and chipping cut materials," officials said.
With more smoke expected in the lower elevations, officials said they also expect another day of heavy air settling over the area. However, suppression repair continues to be the focus for crews as firefighters are actively looking for opportunities for suppression repair in areas that will not impact secure control lines.
Although fire activity has kicked up, officials said fire intensity is expected to remain low, smoldering and creeping through dead and down fuels. Priorities will continue to be reinforcing and patrolling fire control lines and monitoring fire behavior, especially in canyons that have shown recent activity. There will still be testing of structure protection equipment, chipping, excavating, and hazard tree removal. The Katka and Long Canyon fires have shown minimal fire growth and will continue to be unstaffed and monitored by aircraft if conditions are safe for flying.
The fire has burned an estimated 21,808 acres since it was started by lighting in mid-August.
Boulder Mountain Fire
The Washington Department of Natural Resources and Colville National Forest has assumed control of the Boulder Mountain Fire.
The fire, which has burned 2,310 acres, has been contained to 99% contained.
While the Colville National Forest has lifted a closure enacted for the duration of the fire, officials warned that many natural hazards can exist for months – if not years – after a fire is out, including unstable dead or dying trees, burned out root systems and unstable soils.
Diamond Watch Fire
Since started by a lightning strike in mid-July, the Diamond Watch fire, has burned 1,177 acres. Located 5.5 miles due west of Nordman, the fire is listed at 55% containment with 15 fire personnel assigned to the fire.
Columbus and Bear Gulch Fires
The Columbus Fire, started by a lightning strike in August, is straddling the Idaho/Montana corner near the Columbus Creek drainage.
Located 6 miles northeast of Murray, the fire has burned 1,806 acres and is 0% contained.
Located 6 miles east of Murray, the Bear Gulch Fire has burned 144 acres since being sparked by lightning in mid-August. The fire is within a mile of the Idaho/Montana border with terrain similar to the nearby Columbus Fire.
Thor Fire
The Thor Fire — along with the Slate, Salmo and Gypsy Ridge fires — is burning in an area where the fire activity does not pose a threat to any "values at risk," including wildlife habitats, watershed areas, natural resources, recreation infrastructure, or private land.
The largest of the fires, the Thor Fire, has burned 1,300 acres; the Slate Fire, 620; Salmo, 320; and Gypsy Ridge, 17.
A Type 3 Incident Management Team is managing four fires in the same general area.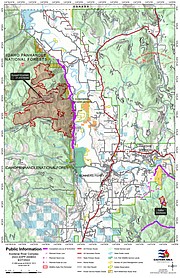 Recent Headlines
---