Strong season for SMS cross country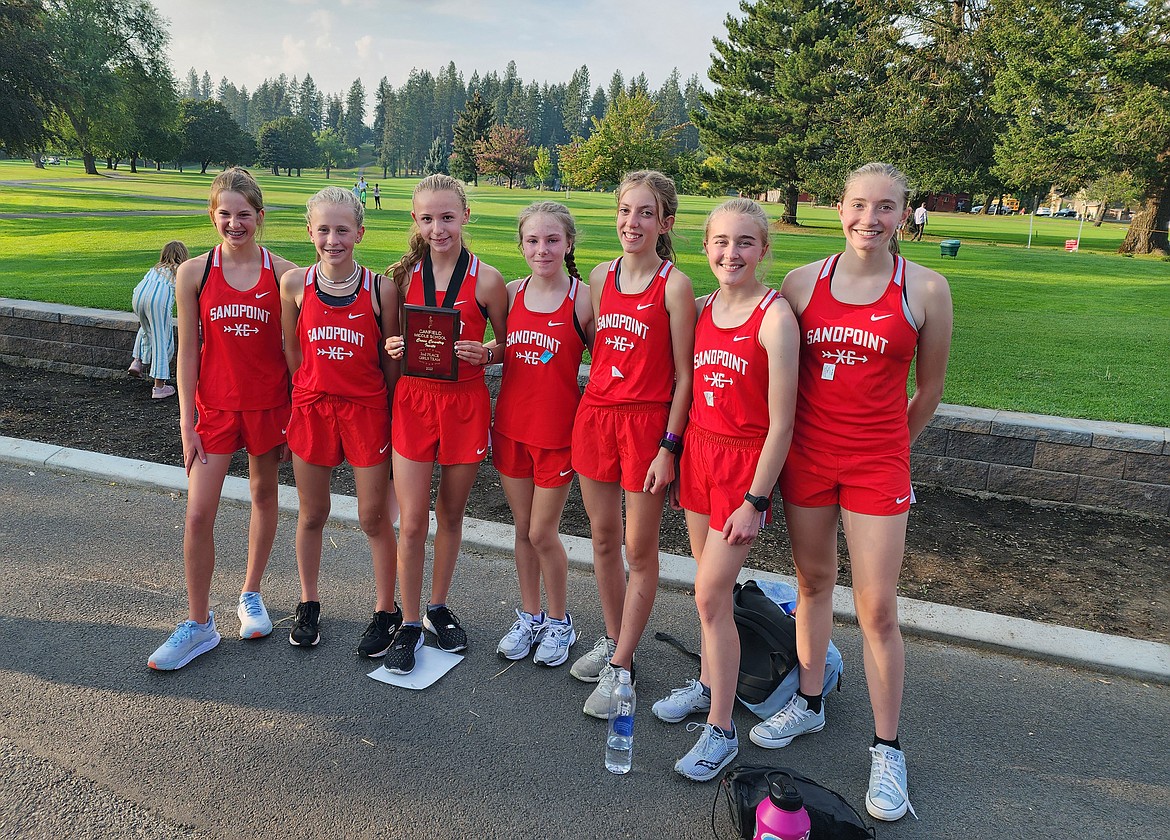 Sandpoint Middle School cross country team members pose for a group photo after taking second at a recent tournament. Pictured, from left, are Bailey Wilson, 22; Raelynn Olsen, 17, Ruthie Laughridge, 3; Delaney Barron, 18; Sienna Todd-Murray, 28; Elizabeth Storms, 7; and Willow Betz, 13.
(Courtesy photo)
SANDPOINT — Sandpoint Middle School's cross country team has kicked off the season, with the girls bringing home medals for their first two meets.
The SMS varsity girls got second and the boys got fourth at the Canfield Invitational on Sept. 15. At their next, the Lakes Middle School Cherry Invitational on Sept. 22, the boys came short of the podium by 17 points. The girls won the meet by 28 points.
Coach Jacob Peterson said he was proud of his team.
"The other 6 schools weren't close, the girls had 6 top 10 finishes," he added
For a team to win a cross country meet, they need the lowest score. The first to finish gets one point, the second gets two points, etc. A team's first five finishers make up their overall team score.
Ruthie Laughridge finished fourth for the girls at Canfield. The SMS boys did not have anyone in the top five in their varsity race.
At the LMS Cherry invite, the girls varsity team had four of the top five finishers. Izzy Waters came in second, Elizabeth Storm came in third, Ruthie Laughridge came in fourth, and WIllow Betz came in fifth.
The boys got fourth at Cherry. Knox Williams was the team's fastest finisher, scoring fifth.
The Bullpups' next cross country meet will be the Lakeland Middle School Invitational at Farragut State Park on Thursday.
Recent Headlines
---