Bulldog golfers sweep districts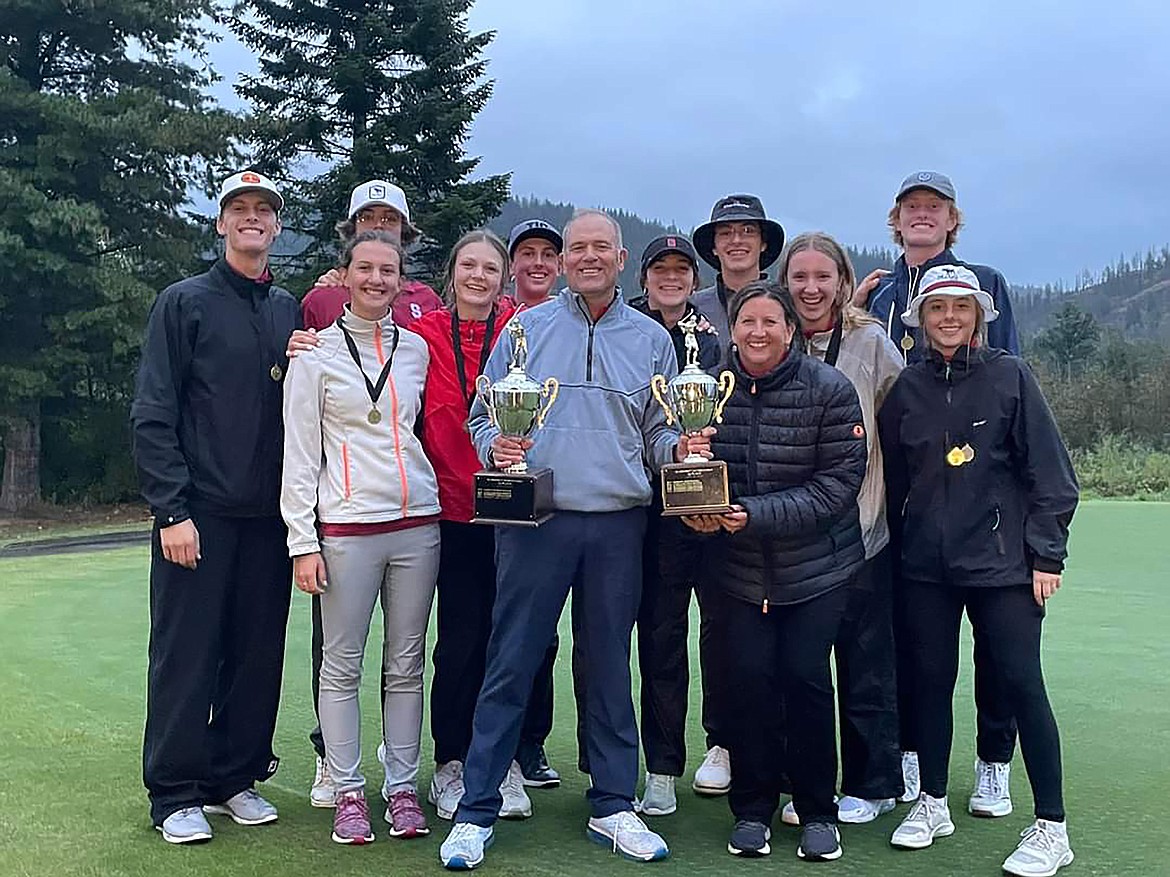 Sandpoint High School's golf teams pose with their trophies after both Bulldog team won districts at The Idaho Club on Thursday.
(Photo courtesy MIKE DEPREZ)
by
CAROLINE LOBSINGER
Staff Writer
|
September 30, 2022 1:00 AM
SANDPOINT — Led by Jake Samuels who shot an 85 to lead the boys team and Alexa Tuinstra who show an 84 to lead the girls, Sandpoint swept team honors to win districts at The Idaho Club on Thursday.
In the boys tournament, the Bulldogs shot 365, 13 strokes ahead of second-place Moscow, in an up-and-down day where any of the three teams could have walked away with the district title. Lakeland's Brady Hanna shot 82 to earn medalist honors.
In the girls tournament, Sandpoint dominated from the start, shooting 358, 145 strokes ahead of Moscow and 160 strokes ahead of Lakeland. Sandpoint's Alexa Tuinstra shot 84 to claim medalist honors.
"The girls did phenomenal," Sandpoint coach Mike Deprez said. "As challenging as the day was, they all play extremely well and I could not be prouder of them."
Other than a "bad bounce" here and there, Deprez said the Sandpoint girls team was "absolutely dialed in" for the district tournament.
"We should be in serious contention to do something at state," he said.
The boys tournament was "nip and tuck" throughout the day with being able to play on their home course helping, Deprez said.
The rain and difficult course made the tournament a tough one for all of the boys teams.
"It was always going to be a test of who had the greatest resilience and perseverance," Deprez said. "At the end of the day, the Bulldogs had the resilience and the perseverance to win."
BOYS
TEAM SCORES — 1, Sandpoint 365. 2, Moscow, 378. 3, Lakeland 381.
Medalist — Brady Hanna, Lakeland 82.
SANDPOINT — Jake Samuels 85, Jacob Gove 98, Joey Aexel 89, Rusty Lee 104, Austin Dillon 94.
LAKELAND — Brady Hanna 82, Garrett Love 111, Tristan Chamness 90, Isaac Fritts 100, Erik Briske 109.
MOSCOW — Chase Lovell 83, Paxton Dorigo 107, Issac Harmon 99, Gage Schlueter 89, Luke Zimmer 108.
GIRLS
TEAM SCORES — 1, Sandpoint 358. 2, Moscow, 503. 3, Lakeland 518.
Medalist — Alexa Tuinstra, Sandpoint 84.
SANDPOINT — Alexa Tuinstra 84, Demi Driggs 102, Taylor Mire 89, Audrey Sheffler 86, Reagan Samuels 99.
LAKELAND — Karsyn Miller 111, Jessica Thompson 139, Emma Marshall 143, Delilah Zimmerman 133, Makayla Schranck 135.
MOSCOW — Myah Parsons 103, Hayes Brown 117, Addison Raney 129, Alexa Lambert 154.
Recent Headlines
---