Freight train derails into Clark Fork River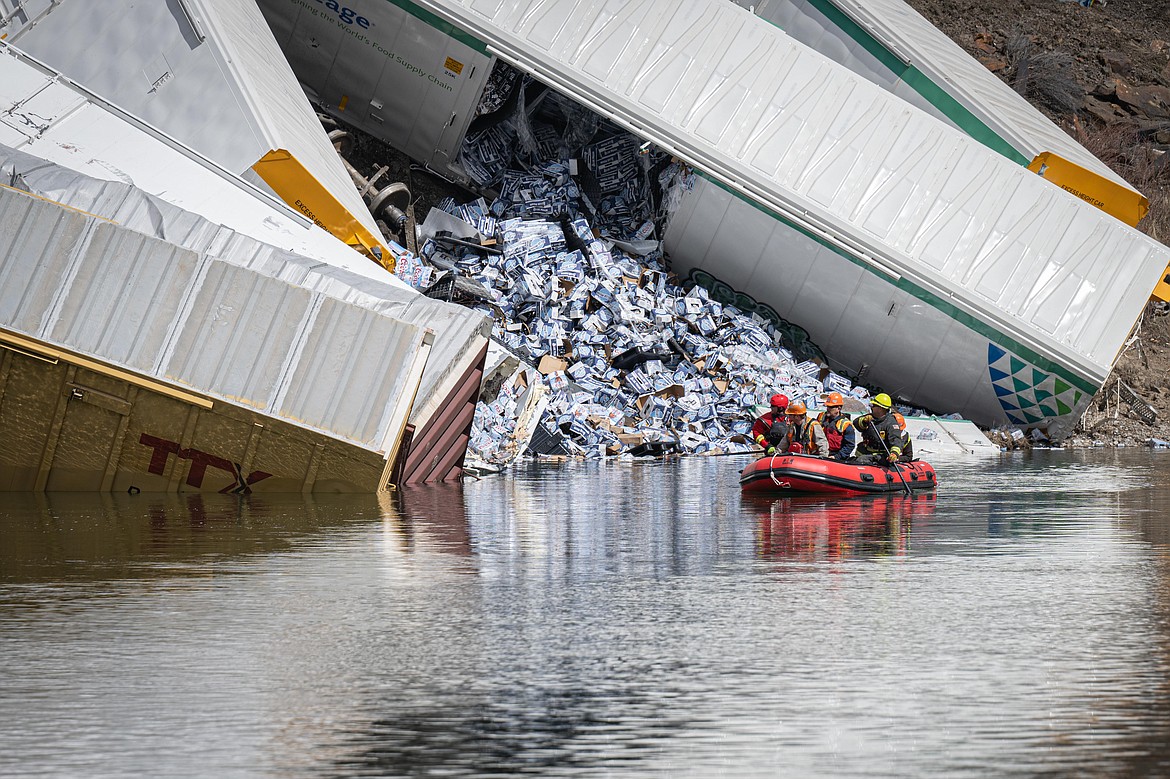 Emergency crews respond to a Montana Rail Link freight train derailment along the Clark Fork River in Sanders County, Montana on Sunday, April 2, 2023. (Tracy Scott/Clark Fork Valley Press)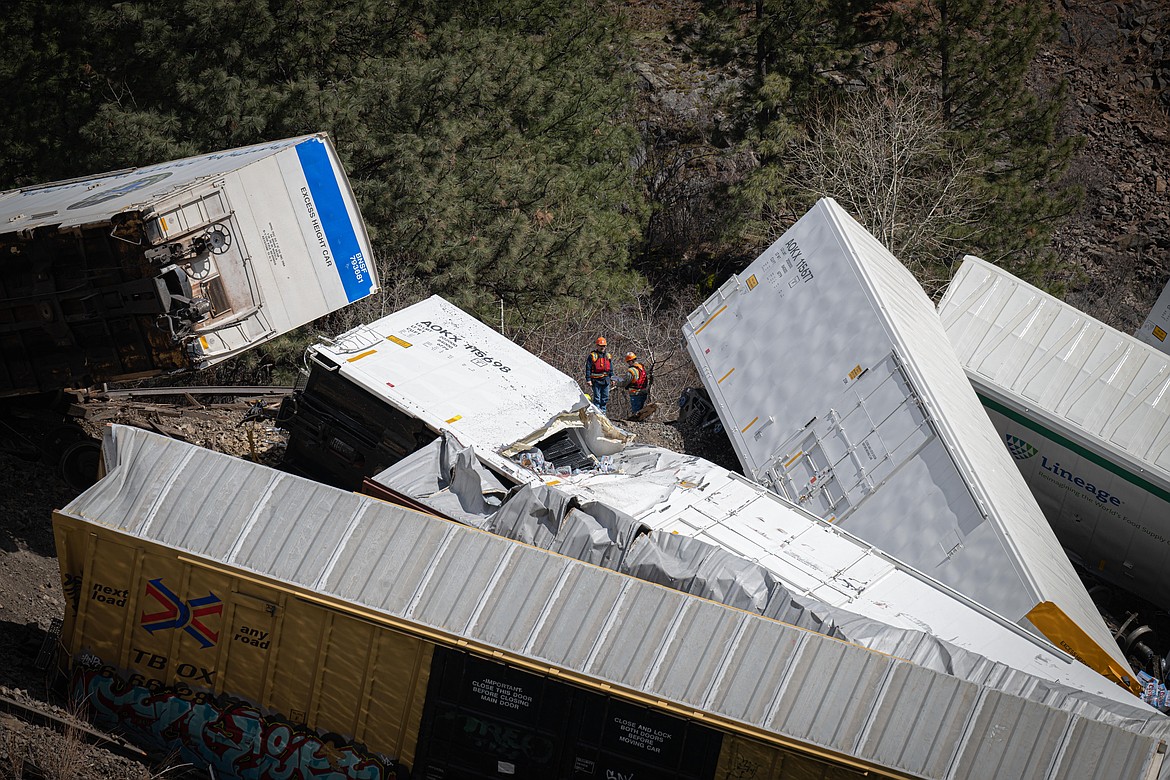 Emergency crews respond to a Montana Rail Link freight train derailment along the Clark Fork River in Sanders County, Montana on Sunday, April 2, 2023. (Monte Turner/Mineral Independent)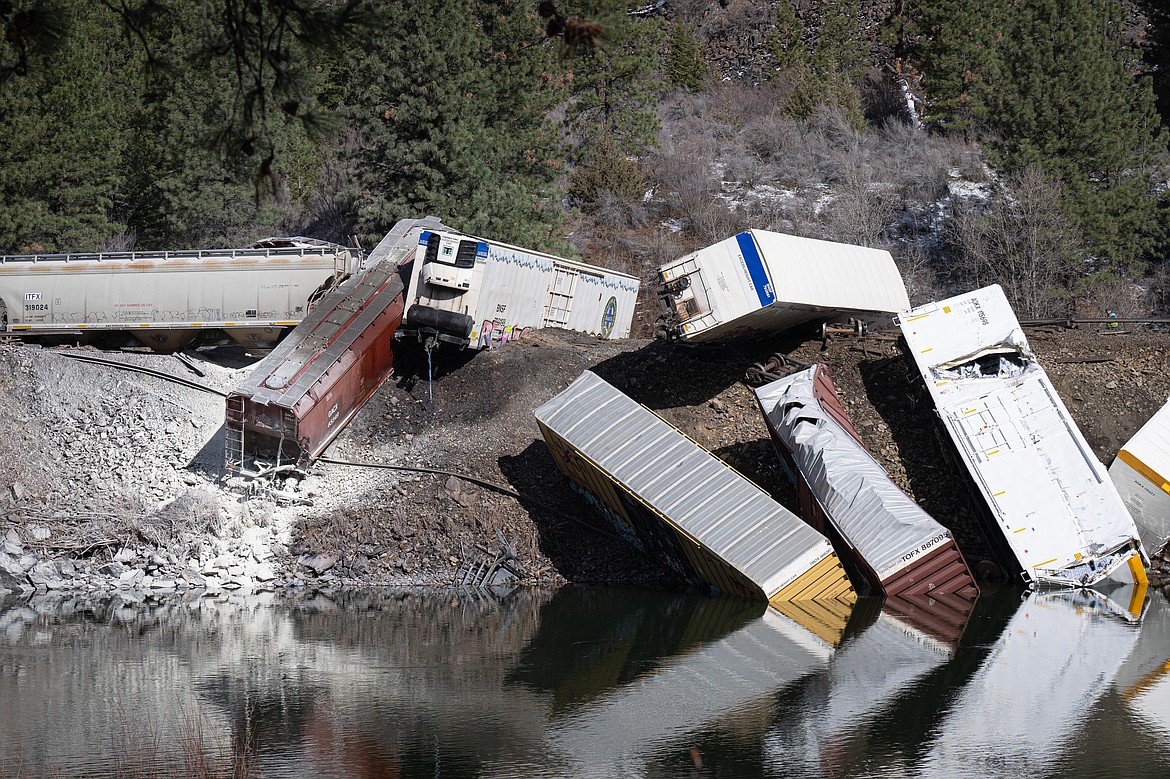 Montana Rail Link freight cars hang along the Clark Fork River following a derailment in Sanders County, Montana on Sunday, April 2, 2023. (Tracy Scott/Clark Fork Valley Press)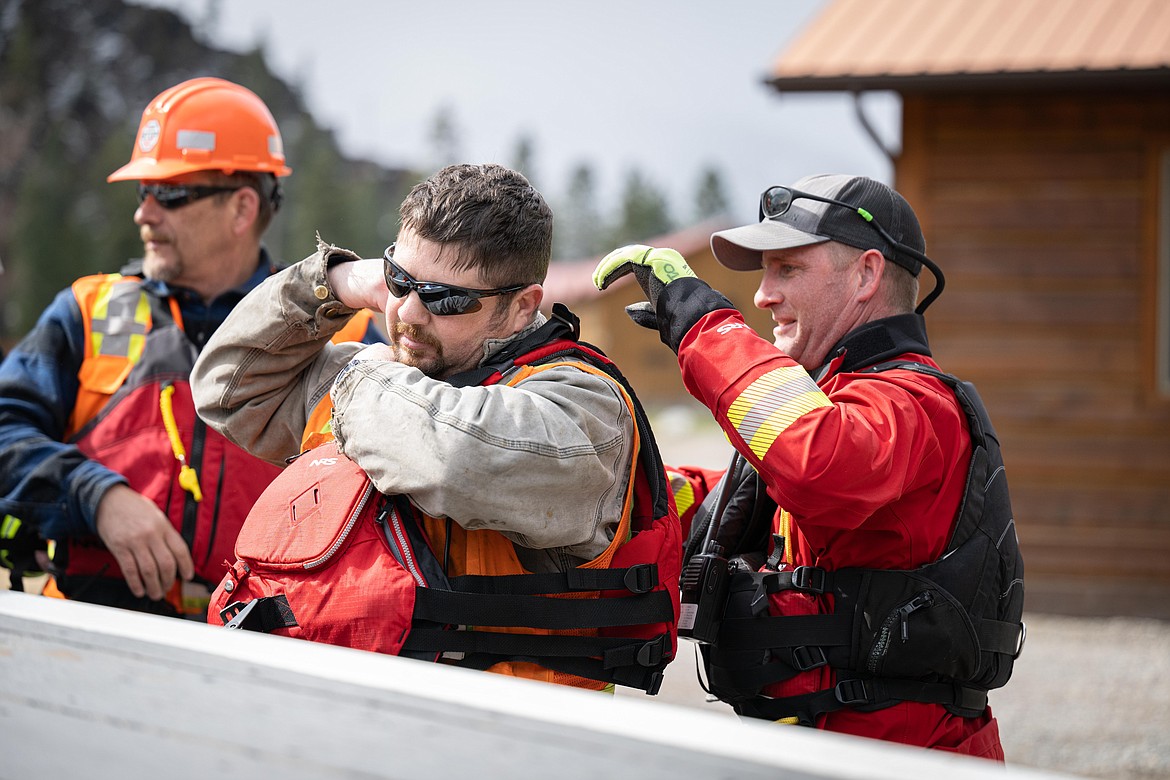 Plains Paradise Water Rescue team leader Zach Vanderwall suits up with cold water rescue equipment. (Tracy Scott/Clark Fork Valley Press)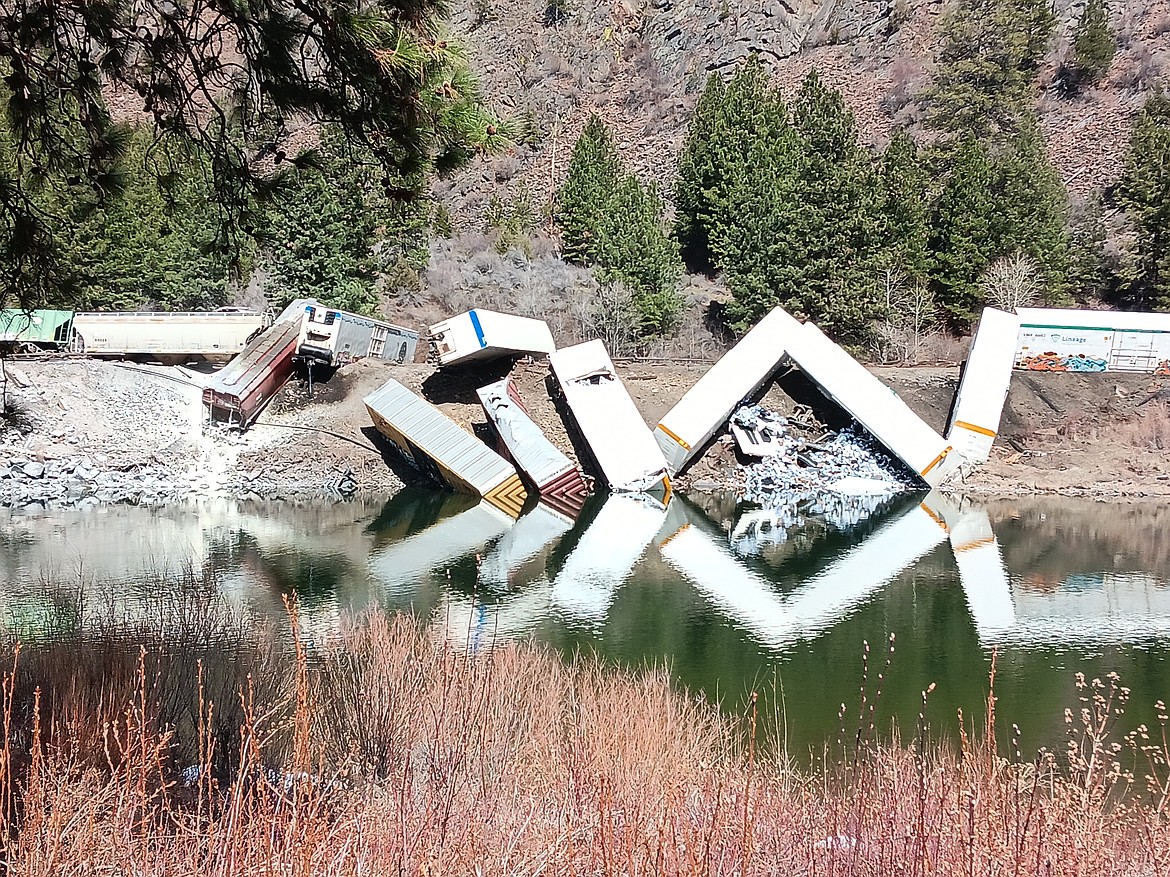 A Montana Rail Link freight train is derailed into the Clark Fork River in Sanders County, Montana on Sunday, April 2, 2023. (Monte Turner/Mineral Independent)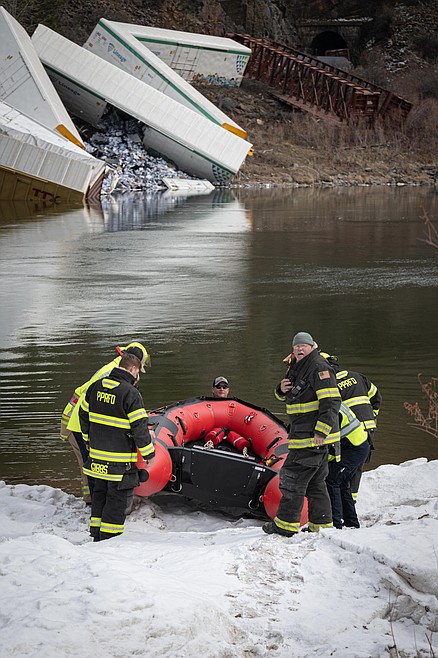 Emergency crews respond to a Montana Rail Link freight train derailment along the Clark Fork River in Sanders County, Montana on Sunday, April 2, 2023. (Tracy Scott/Clark Fork Valley Press)
Previous
Next
A Montana Rail Link freight train derailed in Sanders County on Sunday morning, sending multiple railcars into the Clark Fork River.
No one was injured in the incident along Montana 135 near Quinn's Hot Springs Resort between Paradise and St. Regis. Fourteen rental cabins at the resort were evacuated during the initial response.
Officials with Montana Rail Link were working to determine the cause. Company spokesperson Andy Garland said there were no risks to public safety and no Hazmat release associated with the derailment.
Garland said the train was traveling westbound Sunday at 9 a.m. when a portion of the train derailed.
Approximately 25 railcars were involved. The tunnel the train was passing through was full of derailed cars, with the front engines just outside of the north end of the tunnel.
One car full of propane derailed, but crews determined that none of the gas had leaked. A hazmat team onsite was monitoring the propane car.
Debris was strewn below some of the wrecked railcars above the Clark Fork River, including Coors and Blue Moon beer and some clay material. Other railcars involved contained food products, and one empty molasses car was derailed.
Dennis and Lisa Braudrick, from Washington state, witnessed the wreck.
"We saw the train go by and then heard what sounded like thunder," Dennis said.
It was expected to take 24 to 36 hours to clear the wreckage and reopen the track. Several trains will be diverted to the Tenth Sub Route through Dixon while cleanup is underway.
The only access to the crash site is by boat. Zack Vanderwall with the Plains-Paradise Rural Fire District's water rescue unit was on hand to help ferry emergency workers across the river in a small boat.
A Montana Rail Link emergency response team was onsite, along with crews from Plains-Paradise Rural Fire District and the St. Regis Volunteer Fire Department. Plains-Paradise Fire Chief James Russell served as incident commander.
"We are committed to addressing any impacts to the area as a result of this accident, prioritizing the safety of our employees and the public, and understanding the reasons for this incident," Montana Rail Link spokesperson Garland stated in a media release.
This is the first derailment of the year for Montana Rail Link, according to Federal Railroad Administration accident data. The company had five reported accidents in 2022 and nine in 2021.
The Class II regional railroad operates 937 route miles of track in Montana and Idaho.
Montana Gov. Greg Gianforte tweeted that he had been briefed on the derailment and was prepared to mobilize state resources if necessary.
U.S. Sens. Steve Daines, R-Montana, and Jon Tester, D-Montana, said they were monitoring the situation, as well.
In March, Ohio's two U.S. senators introduced bipartisan legislation that would require rail companies to follow new safety regulation aimed at preventing derailments like the fiery crash that happened Feb. 3 in East Palestine, Ohio.
The Railway Safety Act of 2023 is co-sponsored by U.S. Sens. Sherrod Brown, a Democrat, and JD Vance, a Republican. The bill would require railroads to create disaster plans and tell emergency response commissions what hazardous materials are going through their states.
Recent Headlines
---