Potential rises for spring flooding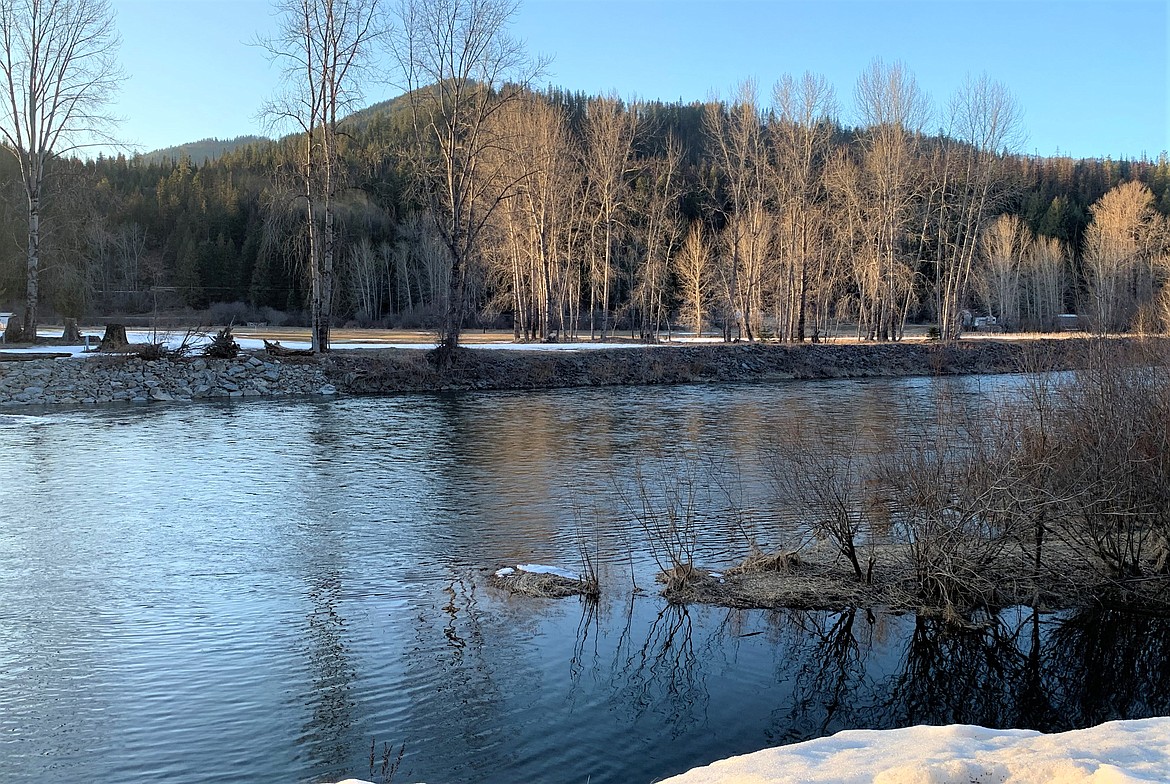 The Coeur d'Alene River flows on a recent evening.
BILL BULEY/Press
by
BILL BULEY
Hagadone News Network
|
April 13, 2023 1:00 AM
SANDPOINT - The potential for spring flooding in North Idaho is there.
Peter Youngblood, hydrologist with the Natural Resources Conservation Service, said Wednesday a combination of warm weather and rain could cause a rapid melting of snowpack, which is above normal at lower elevations in the Panhandle. That could cause rivers and streams to rise beyond normal levels.
"It depends on spring weather," Youngblood said.
A big rain-on-snow event is always possible, he said.
"Rain causes the snow to melt pretty quickly, Youngblood said.
The NRCS recently released its Idaho water supply outlook report for April.
According to the report, April is expected to be cooler and wetter than normal.
"Northern Idaho may experience drier than normal conditions this spring; future precipitation conditions remain unknown elsewhere in the state," the report stated.
Panhandle precipitation was below normal in March, coming in at 65% of normal, according to the report. Total precipitation for the year remains below normal at 75%.
Below normal temperatures have helped sustain snowpack conditions, which are near normal across Panhandle basins. But there is one main discrepancy this year.
In the Panhandle, the snowpack at lower elevations, below 5,000 feet, is mostly above normal, while the snowpack at higher elevations remains below normal at 85%.
"The impacts of this abnormal distribution of snowpack will depend largely on springtime weather, but the timing and magnitude of snowmelt runoff could be affected," the report said.
The National Oceanic and Atmospheric Administration's 30-Day Outlook predicts increased chances of above normal precipitation and below normal temperatures for April.
Youngblood said one major development is that the snowpack has been getting more dense, meaning it has more liquid water.
He said the snowpack is "something like a sponge," and can hold only so much water before releasing it.
He said there has been a significant snowpack melt in the last few days. It typically begins around mid-April.
The upper elevation snowpack has strong influence on summer stream flows.
"Streamflow forecasts for April through July range from 85 to 95% of normal at the 50% exceedance level for the Panhandle basin," the report said.
In March, North Idaho was much drier than the rest of the state. Monthly precipitation was 60 to 102% compared to the rest of the state, where precipitation was 134 to 203% of normal.
"This pattern of drier conditions in northern Idaho has persisted from fall and through this winter," according to the report.
Recent Headlines
---