LillyBrooke welcomes new facility dog to the team
A new member of the LillyBrooke Family Justice Center has recently come on board who is sure to turn heads and steal hearts.
Kona is a 3-year-old Labrador retriever who joined the LillyBrooke team — which provides free services for victims of child abuse, sexual assault, human trafficking, elder abuse and domestic violence — in February in preparation for the organization's beloved Ken's impending retirement. Ken is 10 years old and while he still has lots of life left, his working days are coming to an end, LillyBrooke director Peggy Sherbon said.
Ken has been with the team for almost eight years and while he still loves doing his job, he's beginning to slow down. Sherbon said she wanted to get a new facility dog before Ken's retirement so there wouldn't be any kind of lapse in the work they have to do.
Ken won't be saying goodbye anytime soon, however. Sherbon said he loves working too much to stay home, so he will continue coming into the office as well as accompany Sherbon in forensic interviews. Kona will be taking over his responsibilities in the courtroom when his retirement date does come.
"Right now, we don't have a set date for when Ken will retire, although it will probably be sometime soon," Sherbon said.
Until then, Kona will continue to learn from Ken what is expected of her.
"It's pretty funny," Sherbon said. "I didn't think this would be the case, but Kona really watches what Ken is doing and seems like she's learning from following what he does."
The facility dog's job is to calm children who are stuck in legal processes, whether they're being interviewed by one of the staff at LillyBrooke or testifying in court. Ken and Kona both underwent two and a half years of rigorous training before being placed with Sherbon.
"Ken really knows exactly what he's supposed to do when we walk into the room," she said. "I don't have to tell him anything anymore. He'll go find the person that needs him, rest his head in their lap for a while to calm them down, then he'll curl right up, lay on their feet and take a nap."
Sherbon said the calming effect the dogs have on almost everyone in the room is astounding and clear differences can be seen in people's demeanors before and after the dogs come in.
"Studies have proven that when a dog is in the room and asleep, your blood pressure automatically lowers," she said.
While there has definitely been a learning curve between Ken and Kona's differences, Sherbon said she's confident that Kona will do great in the courtroom.
"A lot is expected of these dogs," she said. "They need to be able to know what they have to do. I should be able to set them up and walk away and not worry about how they're going to act or what they're going to do."
Like Ken, Kona will be there to support anyone who needs it, no matter what side of the court case they're on.
"This situation is hard for everyone involved no matter what side you're on, especially as a kid," Sherbon said. "If we can offer the dogs to anyone who needs them and can help make them feel even a little better, we're going to do it. It's not really about whose side you're on."
Kona has already completed a few forensic interviews at LillyBrooke and was supposed to make her debut in the courtroom this week. However, due to unforeseen circumstances, she will have to put off her maiden trial until a later date. Regardless, the pups will still be providing support to the alleged victims behind the scenes.
Kona and Ken will be at Mountain West Bank on Friday, April 28, to meet with the public and raise awareness for Child Abuse Awareness Month. The pups will be at the Sandpoint branch from 9 a.m. to 1 p.m. and the Ponderay branch from 1-5 p.m.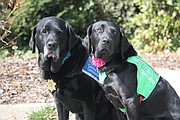 Recent Headlines
---