NIC trustees nullify Swayne's contract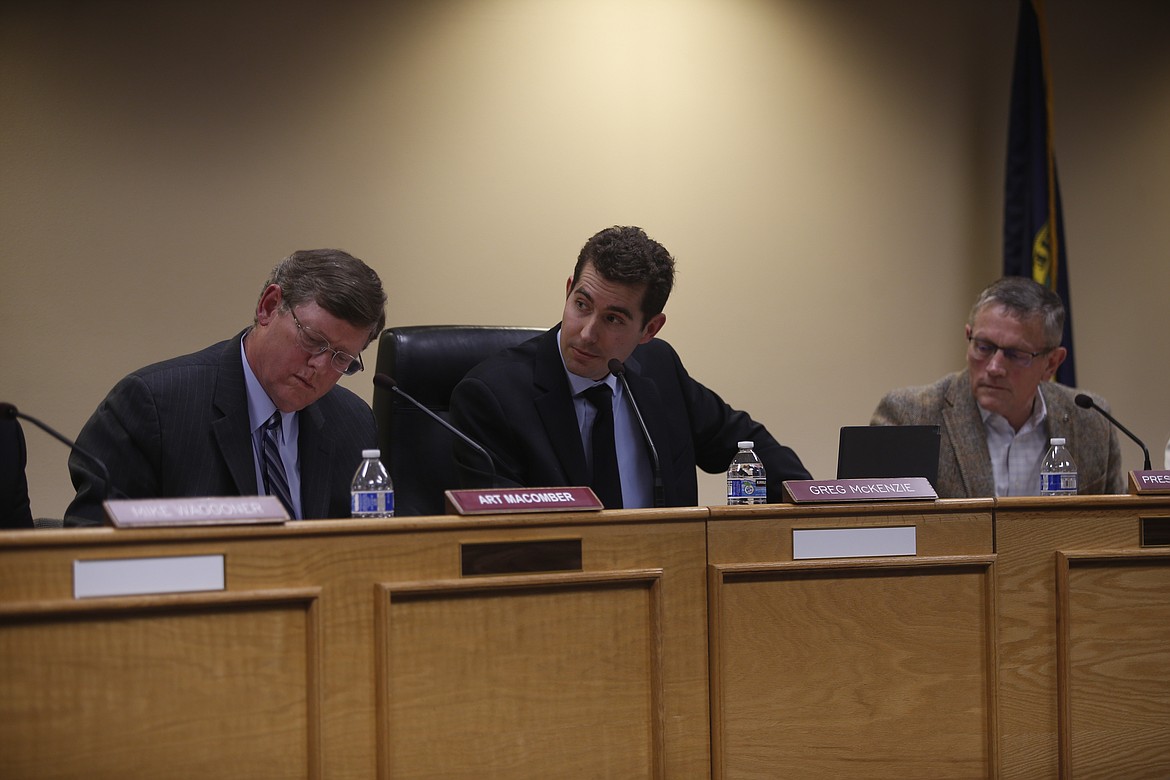 The North Idaho College board of trustees cast a split vote Monday night to nullify the contract of President Nick Swayne but keep him on as president for an unknown period.
KAYE THORNBRUGH/Press
▶️ Audio story available.
COEUR d'ALENE — North Idaho College trustees voted 3-2 Monday night to nullify the contract of President Nick Swayne but said he will continue as active president "until the board decides otherwise."
Trustees Greg McKenzie, Todd Banducci and Mike Waggoner supported the motion, while Brad Corkill and Tarie Zimmerman opposed it.
More than 100 people gathered for the special meeting, held in the Kootenai County Administration Building downtown. The meeting was punctuated with cheers and jeers from the crowd, as well as several recesses to restore order.
Based on the findings of an investigation by college attorney Art Macomber, the board majority nullified Swayne's contract despite an order issued March 3 by Judge Cynthia Meyer, which forced the college to reinstate Swayne to his position as active president until his lawsuit seeking permanent reinstatement is resolved. Swayne's lawsuit was filed after the same board majority — Banducci, McKenzie and Waggoner — voted to place Swayne on administrative leave in December.
Banducci, who made the motion to nullify Swayne's contract, referred to Macomber's report, which apparently alleges that unspecified open meeting violations occurred at the June 22, 2022, board meeting where trustees voted to hire Swayne. The college is expected to release the report to the public sometime today.
Zimmerman said nullifying Swayne's employment agreement would violate the court's order. She said she had "serious doubts" about accepting Macomber's legal advice on the matter.
"I guess it comes down to whose legal advice we're taking, since the judge doesn't work for us and Mr. Macomber does," Banducci said.
The 180-day window in which any alleged open meeting law violation could be cured has long closed, Zimmerman said. She added that the allegations documented in the report are not supported by evidence, calling them "hearsay at best and gossip at worst."
"I understand your desire to go back and repair or fix what you believe was in error," Zimmerman said. "But I believe you're asking me to vote on breaking the law ... It's outside 30 days, it's outside 180 days and I cannot vote yes to do something that is against the law."
Before the board voted to make the report public, its contents were considered so secret that McKenzie attempted unsuccessfully to have Corkill censured for sharing it with an unknown party.
McKenzie said Corkill "violated his fiduciary, ethical and moral duty" to NIC and "harmed the college" by distributing the report.
"This behavior continues to jeopardize accreditation and shows a disdain for proper board governance," McKenzie said.
Corkill pushed back against the allegations, saying he was under no obligation to keep the report private.
"Art Macomber prepared a report at college expense that sounds like a roadmap for a coup to get rid of the college president," Corkill said. "My allegiance and my fiduciary responsibilities are to the college, to the taxpayers of Kootenai County, not to this board and certainly not to this attorney."
At that, the crowd erupted into applause, which McKenzie unsuccessfully tried to gavel down.
Corkill called for the report to be made public.
"I see this as an unhinged analysis and it recommends taking action that would be against the law and a violation of the current court order," he said. "Go ahead and censure me, OK. That's what you feel is important. But I did what my conscience told me to do."
McKenzie went on to say it's unhelpful to "point fingers about who's most wrong."
"When NIC's accreditation is pulled, nobody cares who's most at fault," McKenzie said. "We already lost accreditation. The damage has been done."
McKenzie's motion to censure Corkill failed, with Banducci casting the deciding vote against censure.
McKenzie also pushed for the board to pass a motion that would make it impossible for the college president to fill certain positions without McKenzie's approval as board chair.
In doing so, Swayne said, McKenzie would improperly insert himself into college operations — a level of interference that NIC's accreditor, the Northwest Commission on Colleges and Universities, has advised against.
"If you want to lose accreditation, go ahead and vote for it," Swayne said.
After repeated attempts to force a vote, McKenzie withdrew the motion.
Amid the discussion, a woman in the audience stood up. She appeared to be a college employee.
"These are our jobs!" she said, through tears. "These are our jobs and our livelihoods!"
The board will meet again 6 p.m. Wednesday in the Edminster Student Union Building on NIC's main campus. On the agenda is an action item titled "policy development for presidential succession."
Recent Headlines
---