Race to Alaska film Saturday at Panida Theater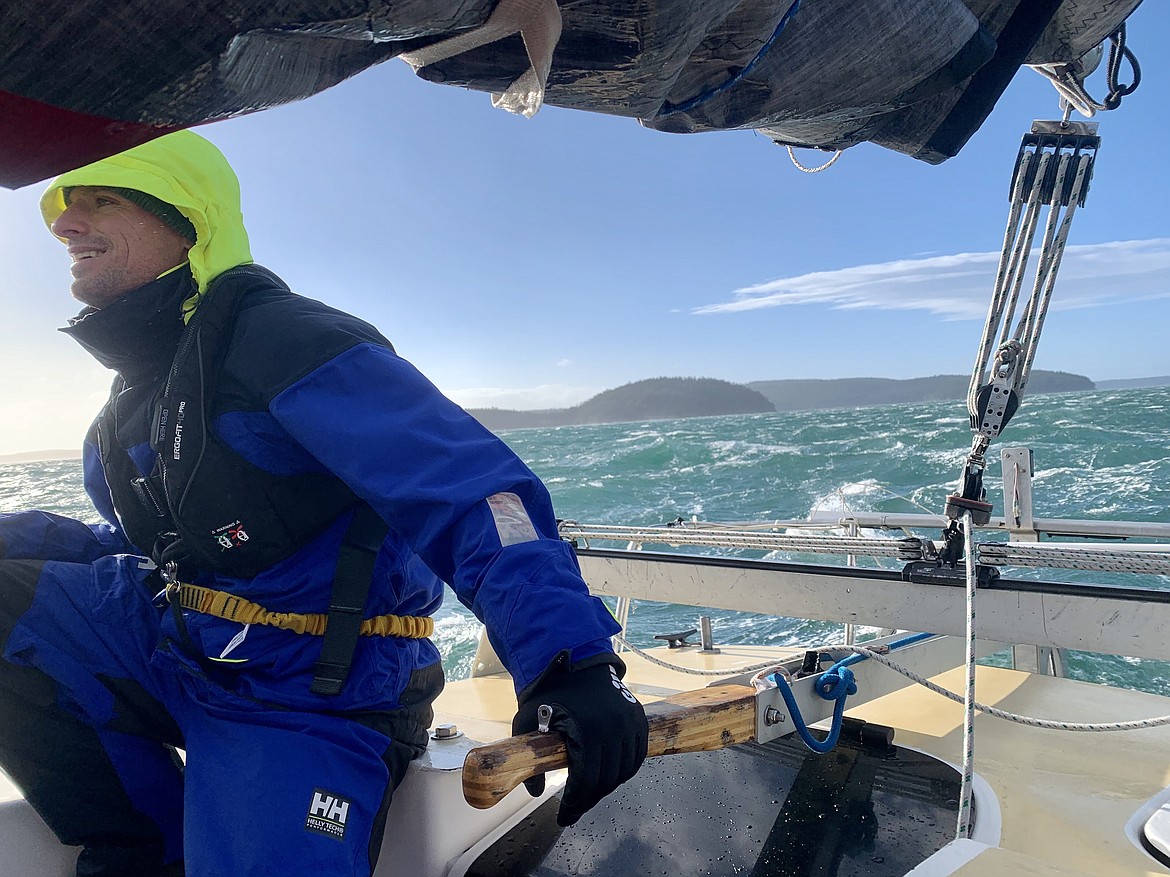 Gabe Mills, skipper of Mahana, at the helm in a big breeze.
Courtesy photo
SANDPOINT — The Sandpoint Sailing Association will host the film "The Race to Alaska" at the Panida Theater, Saturday.
Dogsmile Adventures, a therapeutic sailing nonprofit based on Lake Pend Oreille, is the guest of honor, as its team prepares for their own attempt at racing from Port Townsend, Wash., to Ketchikan, Alaska, in June with nothing but wind and human power.
The Sandpoint Sailing Association welcomes everyone to attend and find out how easy it is to go sailing in Sandpoint, said SSA Commodore Chris Ankney. The evening includes a raffle and prizes from local merchants, restaurants and event sponsors.
"If you have an interest in sailing but aren't sure where to start, this is a great opportunity," Ankney said. "Come join us and find out how to get involved with a fun, local nonprofit group."
Dogsmile Adventures founder Capt. Jon Totten will be available to answer questions alongside Gabe Mills, the skipper of the boat the team will race, a Corsair F-27 named Mahana.
Organizers describe the Race to Alaska: "No motor, no support, all the way to Alaska, with the physical endurance, saltwater know-how and bulldog tenacity to navigate the 750 cold water miles."
"We are stoked for the opportunity to join this epic challenge, and are super excited for the support from our community," Capt. Totten said. "Come see the film, and definitely follow the race as it happens."
All going well, team Dogsmile Adventures plans to depart Port Townsend with the race June 5. Their team updates will be available on Instagram @dogsmileadventures and their progress can be tracked at r2ak.com.
SSA promotes a welcoming environment for individuals and families with sailing education, racing, community inclusion and stewardship of Lake Pend Oreille.
The event takes place Saturday at the historic Panida Theater in downtown Sandpoint. Doors open at 6 p.m. for a 7 p.m. program start. Beer and wine will be served, and there is a silent auction and raffle prizes. The suggested ticket price is $10 on a sliding scale; just pay what you can. No one will be turned away based on money.
More information can be found online at panida.org, sandpointsailing.org and dogsmileadventures.org or on Facebook at Sandpoint Sailing Association and Dogsmile Adventures.
Recent Headlines
---