Franti returning to the Festival stage
|
February 1, 2023 1:00 AM
Michael Franti is headed back to the Festival.
Michael Franti and Spearhead will take to the stage on Thursday, Aug. 3. SOJA will open. Tickets are on sale now.
Franti is a globally recognized musician and activist revered for his high-energy live shows and uplifting reggae, pop, and hip-hop-inspired music influenced by the power of optimism, Festival at Sandpoint officials said. Throughout his multi-decade career, Franti has earned three Billboard No. 1's with triumphantly hopeful hits "Sound of Sunshine," "Say Hey (I Love You)," and "I Got You," as well as six Top 30 Hot AC singles, 10 Top 25 AAA Singles, and three Billboard Top 5 Rock Albums. Spearhead's 12th studio album, Follow Your Heart, was released in June 2022 and debuted at No. 2 on the iTunes Pop Chart.
In January 2019, Franti released his self-directed documentary "Stay Human", which won an array of awards at film festivals worldwide and influenced his writing for his album "Stay Human Vol. II" (Thirty Tigers), which debuted at No. 1 on both the Americana and Independent Album charts and received critical acclaim from USA Today, Billboard, and more. Franti continues to foster community both on and off stage with a wish-granting non-profit, Do It For The Love, founded by Michael and his wife, Sara. Do It For The Love brings those with life-threatening illnesses, veterans, and children with severe challenges to concerts worldwide, fulfilling over 3,300 wishes and touching the lives of over 12,000 people to date.
For more than two decades, SOJA has offered a fresh yet timeless take on roots reggae, Festival at Sandpoint officials said. The sound born was born from band members' shared passion for making music that transports and inspires.
On their Grammy Award Winning album, "Beauty in the Silence", the band deepens that communal spirit by collaborating with artists from all corners of the reggae world, including the likes of UB40, Slightly Stoopid, Stick Figure, and Rebelution. SOJA is comprised of Jacob Hemphill (lead vocals, guitar), Bobby Lee (bass, vocals), Ryan Berty (drums), Kenny Bongos (percussion), Patrick O'Shea (keyboards), Hellman Escorcia (saxophone), Rafael Rodriguez (trumpet), and Trevor Young (lead guitar, vocals).
Tickets for the concert are general admission and cost $54.95 before taxes and fees. Gates open at 6 p.m. and music begins at 7:15 p.m.
Information: festivalatsandpoint.com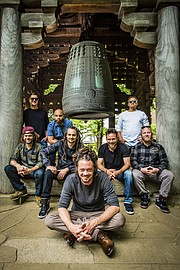 Recent Headlines
---