Woods celebrate diamond anniversary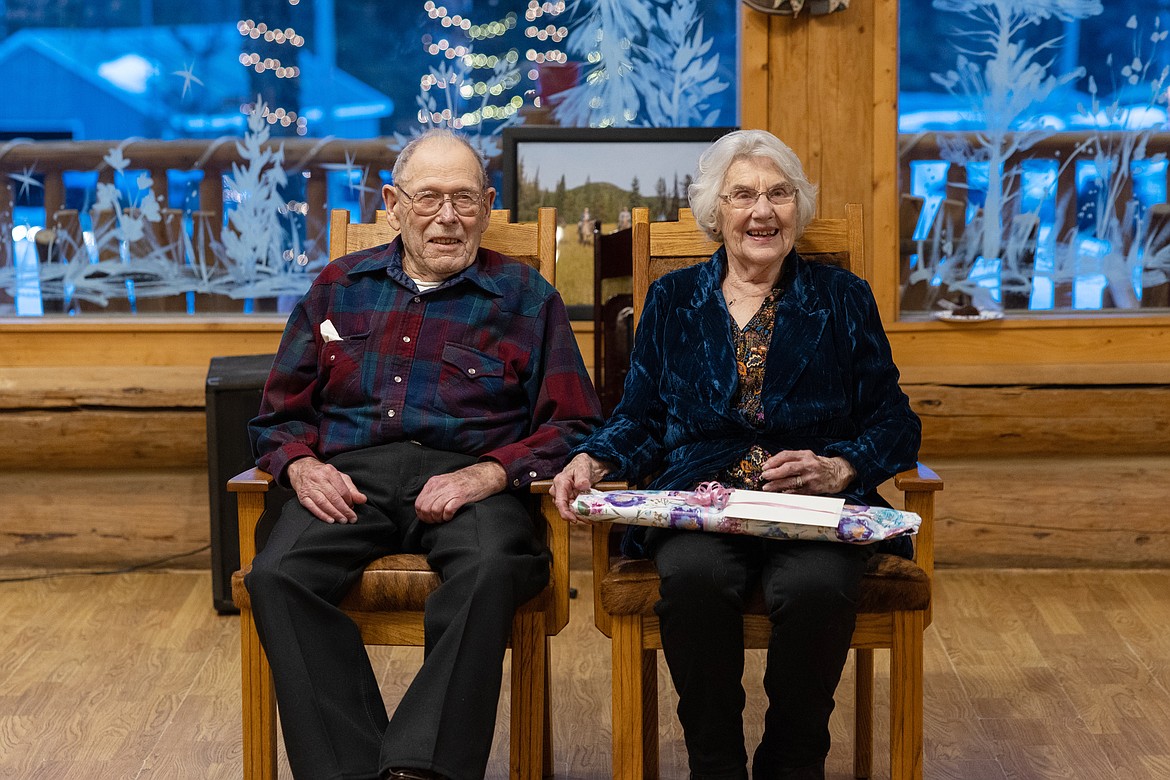 Jim and Virginia Woods are pictured at a 75th wedding anniversary celebration on Jan. 1, 2023, with their extended family in attendance.
(Photo courtesy SELKIRK RIDGE PHOTOGRAPHY)

Members of the Woods family gather to celebrate the 75h wedding anniversary of Jim and Virginia Woods. The couple were married on Jan. 1, 1948.
Previous
Next
|
February 2, 2023 1:00 AM
The Wood family gathered together on Sunday, Jan. 1 with neighbors, and friends to celebrate Jim and Virginia Wood's 75th wedding anniversary.
Jim and Virginia were married at the Methodist parsonage by the Rev. Wells on Jan. 1, 1948, with Bob and Bernice Wood as attendants. After the ceremony, Jim's mother Gladys Wood held a quaint dinner at the home of Riley and Gladys Wood. The couple honeymooned in the nearby town of Naples.  
Virginia was born in 1928 in the Upper Gold Creek area. Jim was born in 1929 and moved to Upper Gold Creek in 1940. They both attended the Gold Creek School where they met and began their courtship. Over the years they have celebrated many anniversary milestones. They had a 25th-anniversary celebration at Selle Grange Hall, a 40th at Oden Grange Hall, a 50th at Western Pleasure Guest Ranch, and their diamond 75th celebration was also held at Western Pleasure Guest Ranch.
They have spent their life developing a family legacy that consists of five children, 12 grandchildren, 34 great-grandchildren, and two great-great-grandchildren, with the majority of the family members living and operating businesses within the Sandpoint area.  
The Jan. 1 celebration consisted of a legacy reading by their granddaughter Jody Russell, a personal message by Hall Burrows, and music provided by son-in-law Roley Schoonover and grandchildren Isaac Schoonover, Danielle Otis and friend Barb Rhodes. The family also created a display of a few of the hundreds of quilts Virginia has made for family members and friends over the years and with the help of Tina Johnson and many of the other grandchildren, a beautiful photographic display of Jim and Virginia through the years was available for viewing.
Jim and Virginia participated in an anniversary dance to the tune of the "Tennessee Waltz" and were joined by many other married couples with marriages of less than five years up to 68 years. After the music celebration, they shared in cutting the cake specially made for them by Sawyer Bakery and photos were taken by Amy at Selkirk Ridge Photography. 
Jim and Virginia would like to thank their family for this celebration and also a thank you for all the anniversary blessings they have received over the past few weeks.

Recent Headlines
---