NICMH announces closure of mental health clinic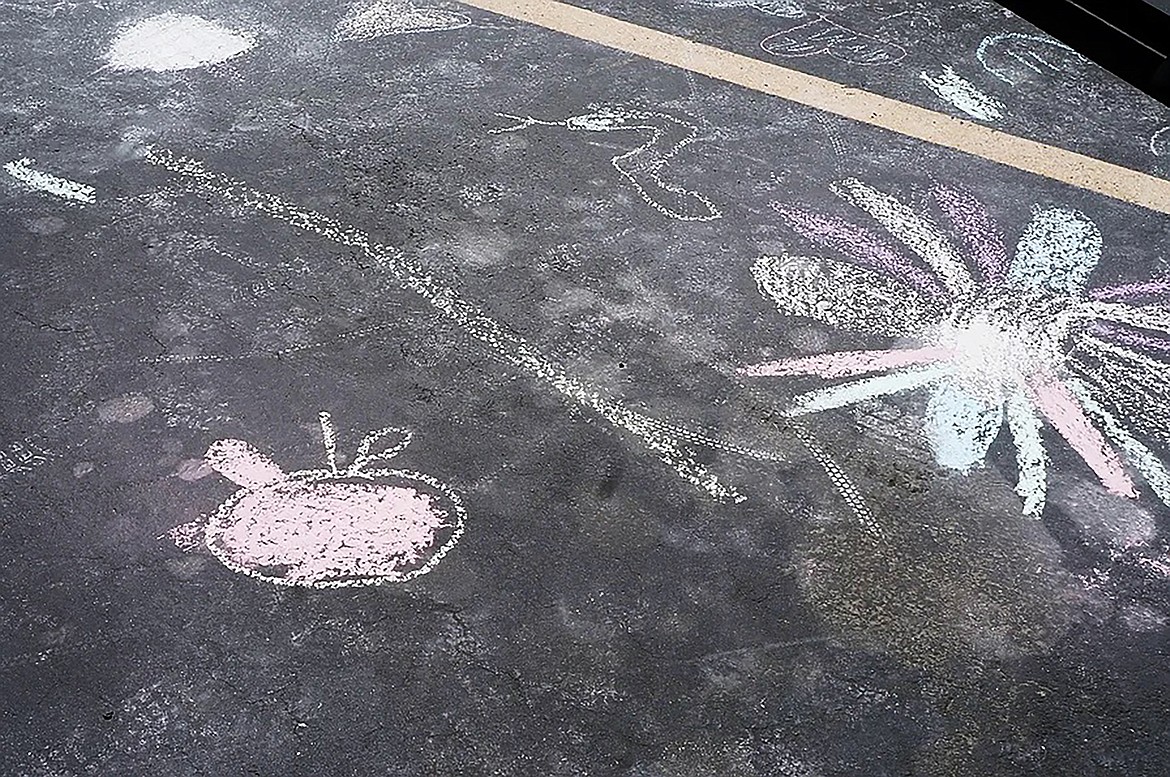 A chalk drawing created by a young North Idaho Children's Mental Health client shared by the clinic on its website. A challenging job market, coupled with the high cost of living, increased administrative paperwork and bureaucracy have reached the point where NICMH owners Victor and Jenny Brotherton made the decision to close the clinic in the spring.
(Photo courtesy NORTH IDAHO CHILDREN'S MENTAL HEALTH)
SANDPOINT — A multitude of reasons are behind North Idaho Children's Mental Health's decision to close down this spring.
A challenging job market, coupled with the high cost of living, increased administrative paperwork and bureaucracy has reached the point where NICMH owners Victor and Jenny Brotherton decided to close the clinic in the spring.
"Serving our community, families and clients has not always been easy, but it has been essential," Jenny Brotherton said. "We found great joy to see our clients take new uncharted paths, risks with rewards of providing safety, advocacy, and stability within their own family unit."
The clinic's founding dates back to 2000 when Brotherton's husband, Victor, a school counselor at Sagle Elementary at the time, realized that a pending cut to services would leave the youth without any mental health services.
The pair decided to open NICMH to ensure those children and their families have access to needed mental health services. They expanded to offer not only clinical services, but support programs that were not being offered by other agencies.
In addition, Brotherton said the clinic offered additional programs over the years, such as respite and case management, but added they are not financially sustainable. And, when Sequel Alliance closed its doors in 2019, NICMH took on the adult services it provided and a large portion of its staff.
The pandemic didn't help matters, prompting a need to reduce services, Brotherton said.
"But it really is the inability to pay a living wage to employees so they can actually live in this community," she added. "Being a mental health professional is a labor of love for providers, but, at the end of the day, they have to pay their rent."
While they were able to help their clients, NICMH staff said they learned as much from them as they were able to give. They will carry with them the lessons they have learned from them and their families, Brotherton said.
As they talked to clients, some of whom have utilized their services for a long time, Brotherton said some are sad, some angry, but most have understood.
"We have families that were kids here and now bring their own children to therapy," she said. "This is very hard for everyone."
Since making the decision, Brotherton and Hicks said NICMH has been working with clients to transition them to other providers and services. Employees are either going to work at other mental health care providers or opening their own practice.
"This is a triage situation and we are here until all clients have been placed," she said.
While she worries about potential "bumps in the road, Hicks said the other providers — from Kaniksu, Sandpoint Psychotherapy and Bonner General Behavioral Health to a host of private practices — have been gracious and worked with NICMH to transition clients to their services.
"I think some of it is going to be true coordination between all of us to get together and meet those needs," she added.
While recognition of the need for mental health services, especially for youth, has grown. Support has grown as well, Hicks said, but added there remains a gap between those who are in poverty but need health services and those providers who accept Medicaid.
While demand for the clinic's services has increased, Brotherton said the staffing shortage got to the point where NICMH was unable to hire enough employees to pay its monthly costs.
"Medicaid continues to increase the administrative burden for agencies," she said. "The paperwork and collaboration of care requirements without compensation are unfair and finally became unsustainable for this agency."
In addition, area colleges and universities have limited the number of clinical courses offered. Students who attend college in neighboring states opt to practice in those states because of the higher pay, Jill Hicks of NICMH said.
"Even though our area's beautiful, it's been hard to recruit good counselors into this region," she added. "Everybody is hiring across the board."
Since opening more than 22 years ago, NICMH has worked with others in the community to help children and families in need of mental health care.
"It has been our mission and passion to be stakeholders in the lives of the underserved and advocate for those who need it the most," Brotherton said. "We have developed programs for children to meet them where they are at and worked with their families to provide support, advocacy and education. We have been strong advocates for our clients keeping their safety and well-being in the forefront, despite circumstances, and, at times, criticism."
Brotherton said NICMH staff want area residents to know how much they appreciate the many years of living and working in the community. They want their clients to know how humbled they are by their decision to seek therapy.
"I am humbled by all the interactions and all I have learned from all the clients over the years," Brotherton said. "This is their success story. They were brave enough to take that step and seek support and help and that is so brave. I want them to continue to trust the process as there are so many helpers in this community."
As for the staff, past and present, who have worked at NICMH, Brotherton said she wanted to thank them for their dedication, their knowledge, and their kindness, heart and soul.
"It has been my absolute greatest joy to work alongside the most amazing team," she said. "They blow me away every day. Thanks will never be enough for so many of them."
Recent Headlines
---