JDS Studio celebrates first birthday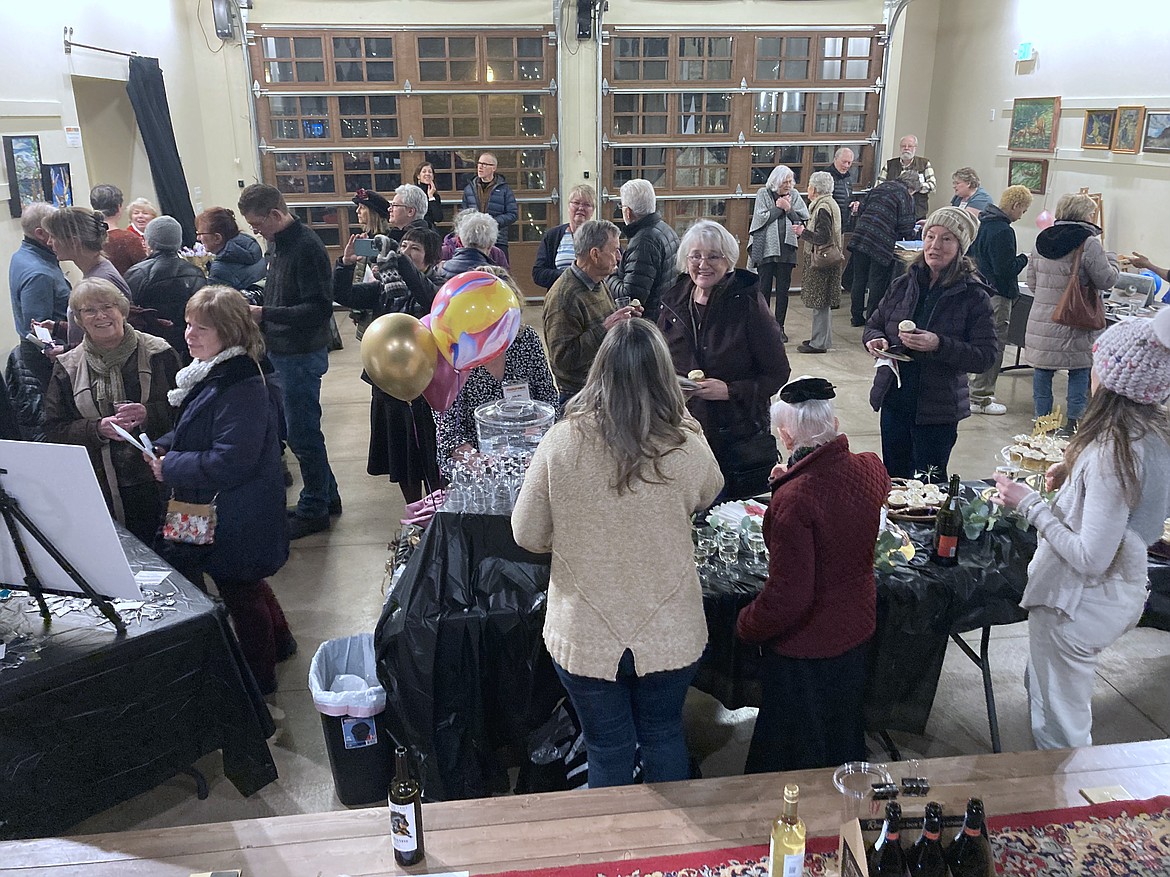 Over 65 celebrants crowded into Little Carnegie last Friday to enjoy the first birthday party for Pend Oreille Arts Council's Joyce Dillon Studio. The public was treated to learning more about the upcoming adult art classes, meeting the instructors while enjoying refreshments.
(Photo by KATHY HUBBARD)
It was a birthday bash that included cake, champagne, party favors, prize drawings — and a glimpse into what the next year of adult art classes will be offered by Pend Oreille Arts Council's Joyce Dillon Studio instructors.
The event was held at MCS's Little Carnegie on Feb. 3 with over 65 people in attendance.
"Eight of our talented teachers exhibited their art," JDS chair Jan Rust said. "Paintings, drawings, glass chimes, pastels, weaving, kimekomi and stained glass were all displayed. Each of the teachers also had a display table where they demonstrated their talents and talked to potential students about their classes."
Rust said that the interest in in adult art classes has grown exponentially during the year. In the beginning only three classes were offered, and fourteen students took part.
"Now the studio is offering ten classes with 60 students already signed up," she said. "That's just for the month of February with more classes offered in the coming months."
POAC launched the Joyce Dillon Studio after the organization received a bequest from Dillon in her will. POAC board members and staff wanted to use the gift in a way that spoke to POAC's mission and honored — with the studio being the end result.
"One of her last wishes was to help POAC continue its mission of providing artistic and cultural opportunities for the citizens of our community," Deaner said at the time that plans for the studio were announced. "The first step of this wish is the establishment of a classroom/studio where local artists and students, both young and old, can continue expanding their artistic endeavors."
Consistent with POAC's mission and Dillon's desire to help the community, the JDS committee aspires to make art classes accessible to everyone. Classes are designed to be affordable, with pricing dependent on class length.
To view the current JDS class schedule and to register for a class, go to artinsandpoint.org.
Recent Headlines
---