Divisive bill on education savings accounts heads to Senate floor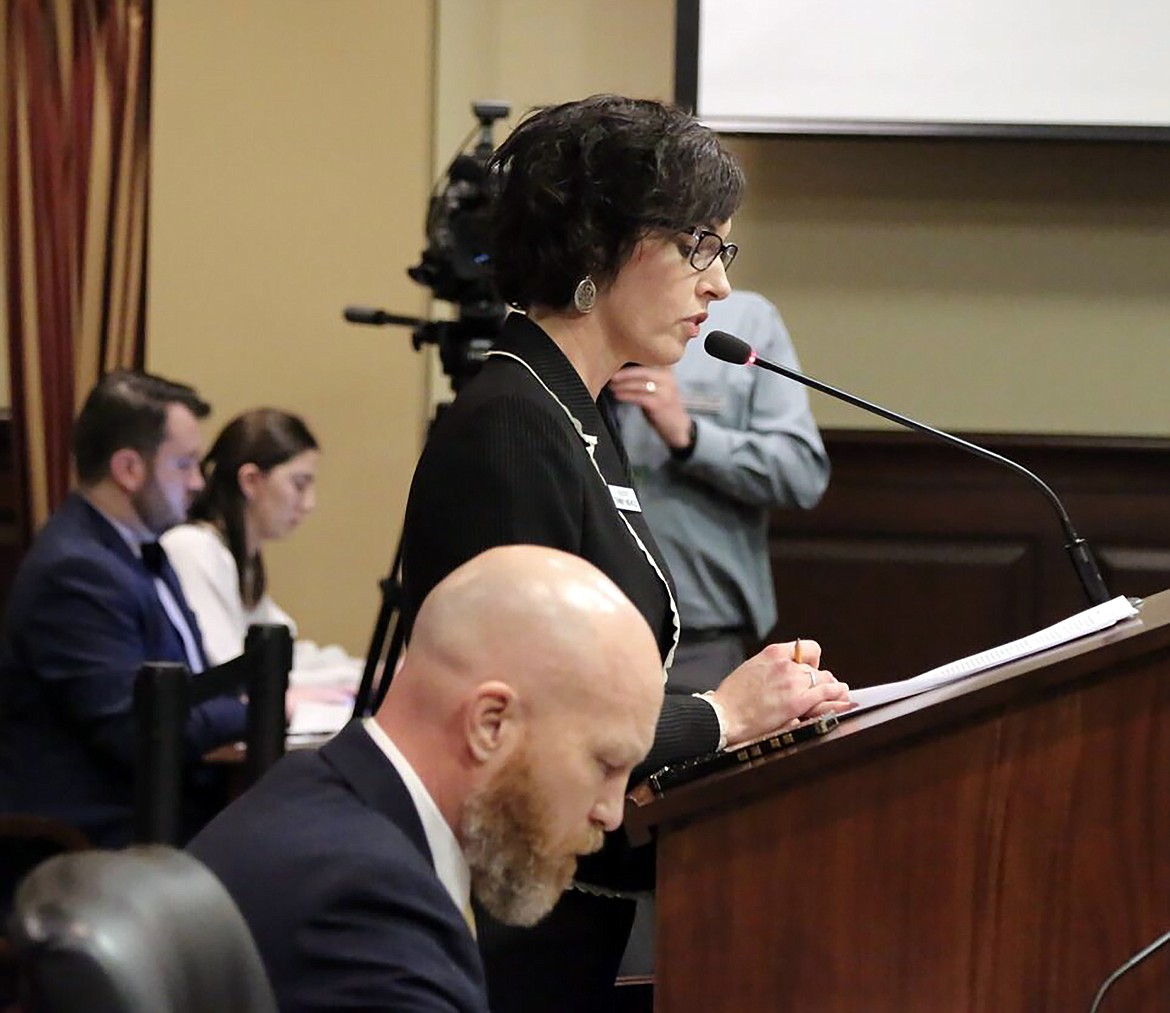 Sen. Tammy Nichols, R-Middleton, spoke about SB 1038 Wednesday, alongside Sen. Brian Lenney, R-Nampa.
(Photo courtesy IDAHO EDUCATION NEWS)
The Senate Education Committee sent a $45 million school choice bill to the Senate floor with a 6-3 vote Wednesday evening.
The vote came on day two of public testimony on Senate Bill 1038 — the controversial plan to establish a universal education savings account program.
SB 1038 calls for $45 million of state money — a hike from the original $19.4 million estimate — to establish individual $5,950 per-child scholarships for families of K-12 students. That equates to about 80% of the amount allocated to public schools per student. The remaining 20% of funding would stay within the public school system.
Parents could put the funds toward approved education expenses, including private school tuition and fees, tutoring, counseling, and more.
But to access the funding, a student cannot be enrolled in a public school.
Students already outside the public school system (attending private schools, homeschools or religious schools) could apply, as could students who choose to leave their public school if the legislation goes through.
In Wednesday's meeting, the bill's sponsors repeated the purpose of the legislation: to expand school choice in Idaho.
"Education funding is meant for educating children, not for protecting a particular institution," said Sen. Brian Lenney, R-Nampa, during his presentation to the committee. "Your local school may be great, but that doesn't mean it's the right fit…an education savings account like this gives parents the opportunity to choose the best fit for their child."
But over the course of two days, nearly 60 Idahoans came out against the bill.
Wednesday's opponents included representatives from Idaho's largest education organizations, like the Idaho School Boards Association and Idaho Association of School Administrators. Several retired teachers testified against the bill, as did concerned taxpayers and public school parents.
Most opponents repeated concerns about pulling funding from public schools without any accountability measures — the bill makes it clear that, beyond approving applications, the SDE would have no regulatory power over the approved providers.
Others cited concerns about the legality of the bill under the Blaine Amendment, a clause in the Idaho Constitution that prohibits state money from going to parochial schools. But the Blaine Amendment has come under legal scrutiny in recent years, and according to Lenney, the Idaho attorney general's office said the clause is "dead law." (Lenney is sponsoring a bill to repeal the Blaine Amendment, which will come before the Senate Education Committee later in the session).
Nicole Trakel of Caldwell, a supporter of SB 1038, said she thinks the bill would help with some of the issues in public school districts, like overcrowding. But she also cited Idaho's low test scores and graduation rates, saying parents are seeking choice in an already imperfect system.
"It's not like we're asking for choice in an education system that is stellar, and where students are doing well…we're asking for better choices that can give back to our state, that can give back to our communities," Trakel said.
After nearly two hours of testimony, the committee took a brief recess and returned to discuss the bill for a vote.
Sen. Janie Ward-Engelking, D-Boise, combatted Trakel's argument. Idaho schools, aren't failing, she said. Instead, according to Ward-Engelking, the Legislature has elected to not properly fund public education, leading to overcrowded schools, staffing shortages and a myriad of other issues.
Sen. Lori Den Hartog, a longtime proponent of school choice in the Legislature, said SB 1038 was imperfect. The Meridian senator would have added income caps or other measures to make sure funding was available for students who want to leave the public school system, but haven't had access to that funding in the past, she said. But ultimately, she supported the bill.
And as a private school parent, Den Hartog told the committee she will not take advantage of the ESA funding if the bill goes through. Sen. Scott Herndon, R-Sagle, who homeschools his own children, also said he would abstain from the funding if the bill passes.
And Committee Chairman Dave Lent, R-Idaho Falls, voiced his own concerns about the bill's lack of accountability.
"I cannot, in good faith, send money out with no accountability," he said.
Lent also said the bill was a "leap" compared to other states' long-term work on ESA legislation, and said options that are more suited to Idaho could crop up in the future.
After a 6-3 vote, SB 1038 awaits a hearing on the Senate floor. Lent cast the only Republican vote against the legislation.
New House bill would overhaul school trustee elections
Idaho school board elections would get a major overhaul, under a new bill introduced Wednesday.
The bill would make three significant changes:
School trustees would serve two-year terms, down from their current four-year terms.
Trustees would have to declare a party affiliation — or their unaffiliated status.
Trustee elections would move to November on even-numbered years, in conjunction with other partisan general elections. Currently, trustee races are held in November of odd-numbered years, in conjunction with nonpartisan municipal races.
Presenting his proposal to the House State Affairs Committee, bill sponsor Rep. Joe Alfieri did not mention the shift to even-numbered election years. He instead labeled the proposal "a fairly simple bill" that merely acknowledges the partisan nature of what are now nonpartisan trustee elections.
"This is a bill about transparency," said Aflieri, R-Coeur d'Alene. "There are political parties involved in the election for school boards."
After Alfieri's brief presentation, his bill ran into a little bit of pushback.
Rep. Bruce Skaug, R-Nampa, said he saw value in some nonpartisan boards or organizations. "Some people are not political at all but want to serve on a school board."
Rep. John Gannon, D-Boise, suggested changing the bill's wording to allow candidates to declare themselves as unaffiliated. Alfieri and the committee endorsed the wording — although Gannon said the change doesn't erase his "strong reservations" about the bill.
With House State Affairs' vote, the bill could come back to the committee for a full hearing at a later date.
Recent Headlines
---