Community rallies around injured youth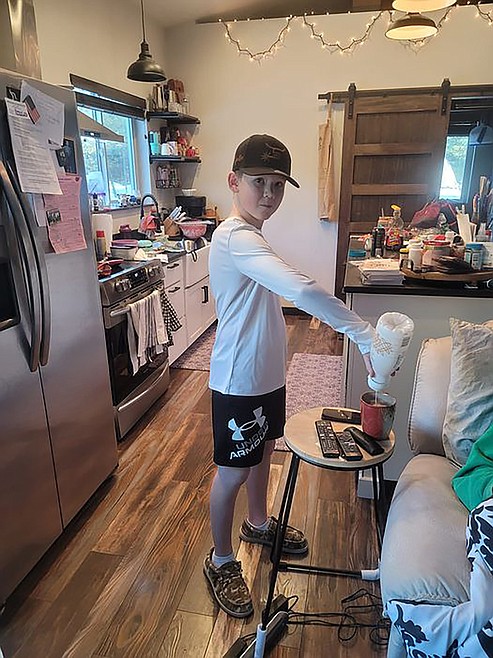 The community is rallying around a local youth and his family after Liam Speraw received second- and third-degree burns over 40-50% of his body after the ATV he was riding in rolled over and caught fire.
(Photo via GOFUNDME)
The community is rallying around a Priest River youth injured in an ATV accident Sunday morning with numerous fundraisers planned for one of the juveniles who was badly burned in the crash.
The pair were riding in the side-by-side ATV in the Holly Glen Lane area on Sunday morning when they lost control and the vehicle overturned, Idaho State Police said.
According to a GoFundMe page, the vehicle caught fire and one of the youths, Liam Speraw, received second- and third-degree burns over 40-50% of his body.
A neighbor of the youth's mother was first on the scene after the accident and helped extinguish the fire.
"I can't thank [our neighbor] enough for helping my son," the youth's mother, Marcie Threlkeld wrote in a Facebook post. "He saved his life."
Speraw was transported to a local hospital via air ambulance. He was later flown by medical helicopter from Priest River to Spokane, and then from Spokane to a burn unit in Seattle, where he is undergoing treatment, according to the GoFundMe page.
The second youth was transported to a local hospital via ground ambulance. His name and condition have not been released.
Liam Speraw was scheduled to have his first surgery Wednesday, family members posted on social media.
"Liam has a very long road to recovery ahead of him but he is a fighter and will come out the other side stronger," organizers said in the GoFundMe post.
In addition to the GoFundMe page, donation jars have been placed at a number of businesses on the county's west side and in the Newport, Wash., area. Jars can be found at The Clothing Closet, Mi Pueblo, and Salon Marciahna in Priest River, and at The Shanty, Audrey's, and Pend Oreille Mini Storage in Newport.
In addition, a spaghetti feed and silent auction for Liam Speraw has been set for Saturday, March 11, at Popeye's Lounge. The event begins at 4 p.m.
The support from the community means the world, family members said in several posts.
"I just want to thank everyone for their support and kind words," Thelkeld posted on Tuesday. "Y'all have no idea how blessed we feel. Our community is freaking amazing. I can't thank you, guys, enough. #LiamStrong."
As of Wednesday evening, the GoFundMe campaign had received more than $8,000 toward its $400,000 goal. Donations will go directly to the youth's family to pay for medical expenses, travel and time away from work.
The GoFundMe campaign can be found at bit.ly/3m3vOrl.
Recent Headlines
---