SPD's Angie Tennison called to help others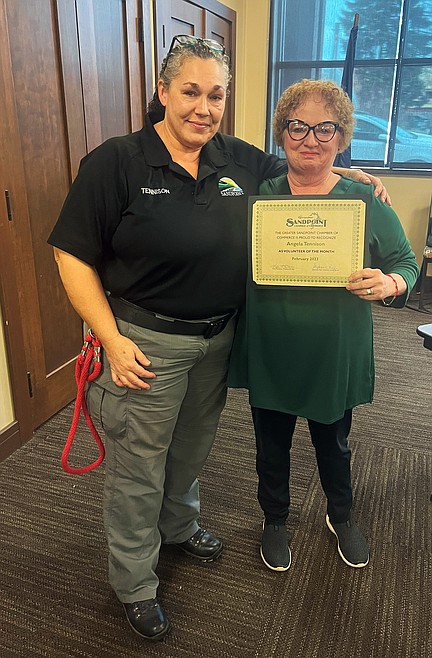 Sandpoint Police Department's Angie Tennison, one of the city's community resource officers, is presented with the Greater Sandpoint Chamber of Commerce's Volunteer of the Month Award.
(Photo courtesy GREATER SANDPOINT CHAMBER OF COMMERCE)
For Angie Tennison, helping people isn't a choice, it's a calling.
For many, Tennison is mainly known as a leader of Sandpoint Police Department's community resource officers. But it's what she does to help others, much that many don't know about is what earned her honors as the Greater Sandpoint Chamber of Commerce's volunteer of the month for February.
Her calling can be seen in two stories. The first is when Tennison and her work partner were on duty when they saw a woman who looked down on her luck. It was the middle of winter and the woman had no shoes.
After talking to the woman, Tennison found out she had some developmental issues and was living on the streets. Someone had stolen her blankets and shoes and kicked her when she was on the ground, which knocked one of her teeth out. The same people knew when she got her Social Security check and would routinely steal it from her.
Tennison went to work.
A call to Better Together Animal Alliance garnered donations for whatever the woman needed — clothes, shoes, boots, blankets, etc. But Tennison didn't stop there.
She logged onto Facebook and started gathering more donations, which paid for a hotel room for the woman for two months as well as a phone.
Tennison still wasn't done.
She spoke with Molly at Samuels Apartments, a low-income housing project to get her new friend an apartment. Tennison spent her own time, working with the woman to help her with all the paperwork for the application process because the woman couldn't really understand everything on it.
Tennison's compassion and caring also play a key role in another story. This one involved a woman who was close to death and, as a final act of love, made sure her animals had food to last until they could be found.
The woman drove herself on her perceived last ounce of strength to the fire station to tell Selkirk firefighters to take care of her animals.
After she was admitted for treatment, the firefighters brought hay to the horses and made sure the animals were Tennison.
Tammy Miller, administrator for Selkirk Fire, then reached out to Tennison, who after gaining permission from the woman to receive help, again went to work.
She purchased hazmat suits to clean the woman's home because she couldn't take care of it with her health in the state it was in. Gathering trash receptacles and cleaning supplies, Tennison gathered a crew of volunteers to help with her efforts. Then, Tennison invited the woman to stay on her property while she recovers from her medical condition.
The honor is well-deserved, Sandpoint Police Chief Corey Coon said.
"Angie's compassion towards those in need is unmatched," he said. "She is constantly reminding us of what it means to serve our community. She is firm but fair in her approach."
Sandpoint City Administrator Jennifer Stapleton agreed, saying the city is better with Tennison as a part of it.
"Angela is a huge asset to the community and we're fortunate to have her as one of our community resource officers," Stapleton said. "She has a heart of gold and is compassionate with people and animals. She is well respected and deserves this honor."
Tennison said she wants the community to know that she does these things on her own time and doesn't do it on taxpayer dollars. She also shared her gratitude for all the parties who stepped in to help her and these folks who were down on their luck as does only helps those passionate about helping themselves.
When asked why she reaches out to help others, Tennison said the answer was easy.
"I don't help everyone, I only help those who are willing to help themselves move forward," she said. "I feel I am being led to do this. Too many people turn their backs on people and I won't."
Staff Writer Caroline Lobsinger contributed to this story.
Recent Headlines
---