Fosterful set to open in community
PONDERAY — The young boy was sitting alone in a conference room at the Vancouver, Wash., Child Welfare office.
Toys brought for him to play with were ignored as was a meal he'd been given. Across the hall, his social worker frantically tried to find him a home, racing time and her fingers.
That 2013 incident struck her deeply, Fosterful co-founder Sarah Desjarlais, said.
Describing the child as "alone in every sense of the word," Desjarlais said it was then that she realized the gravity of what the child and social worker go through. The child deals with the weight of the transition and the trauma they've endured, and the social worker juggles placing the child while giving that child the comforting attention they need at the moment.
After a conversation about what Desjarlais had seen, felt, and thought with Child Protective Services supervisor Kim Karu, the two women partnered to found what was then known as Office Moms & Dads.
The organization works with Child Welfare offices to create spaces where children are occupied and safe with volunteers, and are in comfortable rooms. That frees the social worker to accomplish the task at hand as well as hold sensitive conversations.
Starting with five volunteers in a single office, the organization has since grown to more than 500 volunteers in 26 Child Welfare offices between Washington and Idaho and has undergone a name change to honor and respect the love the children still have for their parents.
Now known as Fosterful, the nonprofit is opening a new location in Ponderay to serve Bonner and Boundary counties and further its mission to go the extra mile for children entering foster care.
With all locations being inside the Department of Health and Welfare offices, Lindsay Morgan, Fosterful's regional manager for Idaho, said the goal is to have the Ponderay office fully operational by March.
"Ponderay has been needing and wanting our program's services for a while now, and we have gained the momentum, awareness, and manpower (womanpower in this case) to extend the reach to the northernmost part of our state," Morgan said
The process has included working with DHW to establish room(s) that would be appropriate for the organization's needs, bringing awareness to the local community to gain support while simultaneously recruiting volunteers and sourcing supplies for the comforts of each room.
"I speak at local philanthropic group meetings such as Kiwanis, Rotary, schools, chambers of commerce and churches to help make those connections. When making these presentations, my goals as the regional manager are to promote awareness of the work we are doing, recruit volunteers and present financial contribution opportunities." Morgan said. "We are 100% grant and donation-funded, so seeking corporate sponsorship to fund our room establishment and projects is the most efficient way to get up and running."
The goal of each Fosterful room is to be functional and nurturing to ease the transition. Morgan said this includes everything from the paint and decor on the walls to therapeutic toys and games. From the essentials to the comforting, the items include the range, she said.
"I ask those inquiring to imagine their living room and their favorite things in their living room. Now imagine the items or the aesthetic in your living room that you find most comforting on your worst day. Then, break that down to a child's perspective. That's the space we create for our youth during this dark time for them," Morgan said.
With the process underway for the Ponderay location, Morgan said the next steps are to seek financial backers and volunteers which will determine precisely when the Ponderay location will open.
"Depending on funds and volunteers recruited, my goal is to have the Ponderay office open and being utilized by the end of March," Morgan said. "Any amount of donations will help our mission, but as I said before, it is most efficient to have a corporate sponsorship in the $5,000-$10,000 range to get the room operational and sustained for a year or longer. Along with supporting children in crisis, there are benefits for our corporate sponsors and their tax-deductible gift to our programs such as a gratitude plaque at the location, media coverage, and long-term impact with local and regional recognition."
The impact this organization will have on the community will be seen in the children entering foster care in as positive a manner as they can, Morgan said.
"We may never know a child's potential, but we know the trajectory if trauma intercepts their growth," Morgan said. "We have to meet them at their level in a dark place that they didn't choose to be in. Fosterful has that capacity in partnership with the members of our community. If we can interrupt the effects of trauma, even for a little while, we are all better off in our families, in our schools, and in our communities.
Fosterful's mission also extends to support the community's social workers who have the heavy tasks to ensure that its children and foster families are properly matched and supported during this period.
"These are state workers, so you know they have endless paperwork and phone calls to make sure our families are healthy," said Morgan. "I like to think that if Fosterful volunteers are there to lovingly care for and comfort a child experiencing foster care and scary transitions in their young lives, perhaps the social workers are able to find suitable placement faster since they are able to solely commit and focus on the work that is required."
To learn more about Fosterful, donate or volunteer visit fosterful.org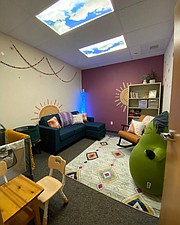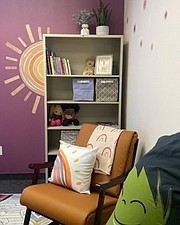 Recent Headlines
---