Crews make quick winter repairs at SMS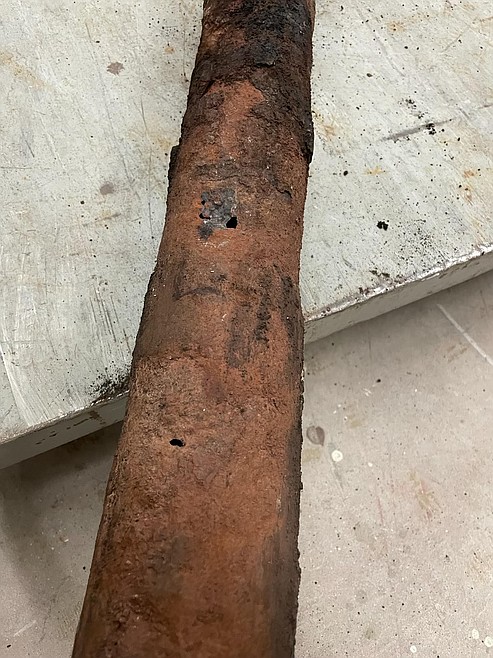 A photo of the leak in the a 3-inch pipe at SMS
(Photo courtesy KRISTIN HAWKINS)
|
January 5, 2023 1:00 AM
SANDPOINT — A mid-December steam leak at Sandpoint Middle School was quickly repaired, but left three classrooms without heat for several days, Lake Pend Oreille School District officials said.
A steam leak, discovered Dec. 13 at Sandpoint Middle School, had the LPOSD maintenance team moving quickly to isolate the issue, Kristin Hawkins, LPOSD community relations liaison, said. The fast action allowed for the school day to go on uninterrupted and left only three classrooms without heat for a few days after the leak was discovered. Although space heaters were provided, Hawkins said the heaters struggled to keep the rooms comfortable.
Under 2 feet of concrete and dirt, the leak was found in a three-inch pipe located in a hallway. Hawkins said the facilities team removed and reinstalled the pipe, without tearing the wall away. Finally, welds on the connections were done by Steve Peck Fabrication to finish up the repair work.
The quick response garnered praise for the district maintenance team from many in the district, including LPOSD facilities director Matt Diel.
"I am so proud of my team," Diel said "We feel honored to have men and women who jump in to repair what is broken, who make beautiful what has been destroyed, and who ensure that our grounds, classrooms, and spaces are cared for with such attentiveness."
Hawkins said heat was restored just two days after the discovery on, Dec. 15 shortly after 10:30 a.m., "thanks to the diligence and handiwork of this outstanding team."
When she learned about the steam link, LPOSD Superintendent Dr. Becky Meyer said she was concerned not only for the situation at hand but safety and reliability of many buildings in the district.
"I'm genuinely concerned about the aging infrastructure of some of the district's oldest schools," Meyer said. "I want our students to be in a safe, secure learning environment. Students cannot focus on education if they are not in a conducive learning environment."
The age of the infrastructure in LPOSD schools has been a concern that the district is actively working to address, Hawkins said. Among the efforts is work by the maintenance team to repair water piping at Southside Elementary in September, 69 years after its original construction in 1953.
Recent Headlines
---