Mountain goats at center of book tour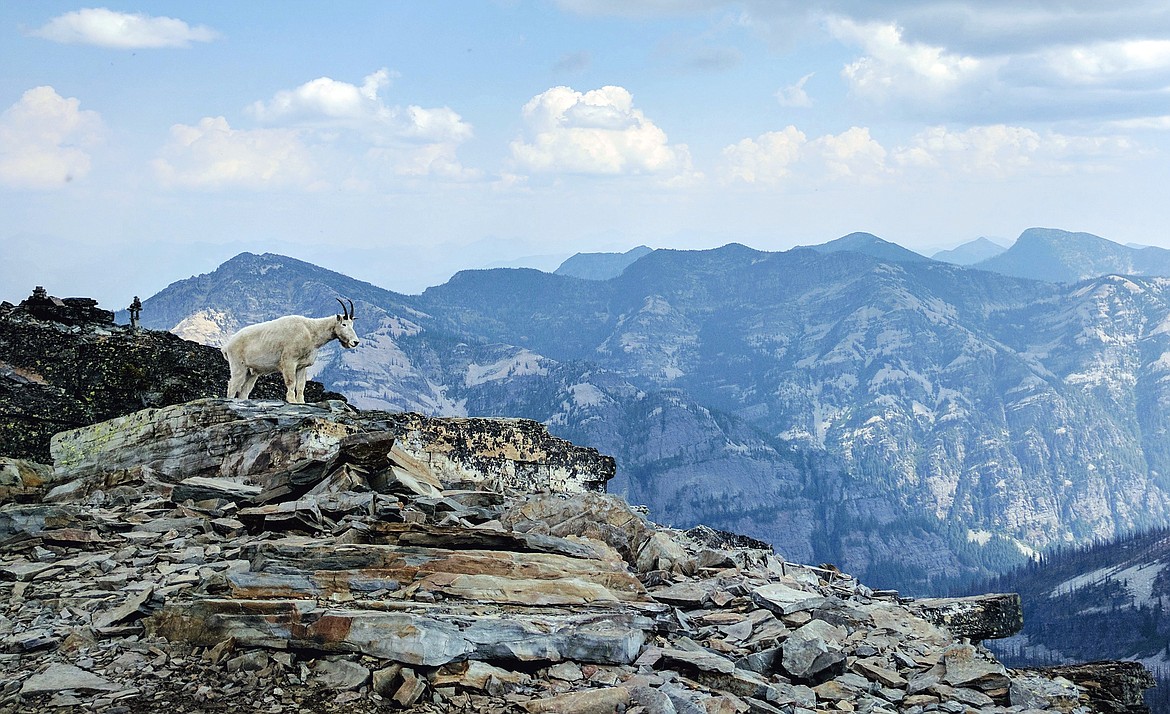 Mountain goats are iconic members of the Scotchman Peaks ecosystem.
(Photo courtesy SHAYNA JOHNSON)
|
January 8, 2023 1:00 AM
SANDPOINT — The community is invited to come hear the tale of Buddy, the orphaned mountain goat kid at the heart of a story by Bruce Smith.
The wildlife biologist and award-winning author will be visiting Sandpoint and western Montana as part of a nationwide book tour later this month. The visit, set for Jan. 20-22, is being coordinated by the Friends of Scotchman Peaks Wilderness.
In the afternoon, Mr. Smith will do a family book reading from his Legend Keeper series titled, "Can Kids Save a Glacier?".  In the evening, in Sandpoint and Thompson Falls Mr. Smith will present on his recent state-wide mountain goat survey titled, "Mountain Goats: A Wilderness Icon".
The Legend Keepers series masterfully intertwine the antics of Buddy, an orphaned mountain goat kid, with detailed, engaging scientific information, written to engage young readers.
In the second half of the program, he'll share results of a statewide status review of Montana's goats, which revealed starkly different fortunes of native and introduced goat populations and the conservation challenges they face. Dramatic photographic images from his book "Life on the Rocks: A Portrait of the American Mountain Goat", which won the National Outdoor Book Award, will accompany his discussion.
Smith will discuss details of the mountain goat's natural history, behavior, and wilderness realm. His two years living among mountain goats in Montana's Selway-Bitterroot Wilderness Area began a 50-year fascination with North America's matchless mountaineer, the mountain goat.
Following the presentation, Smith will be signing copies of his books. A no-host bar and snacks will be offered.
Event schedule
Friday, Jan. 20
• 4 p.m. — "Can Kids Save a Glacier?", Lincoln County Library, 220 W. Sixth St., Libby, Mont.
Saturday, Jan. 21
• 2 p.m. — "Can Kids Save a Glacier?", Sandpoint Library, 1407 Cedar St., Sandpoint
• 4 p.m. — Mountain Goats: A Wilderness Icon, Utara Brewing Co., 214 Pine St., Sandpoint
Sunday, Jan. 22
• 3 p.m. — "Can Kids Save a Glacier?" Thompson Falls Public Library, 911 Main St 3 p.m., Thompson Falls, Mont.
• 6 p.m. — Mountain Goats: A Wilderness Icon, Clark Fork Valley Elks Lodge, 2519 Industrial Way, Thompson Falls, Mont.
Recent Headlines
---