New commissioners make short work of first meeting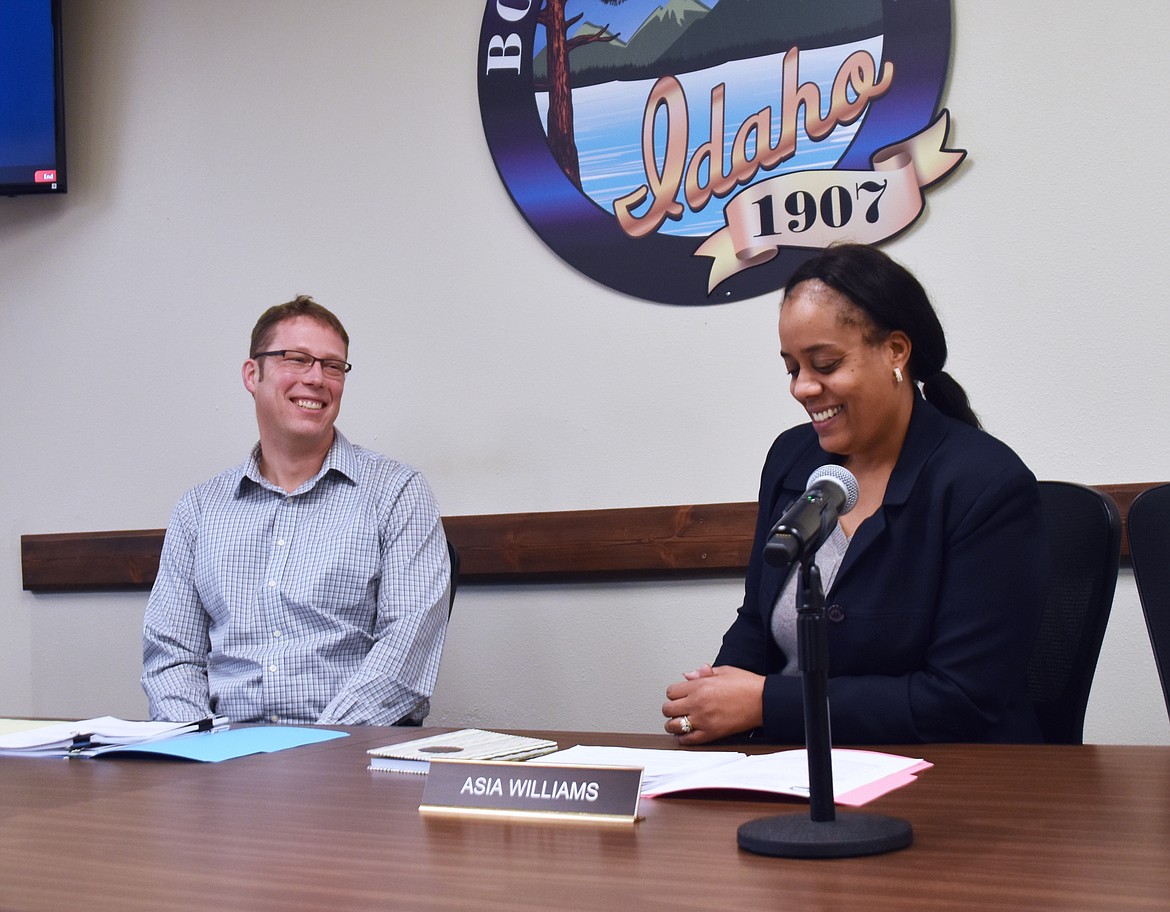 Bonner County commissioners, Luke Omodt, left, and Asia Williams conduct their first regular business meeting on Tuesday morning.
(Photo by KATHY HUBBARD)
SANDPOINT — With a room full of department heads, county workers and members of the public, the newly sworn-in Bonner County commissioners, Luke Omodt and Asia Williams, made short work of a brief agenda Tuesday morning. Commission chair Steve Bradshaw was absent.
In the portion of the meeting agenda assigned to public input, Williams figuratively took off her official hat and spoke in what she described as "the perspective of the people."
Her comments were focused on the Idaho Code regarding open meetings (74-201). She read the code, which reads in part, "the legislature finds and declares that it is the policy of this state that the formation of public policy is public business and shall not be conducted in secret."
Williams recommended two things. One, that the county adopt a policy whereby agenda items are formulated in public meetings. The second, that discussions between commissioners and department heads regarding county business be agendized for transparency.
She said that in the past, many county residents have come to commissioner meetings wanting to have good discussions about what's happening, but with agendas posted on Fridays, it doesn't allow the public time for "meaningful input."
"It's about transparency," she said. "We're not supposed to violate open meeting laws and some of this will actually address an outstanding open meeting violation that we have to respond to. I will ask that these things get set on the agenda for the next meeting so we can see if it can move forward with the board.
"As we conduct business to represent the community, we can't represent if we don't actually know what the community is wanting," Williams added.
The commissioners unanimously passed the consent agenda, approved the county's claims and demands batches for $770,037.35 and approved EMS claims and demands batches for $19,448.95.
Airport manager Dave Schuck requested approval for land acquisition in the runway protection zone for runway one at the Priest River airport. He told officials that the property was appraised, and that appraisal was reviewed in accordance with the FAA airport improvement program regulations. Ninety-five percent of this cost will be reimbursed by grants issued by the FAA airport improvement program and the State of Idaho Division of Aeronautics. The county's match will be $4,000.
"This purchase will allow the county to keep the aerial approach to runway one free and unobstructed for the continued safe use of this public airport. This purchase will close out the 2019 AIP grant for land and easement acquisition at Priest River airport," Schuck said. The request was unanimously approved.
Bonner County commissioners meet every Tuesday morning at 9 a.m. at the Bonner County Administration Building, 1500 U.S. 2, Suite 338 in Sandpoint. Meetings are also live-streamed and available on Zoom.
Recent Headlines
---