There is something 'fishy' at Sagle Elementary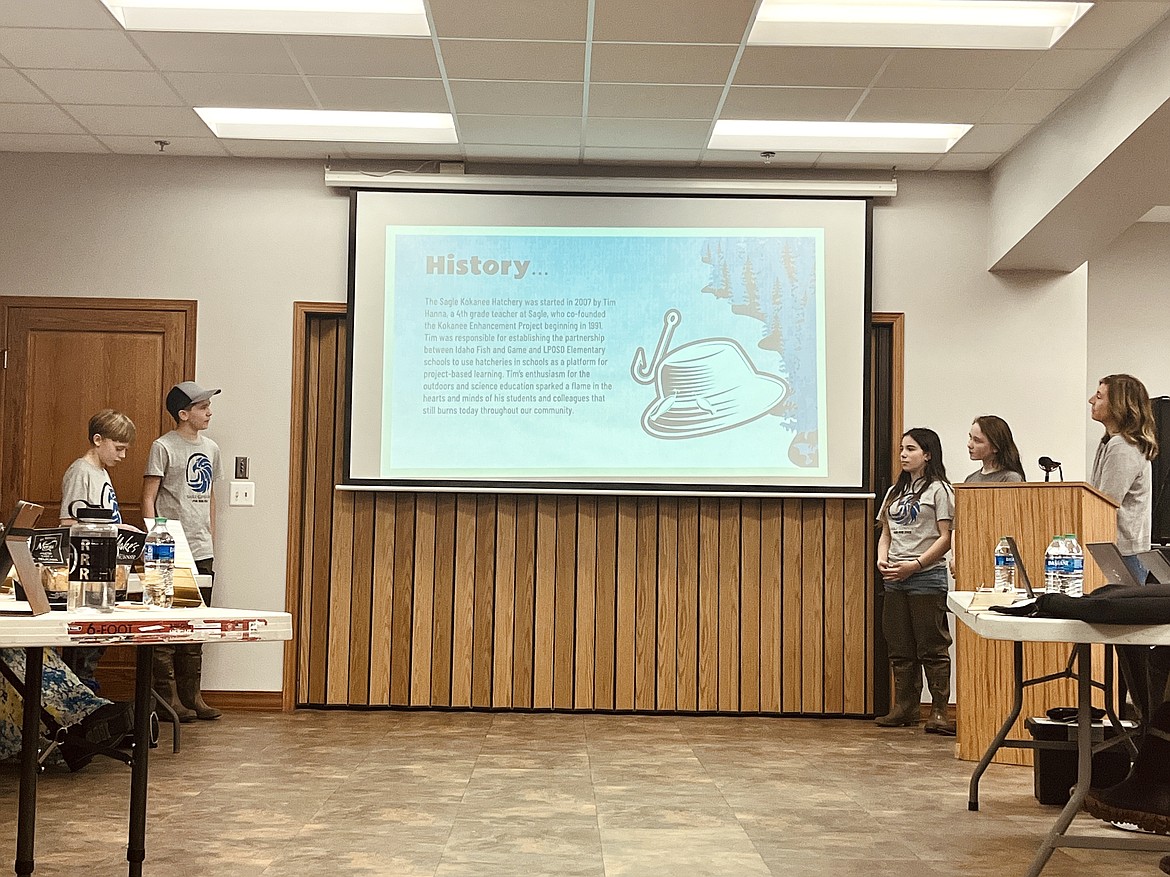 Sagle Elementary sixth graders give a presentation about the school's kokanee hatchery project at Tuesday's board meeting.
(Photo courtesy KRISTIN HAWKINS)
|
January 12, 2023 1:00 AM
SANDPOINT – At Lake Pend Oreille School District's first school board meeting of 2023, students from Sagle Elementary had a few fish tales to tell.
While Tuesday's meeting, marked the board's annual meeting, the first order of business was one of two presentations from Sagle Elementary about a program unique to the school.
Given by four sixth-grade students, the board was first given a presentation about the Sagle kokanee hatchery project. Starting with a brief history of the program, the students said it was teacher Tim Hanna who started the program in 2007. Hanna's decision to reach out started the relationship between the Idaho Department of Fish and Game and LPOSD, the students told the board that the teacher has had a tremendous impact on them and others.
"He sparked a flame in the hearts and minds of his students and colleagues that still breaths today throughout our community," the students said.
The relationship between IDFG and LPOSD allows all elementary schools in the district to use the hatcheries for project-based learning, the students said. As part of the program, the quartet said Sagle Elementary fifth graders get a hands-on education through being responsible for hatching 150-250 kokanee salmon.
With this experience, fifth-grade students are taught about the species they are working with and the delicate ecosystem in which the fish live. The students talked in detail about the program, the different fish species in Lake Pend Oreille, how each was introduced to the lake, and more.
"This project taught us so much," one student presenter said. "First it is project-based, very hands-on; better than sitting in a classroom all day with teachers going, 'yeah, yeah.'"
The entire program begins in January when Sagle Elementary receives an egg clutch harvested by IDFG. From there, the eggs are incubated and cared for by the students. Until the hatchlings are ready to be released in June the students use that time to monitor each hatching, recording their findings in a log. In this process, the student presenters said that the program has the students monitoring everything from population changes to water quality.
The program ends in June with the students going on a field trip to the hatchery to learn firsthand how it works, as well as explore the area.
Sagle's young presenters told the board that as sixth graders they had gone through the program and took away from it much more than a science-based education. One of the students said they learned critical problem-solving skills as part of the process as well.
Recent Headlines
---