Sandpoint wrestling wins Bonners Ferry Dual
by
SAMMY BERRYMAN
Sports Reporter
|
January 19, 2023 1:00 AM
Sandpoint High School's wrestling team claimed a dual victory at Bonners Ferry, 47-36 on Tuesday.
Ashlei Hawkins (126 pounds) took the win over Hunter Fulton. Zach Beers (132) claimed the win over James Graves.
Christian Troumbley-Karkoski (145), Glenn Paddack (170), Jorden Tyler (182), Calvin Hinds (195), Jeramiah Palmer (220) and Gavin Walters (285) all claimed victories against their Bonners Ferry opponents.
98: Double Forfeit 106: Saber Blackmore (BOFE) over Aidan Rork (SAND) (Fall 4:42) 113: Brandon Williams (BOFE) over (SAND) (For.) 120: Stryder Liermann (BOFE) over Emma Garman (SAND) (Fall 2:36) 126: Ashlei Hawkins (SAND) over Hunter Fulton (BOFE) (Fall 3:29) 132: Zach Beers (SAND) over James Graves (BOFE) (Fall 1:41) 138: Gaige Johnson (BOFE) over Joseph Babin (SAND) (Fall 1:52) 145: Christian Troumbley-Karkoski (SAND) over Porter Blackmore (BOFE) (TF 22-6 4:33) 152: Alexander Taylor (BOFE) over Lucas Johansen (SAND) (Fall 1:52) 160: Marcus Regehr (BOFE) over Dakota Rief (SAND) (Fall 1:51) 170: Glenn Paddack (SAND) over Eli Leyden (BOFE) (Fall 3:09) 182: Jorden Tyler (SAND) over Jackson Holman (BOFE) (Fall 0:28) 195: Calvin Hinds (SAND) over Andrew Erhardr (BOFE) (Fall 0:54) 220: Jeramiah Palmer (SAND) over (BOFE) (For.) 285: Gavin Walters (SAND) over Donald Riess (BOFE) (Fall 4:27)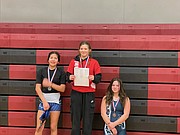 Recent Headlines
---